According to The Chambers English Dictionary, at least in a pre-1970s version, an éclair is "a cake, long in shape but short in duration". In a standard French dictionary, you'll find that an éclair is not only a pastry, but also a flash of lightning.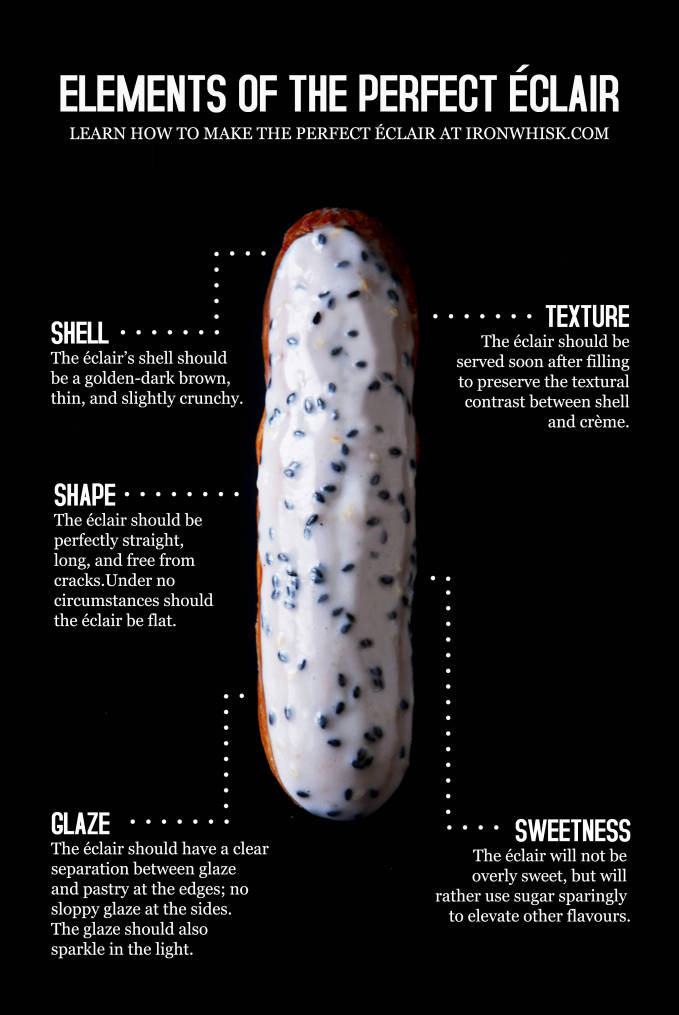 Food historians don't quite agree as to why the pastry's name means a flash of lightning in French—some believe the pastry's moniker is a result of how quickly its eaten ("eaten in a flash"), while others claim its due to the fact that it sparkles when coated with glaze, like lightning. Regardless of its name, éclairs are undoubtedly delicious if made correctly. But they're usually not.
The Five Deadly Sins of Éclair Baking
A quick Google search will reveal that most éclair recipes available online have severe flaws. I was able to identify five main problems when browsing recipes I had found online, which I'm going to call "The 5 Deadly Sins of Éclair Baking". You've committed one of these deadly éclair sins if yours are
Under-baked: Éclairs should have a rich, brown colour. They should not, by any means, be a pale, light brown. Under-baking results in a soft shell that fails to deliver the much needed textural contrast a good éclair provides. Under-baking éclairs can also cause them to collapse when removed from the oven.
Flat: An improperly made éclair will be flat instead of puffy. Flat éclairs are a result of either the pastry not expanding enough in the oven or collapsing shortly after being removed from it. What's so bad about flat éclairs? They can't be filled and they don't look nearly as impressive.
Old: Éclairs should be served the same day they are filled. Delays in serving éclairs result in the moisture from the filling (usually pastry cream but sometimes ganache or whipped cream) seeping into the shell. When this happens, the éclair loses the textural contrast between its crispy shell and velvety filling. It just tastes soft.
Cracked: This is probably the second most common sin, right after under-baked éclairs. A good éclair should not have large cracks running through it. Large cracks make glazing almost impossible and filling far trickier.
Sloppy: A properly made éclair should not be dripping with glaze, but rather have a clear, straight division between the glaze and the rest of the pastry.
If your éclairs have any of the preceding problems, you shouldn't be disheartened. Most people screw éclairs up. In fact, when I posted a recipe for raspberry éclairs two years ago, I committed all five of these deadly éclair baking sins. Oops.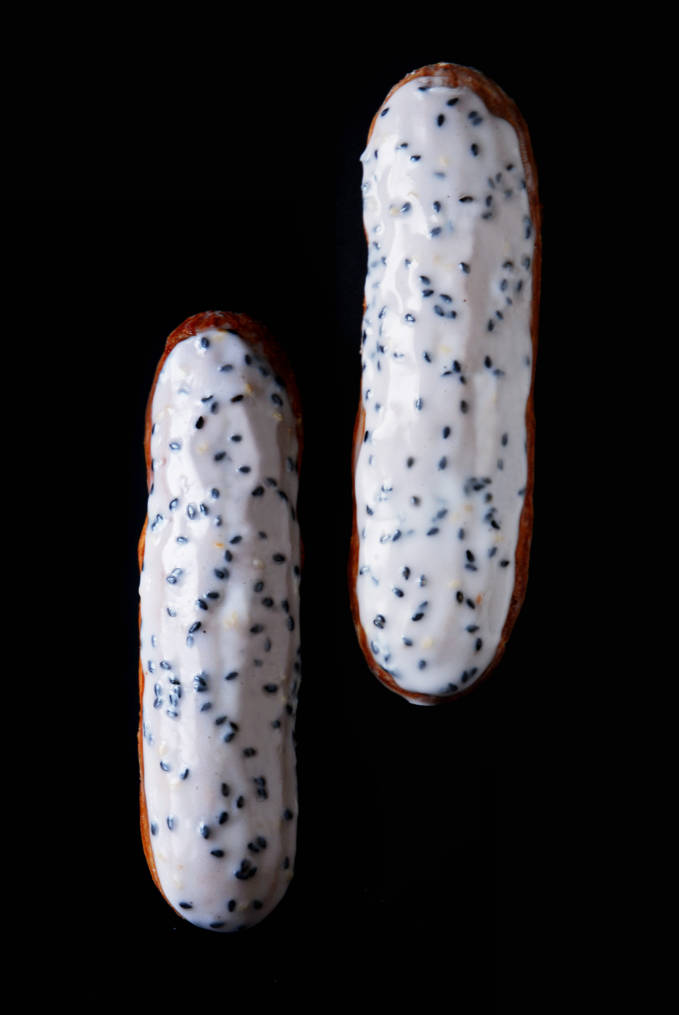 But here's a good question: why are we, collectively, okay with mediocre éclairs? Why was I okay with mediocre éclairs?
I think it's because most of us don't know any better. Online, you can find so many quests bakers have gone on for perfectly fluffy cakes, lightly crisped croissants, or hollow-free French macarons. But there's almost nothing out there for éclairs. There's just not enough good éclairs out there for us to even know what the perfect éclair is. How can we strive for perfection when we don't even know what perfection is? Well, folks, that's about to change. Today, we're breaking down the perfect éclair.
In this lengthy post (about seven times longer than usual!), I'm going to share the findings from my éclair experiments over the past few weeks.  I'm going to share my tips and tricks for avoiding all five of these deadly sins.
Sources and Inspiration
This tutorial is a combination of findings from my baking experiments (where I held everything constant except one factor to determine its effects), Eddy Van Damme's recipe, Alton Brown's Good Eats episode, and a video that I found online of the legendary Japanese pastry chef Sadaharu Aoki making éclairs.
This tutorial is primarily focused on Chef Aoki's recipe, who is known for selling arguably the best éclair in Paris. While he normally doesn't publish his recipes (you might remember me complaining about that in my last post where I recreated his famous salted caramel tart), I found a video online where he shared his éclair recipe. After finding someone to translate it from Japanese to English for me, I was all set to make the perfect éclair. I was ready to walk in his 'choux's.
What's Choux Pastry?
Éclairs, profiteroles/cream puffs, croquembouches, churros, crullers, funnel cakes, some beignets (not these), St. Honoré cake, and gougères are all made from a type of paste called choux (pronounced SHOE). Since this tutorial covers how to make excellently-crafted choux pastry, a necessity for the perfect éclair, its helpful advice is not just limited to the oblong pastry. I highly suggest that you use the strategies discussed in this post in all of your choux endeavours to achieve the best possible results (that means that if you wish to make the choux recipes that I linked to in this tutorial, like the profiteroles or the funnel cake, use the new recipe at the bottom of this post for the paste instead).
Choux paste (or pastry) uses the power of steam to puff up, whether in the oven, hot oil, or boiling water. Choux has no special leavening agents—it's just made from water, milk, butter, flour, salt, sugar, and eggs.
Achieving a Browned, Crispy Shell: Milk or Water for Choux?
My recipe for éclairs uses both milk and water in the choux paste, as many do. You may see some recipes that just use one or the other (like the old one I used for raspberry éclairs and profiteroles). Leaving out either milk or water, like I did before, is not a good idea. Both are very important and serve different purposes. The water in choux paste helps give the éclairs a crispy shell, while the sugars in the milk add colour and the proteins in it help support the éclair's shape.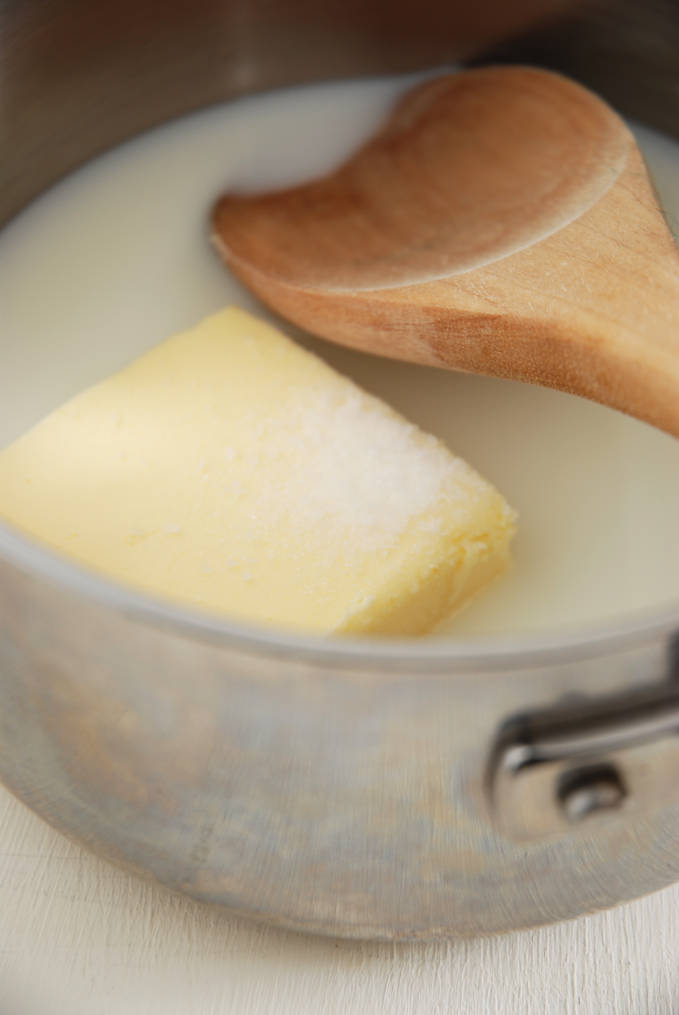 My new recipe starts off fairly simply: bringing milk, water, butter, salt, and sugar to a simmer. Bringing everything to a simmer ensures that the sugar and salt are properly dissolved. If they aren't, the chunks of sugar and salt crystals will promote cracking when you bake the choux.
Avoiding Cracks: Salt, a Key Ingredient
Salt has a very important function in choux paste recipes. Simply put, it helps avoid cracks. Generally, the more salt you add to the dough, the fewer cracks you will end up with in your éclairs. That being said, the more salt you add the saltier your final result will be (obviously).
Not using salt in the filling and glaze and increasing the salt content of the choux paste is the best way to address this problem. Of course, if you're making savoury choux pastry like for gougères (cheesy profiteroles), salt isn't an issue for choux. (That's a pun.)
Flour Power: Which Flour Should I Use?
Using the proper type of flour in éclairs is a necessity if you wish to avoid sin #2, flat éclairs. Flat éclairs not only look ugly, but they're also very difficult to fill properly. I've seen éclair recipes that use, in order from least to most protein content, cake flour, all-purpose (AP) flour, and bread flour. The higher the protein content of the flour (i.e. the closer it is to bread flour), the better the éclair will be able to support itself and stay puffy. The more protein in the flour, the crispier the shell will be too.
Don't believe me? Check out the picture below. The éclair on the left was made using AP flour, while the éclair on the right was made using bread flour. All other variables were held constant. The éclair on the right is far better. Just try filling the one on the left!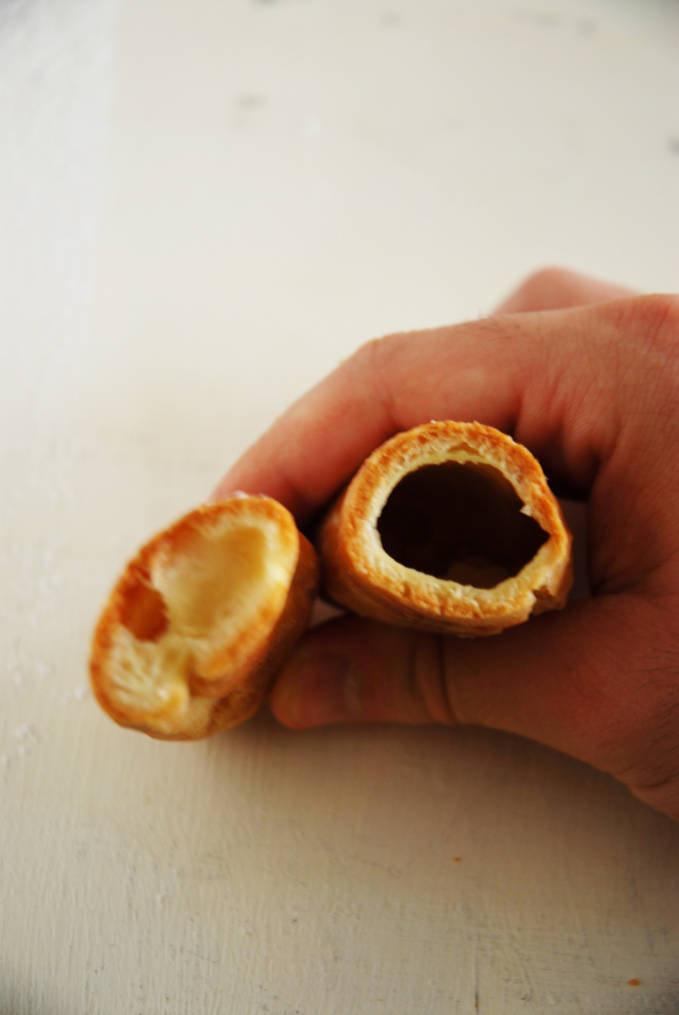 You shouldn't take this experiment, however, to mean that you can't make éclairs using all-purpose flour. You can. It will work. However, recipe for recipe, I've found that my results are far superior when I used bread flour. I committed fewer of the deadly éclair sins.
Regarding cake flour, which has even less protein than all-purpose flour, I would suggest avoiding it for choux paste. For some strange reason, Sadaharu Aoki seemingly uses cake flour in his éclair video. I think he either misspoke or the video was incorrectly translated because the results you'll get with cake flour are definitely no good.
Adding & Cooking the Flour: The Important Details
After the milk, water, butter, salt, and sugar are brought to a simmer, the next step is to take the pot off the heat and add the sifted flour all at once. Why all at once? Your goal is to shock the flour with heat so that, according to Alton Brown, the starch molecules in the flour gelatinize and are able to hold onto all the water in the batter. Well, at least, that's his reason. I'm not so sure. I didn't have a chance to test out the effects of adding the flour all at once vs. slowly.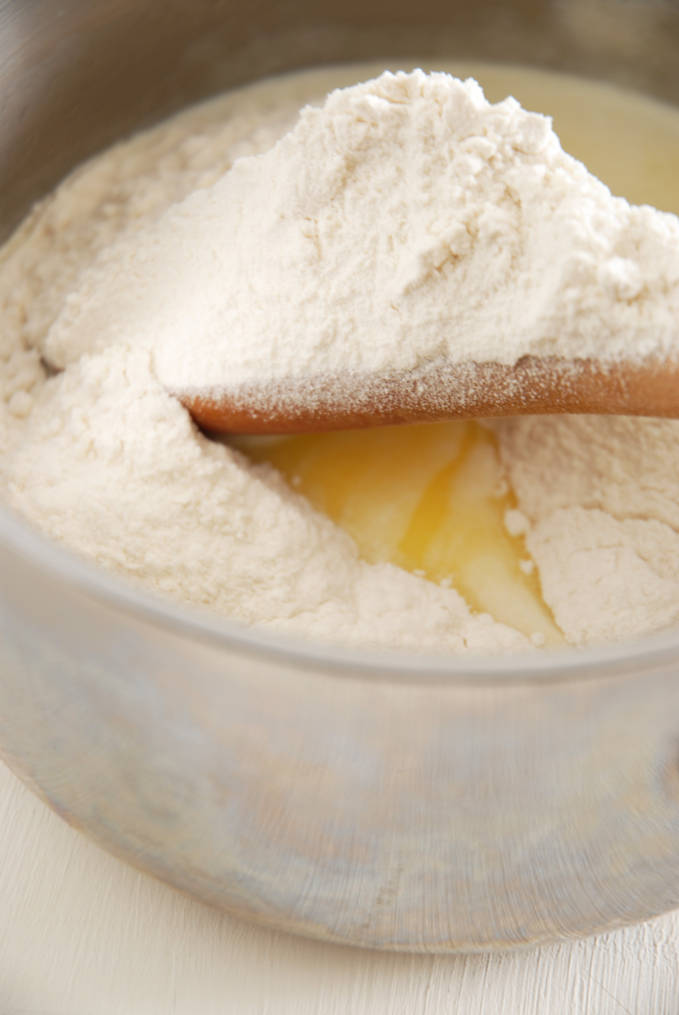 Regardless, once the flour is added, the mixture needs to be stirred, still off of the heat, until the flour is no longer visible.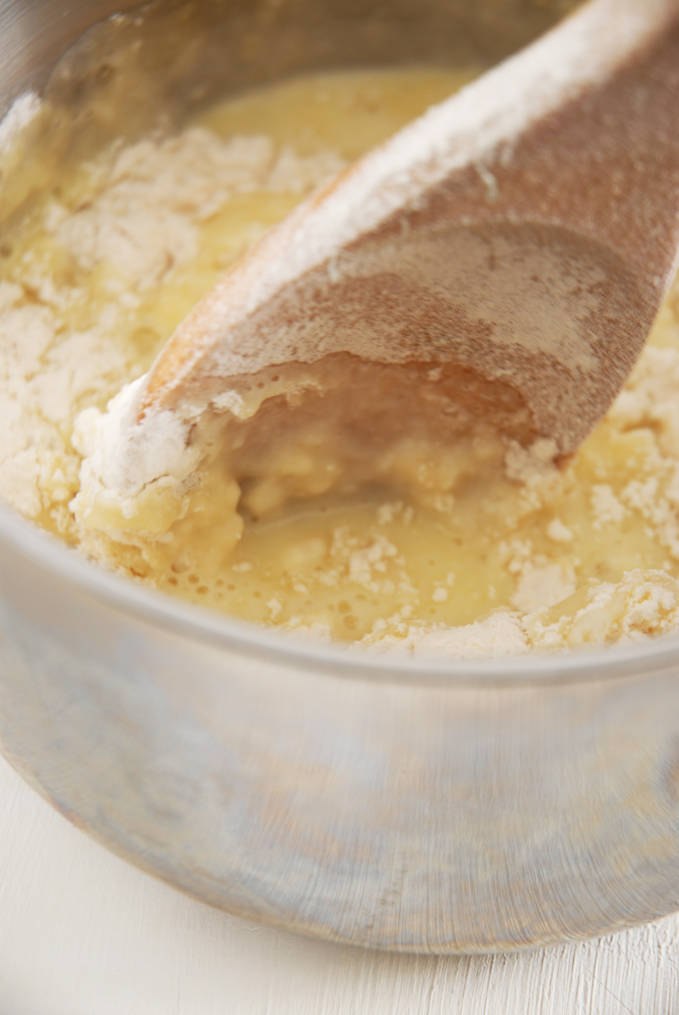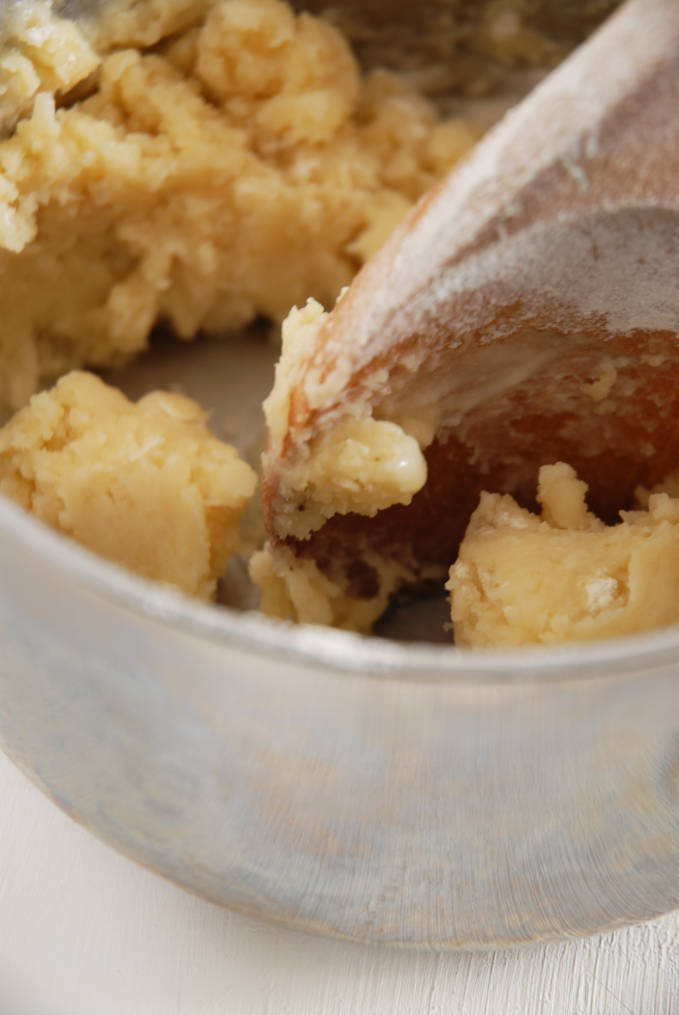 Adding the flour when the mixture is not being heated is important to avoid chunks of flour in your choux paste (along, of course, with sifting the flour before adding it). When I made two batches of choux paste, one where the flour was added and combined off of the heat and one when it was not, the batch that was heated during flour addition had many more clumps of flour in it. These clumps formed cracks in the éclairs when they baked.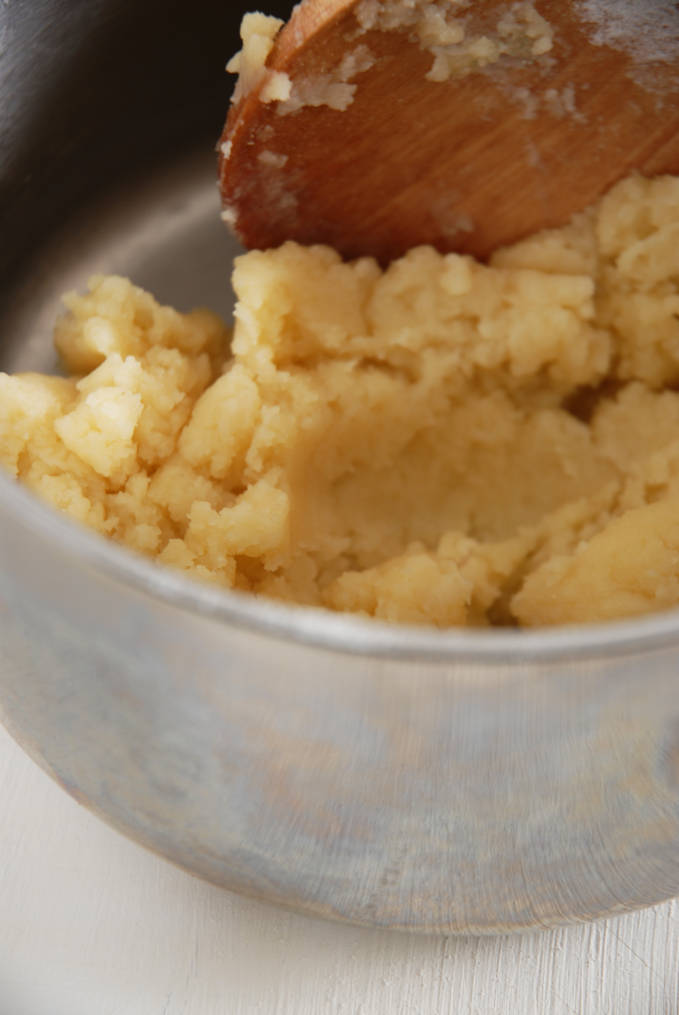 Once the flour is incorporated, the pot should be returned back to the stove for about two minutes. Heating the choux paste after mixing in the flour is essential. Doing so evaporates any water that isn't trapped in the complex starch network of the dough. If you don't do this, your éclairs will not rise properly because instead of the steam expanding the dough in a predictable fashion, it will be quite random and you'll see lots of flat, cracked éclairs.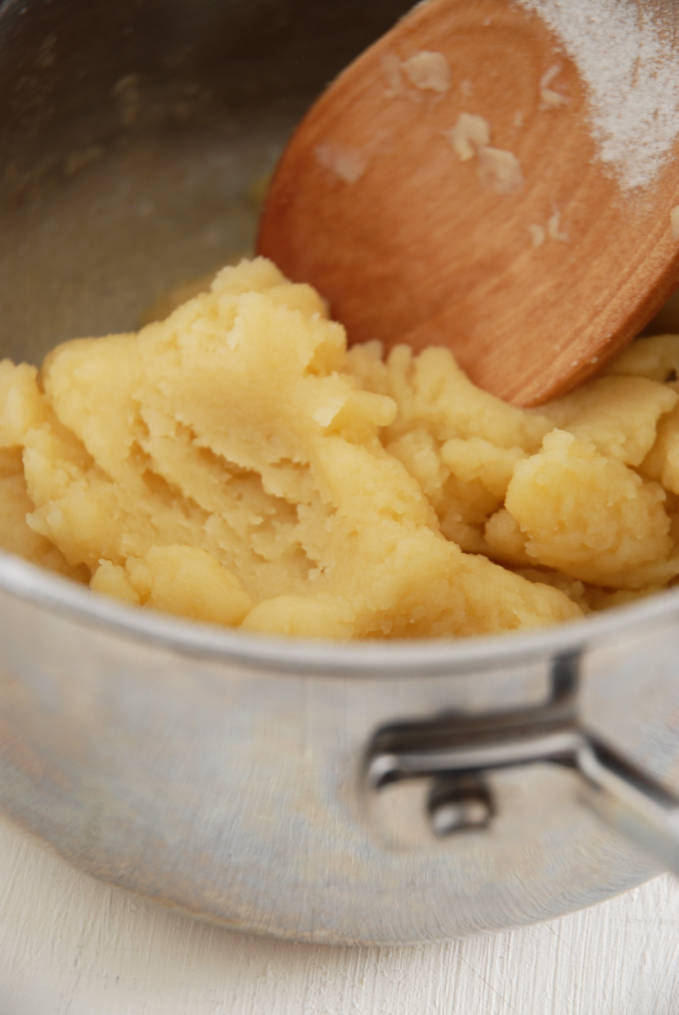 How do you know when you're done? You should see a thin starch coating at the bottom of your pot. This is good. Sadaharu Aoki, however, warns that with some pots you'll never get this coating. That's why he recommends heating the dough until it reaches 75°C (170°F). That's what I do too, just because I enjoy knowing exactly when it's ready.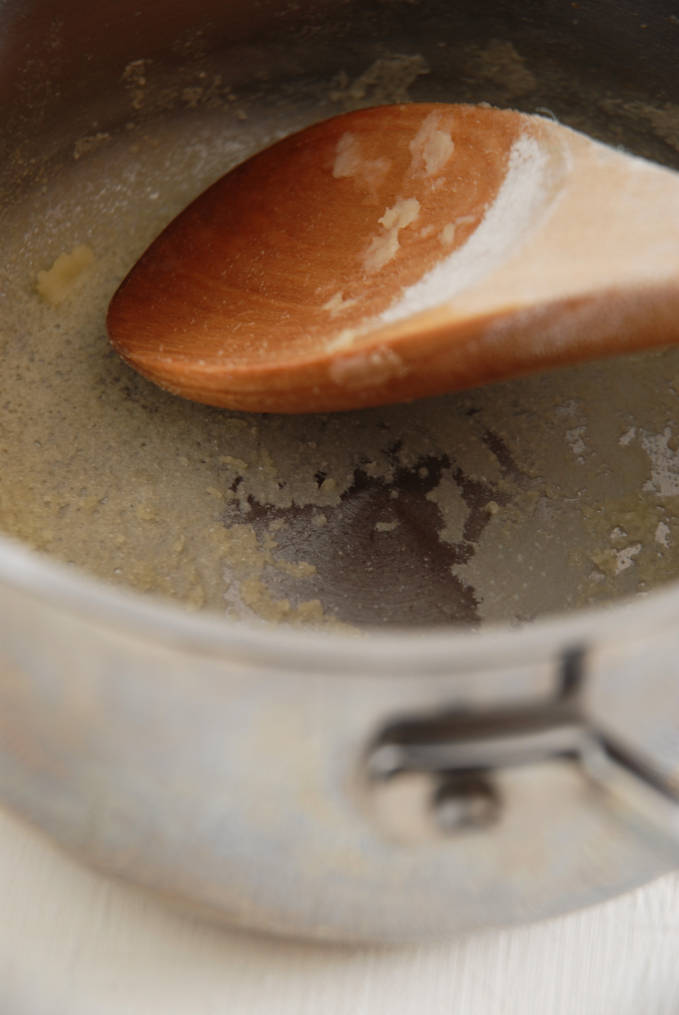 Since this coating forms while cooking the dough, you need to be careful not to mix it into your choux paste while cooking. If you do, you'll end up with a non-smooth dough that promotes cracks. Therefore, when cooking the dough, do not mix as you would with most anything else. Mix with your spoon or spatula slightly above the surface of the pot so you do not scrape the coating into your paste.
Adding Eggs
Eggs are probably the most important ingredient in choux after water, which helps provide the steam necessary for the éclairs to rise. Egg yolks provide emulsifying power and flavour, while the proteins in the egg whites help support the éclair shell so that it doesn't collapse. In fact, the proteins in the milk, flour, and egg whites work together to support the shell.
Adding the eggs is a simple process, but you need to be careful that the dough is not too hot before mixing them in or the eggs will curdle and promote cracking. Thus, before adding the eggs, it's important to mix the dough for about a minute and thirty seconds to release the steam and let it cool down to about 60°C (140°F). At that point, you can add half of the room temperature, lightly-beaten eggs. Lightly beating the eggs before adding them helps ensure that the egg whites and yolks are properly distributed throughout the dough.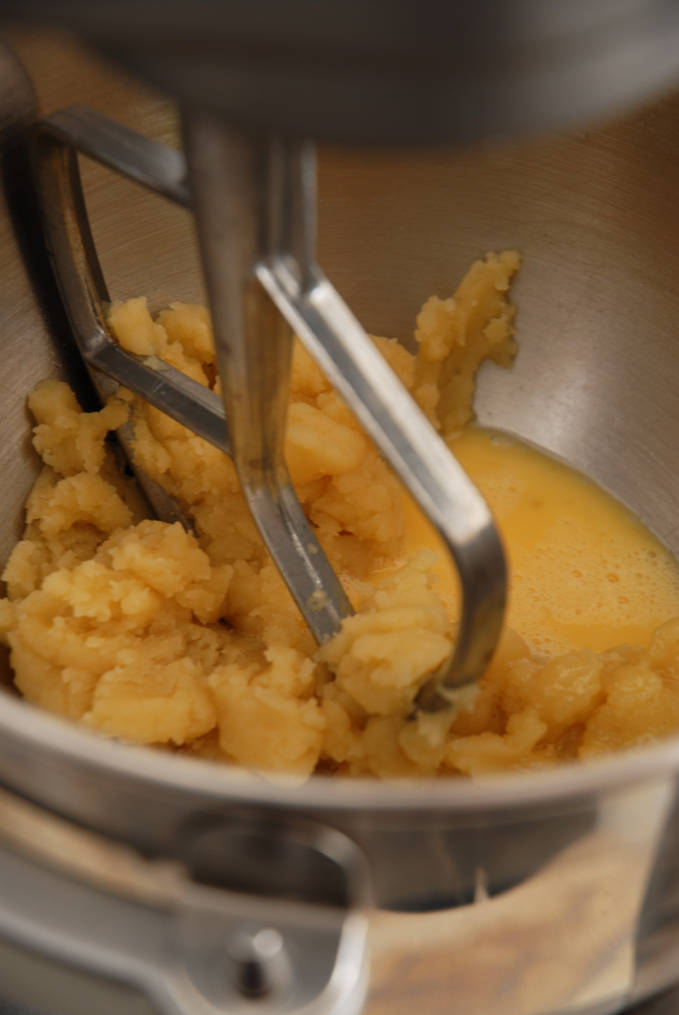 Once the first half of the eggs are incorporated, the rest should be added slowly, with the mixer still running, until combined. A bit more mixing after that is a good idea, too. You'll end up with choux paste that is smooth, shiny, and hopefully lump free.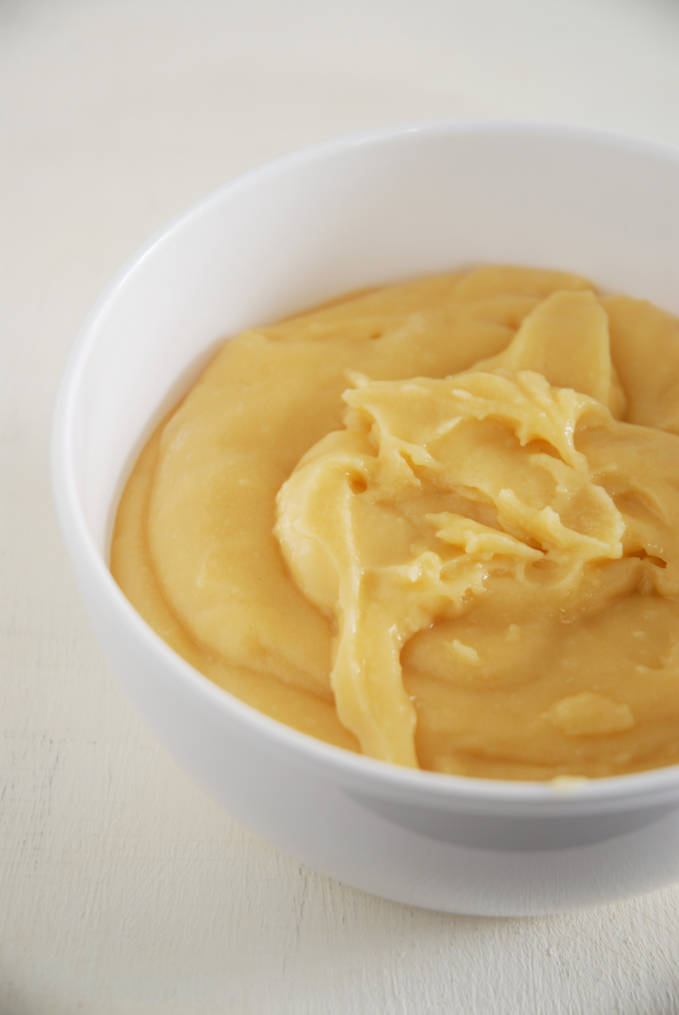 If you dip your finger in cold water and drag it through the choux paste, you should end up with (a) a trough that doesn't collapse into itself and (b) a peak of dough where you lift your finger. This test helps ensure that you have the proper dough hydration (i.e. the right amount of liquid in it to help the choux puff up evenly in the oven). I got this idea from Sadaharu Aoki, and it's lovely. When I was testing out different recipes with different hydrations, some would pass this test and others wouldn't. The ones that passed the test produced the best éclairs.
Piping Éclairs: Preparing the Pan
Éclairs should be piped onto a parchment paper-lined baking sheet as the proteins in the eggs would cause the éclairs to otherwise stick to the pan. However, if you line a baking sheet with parchment paper, it will likely slide around. That's not very helpful when you're trying to pipe a straight éclair. That's why I secure the parchment paper to the sheet pan by dabbing on some choux paste between the parchment and the pan I'm placing it on. The choux acts like glue and prevents sliding paper while piping.
If you're having issues with differently sized éclairs, consider marking down how long the éclairs should be on your parchment paper with a pen or a pencil before piping. Guide marks will help ensure each éclair is the proper length, around 13cm (5 inches).
Piping Éclairs: The Piping Tip
The single most important way to reduce cracking in éclairs and ensure that they are puffy instead of flat is to use the proper piping tip: a star-shaped tip, about 1.5cm (1/2 inch) in diameter, with as many fine teeth as possible. The teeth create ridges in the dough that helps it expand without cracking. If you use a round piping tip, you will get cracks.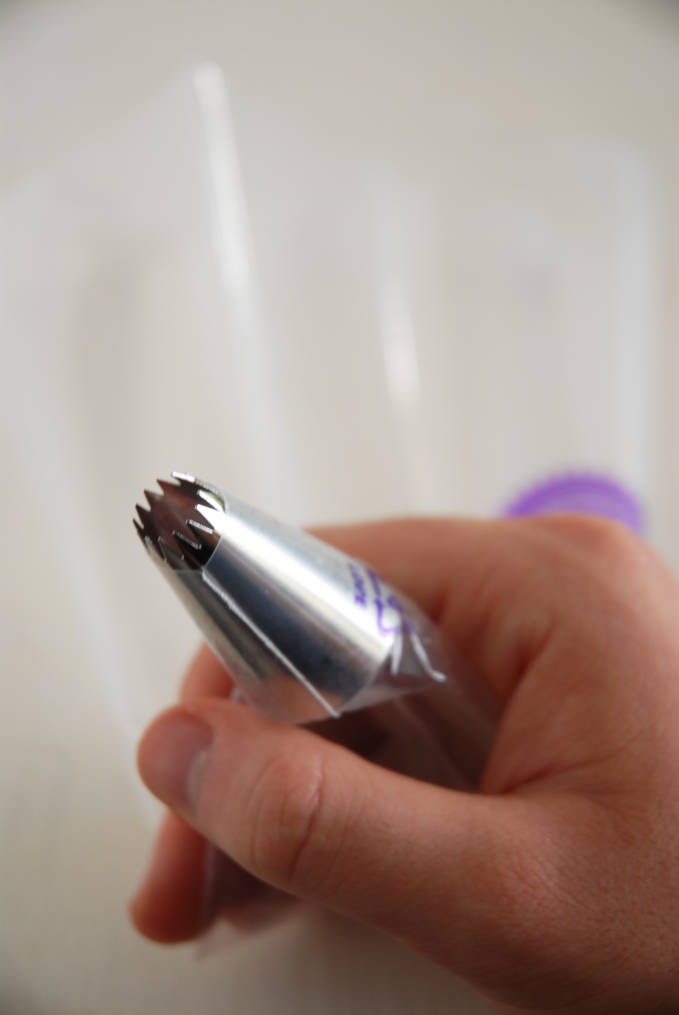 That being said, if you only have a round piping tip, you can minimize cracking by running the tines of a fork lightly through the piped dough to create ridges. However, you will still have some cracks with this method. It's not perfect. I highly suggest investing about $1.50 and getting the right piping tip. This is probably the most important take-away from this tutorial: get the right piping tip for éclairs. I use a piping tip similar to this one.
Piping Éclairs: The Actual Piping
After filling up your pastry bag with choux paste, pipe the dough in straight lines at about a 45° angle to the pan. I've tried piping parallel to the pan and perpendicular to it, and I've found that 45° is the best way to get éclairs that are neither too thick nor too tall, but just right. (It's the Goldilocks angle.)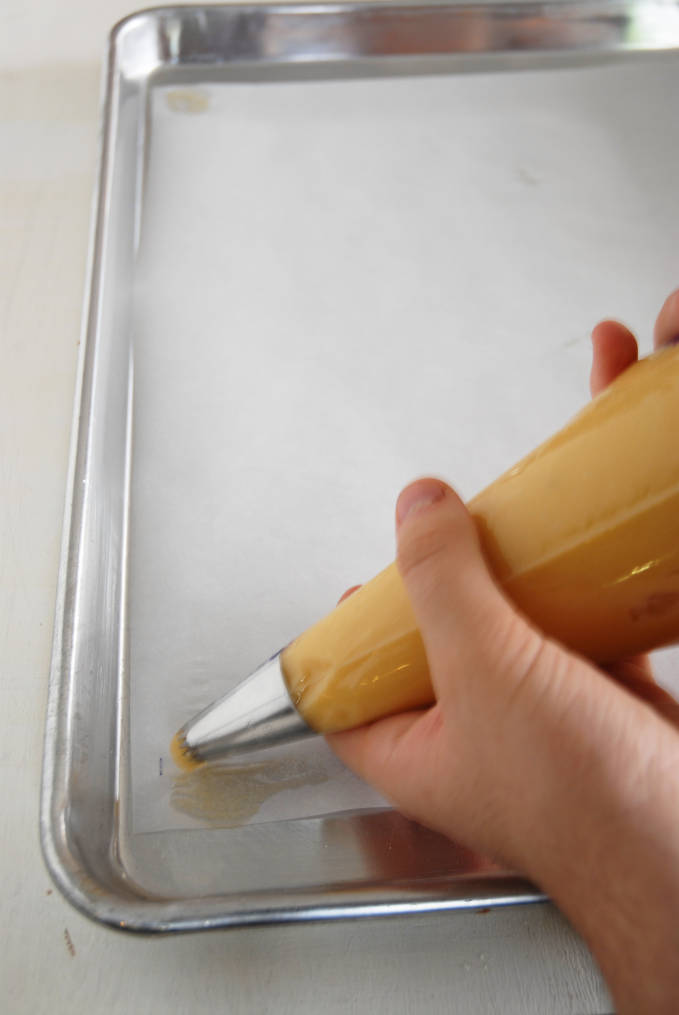 Width and height are important here. Éclairs that are too thin and not tall enough will have minimal room for filling.
If you press lightly and move the bag quickly, your éclairs will be too thin. The trick is to press very strongly and move the bag at a medium speed. That way, you'll end up with decently thick éclairs (about 2.5cm/1 inch) that are also quite straight.
When you get to the end of the éclair, there are two general ways that you can stop the stream of choux paste: shake the pastry bag to release the paste or drag it back over the already piped section.
I've had far better results with the former method. While most pastry chefs use the latter method, I've found that my control with the piping bag is not good enough for it. I tend to bring the bag too far back and destroy the ridges in about one-third of the éclair, which ends up cracking. On the other hand, most pastry chefs, who have far better pastry bag control than I do, are able to stop the flow in a much speedier "flick of the wrist" type motion and only destroy the ridges in a very small section of the éclair so they don't get much cracking. Assuming your piping skills aren't very good or you like to play it safe, I'd go with the shaking method. It's only disadvantage is that it's a little bit slower.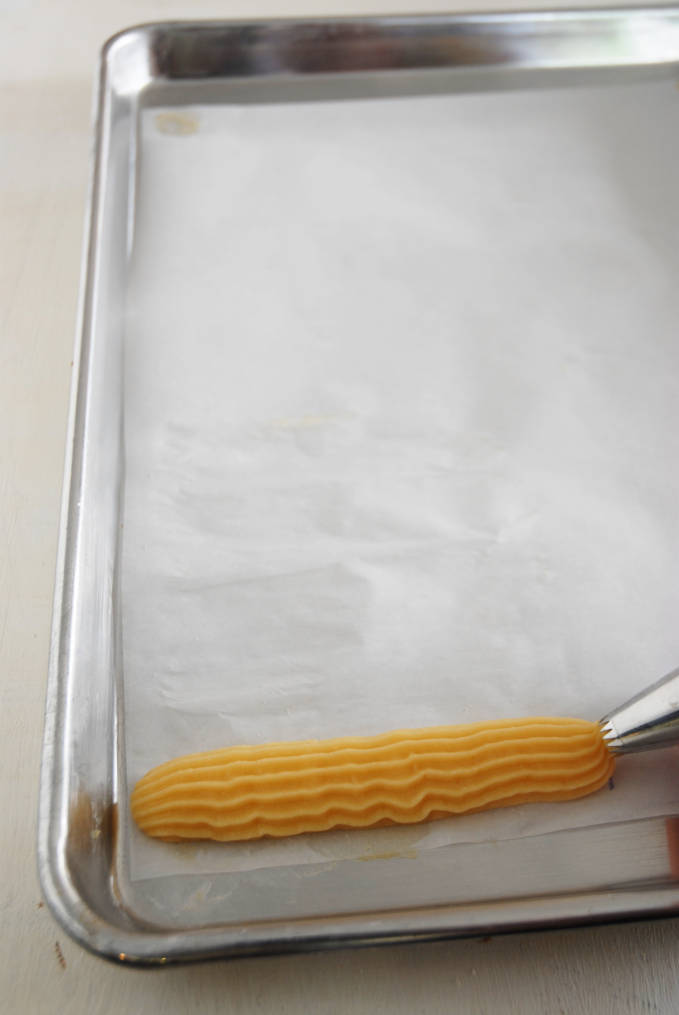 Piping éclairs takes practice, so just keep on going at it until you're happy with how they turn out. You can always scrape the dough back into the pastry bag with an offset spatula and try again (psst… if you look carefully at the picture above you'll see darker sections, which are the remains of scraped off éclairs).
Egg Wash: Weighing Browning Power vs. Cracking Power
With an egg wash, you're facing a seemingly impossible situation: you can either brush the éclairs with an egg wash and end up with browned, cracked éclairs or not brush them and bake up pale, crack-free ones. So, which sin do you choose to commit? Sin one or sin four?
Don't be silly. You don't have to do either.
Here's the deal: you can use an egg wash on your éclairs. But, and this is a big but, you need to be careful. If you apply too much egg wash, such that it spills over the sides of your éclair, the egg will trap the éclair to the pan and prevent it from puffing up. This will result in cracks as the éclair tries to break through the egg barrier. But, if you apply the egg wash gently, an egg wash is fine.
But who has time to be careful??
I use icing sugar instead of an egg wash on éclairs.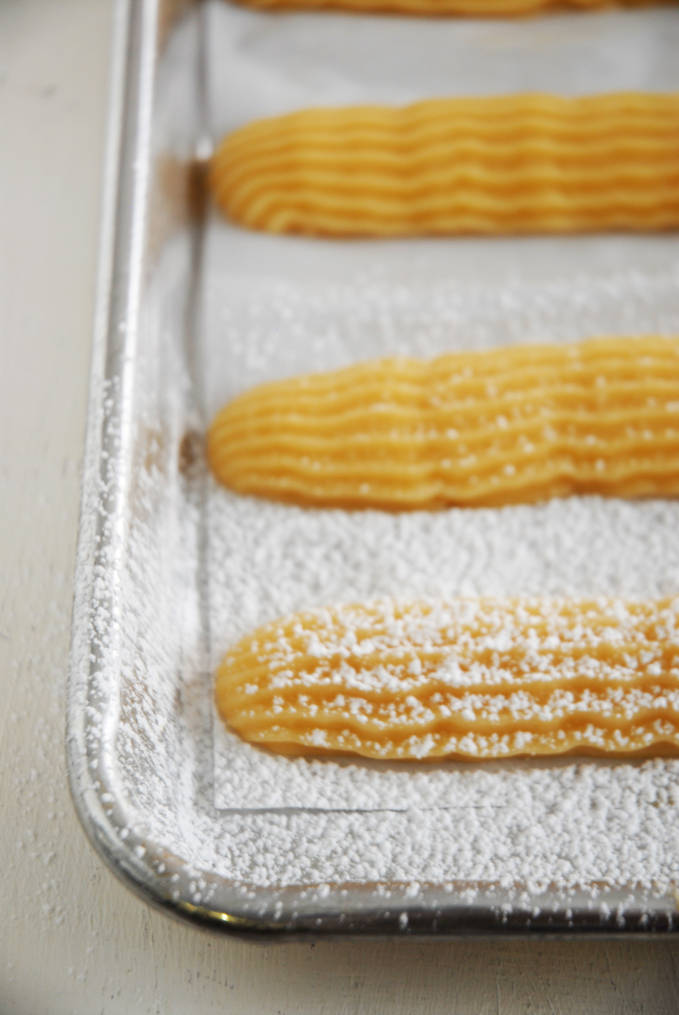 A quick dusting of icing sugar will help encourage browning (caramelizing the tops of the éclairs) and let the éclairs puff up properly. Plus, it's much quicker than carefully applying an egg wash.
Thou shalt not sin with icing sugar!
Baking
Some recipes suggest starting at a high oven temperature and then lowering it when baking choux. The reasoning is that a high temperature will help the éclairs puff up, and then after that a low temperature is necessary to simply dry them out.
Frankly, I've played around with temperatures, and they haven't made much of difference for me. I just start with one temperature, 180°C (350°F), and stick with it. It works fine.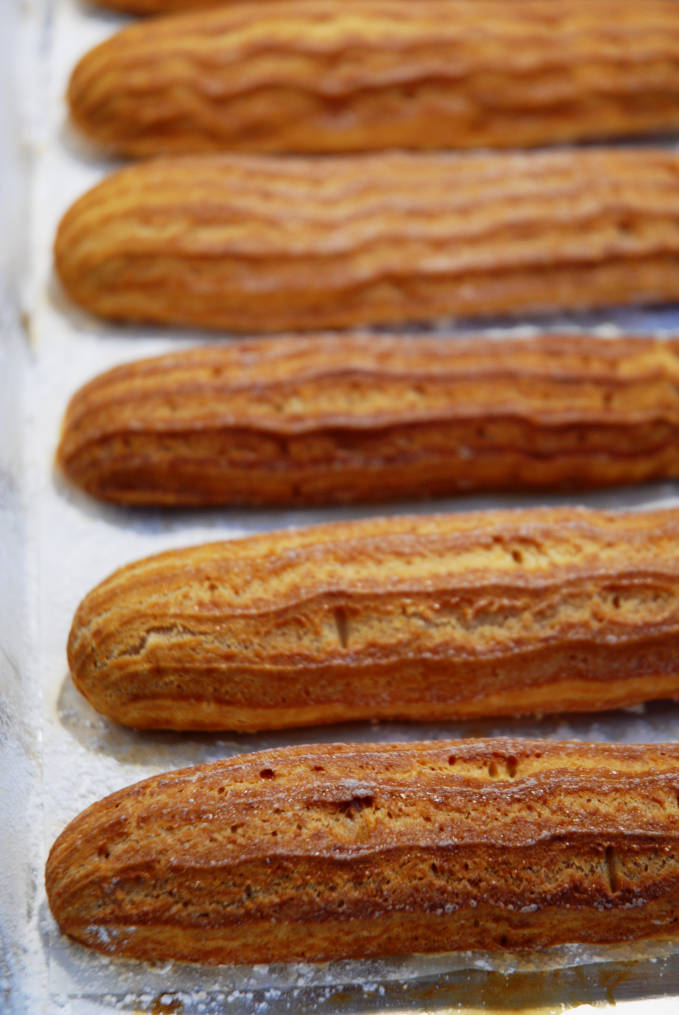 Once the éclairs are done baking, I like to cut a little slit at the bottom of each one with a paring knife to release steam. Otherwise, when they cool, the steam will condense into water and the inside of the éclair will end up soggy. They may also deflate.
But, if you add the slit, you'll end up with the perfect éclair shell: lightly crisped, a perfect shade of brown, and a large inner cavity ready to accept a creamy filling.
Filling
I don't have any photographs for this step because it's relatively simple. Whip up a batch of pastry cream, whipped ganache, or whipped cream and fill the éclairs. You can either cut them in half and pipe the filling in decoratively, or you can make three holes at the bottom of the éclair with a round piping tip or pen and then fill the éclair with a pastry bag. If you choose to go the latter route, make sure that you use enough filling. There's nothing worse than an empty éclair. That should probably be sin number six.
While Bismarck pastry tips (with a long nose) are often suggested for filling éclairs, I don't like them very much for this purpose. Their opening is too small to use for pastry cream, which is quite thick. They work much better for thin fillings, like mango curd for mango doughnuts. I just use a piping bag with a large, round tip for éclairs to fill them after I made the holes (I don't make the holes with the tip in the bag since it's messy). Works like a charm.
Glazing
I've seen four types of glazes for éclairs: chocolate ganache, melted chocolate, poured fondant, and a simple icing sugar glaze. All of these work great and can be modified to suit the flavours you're working with (e.g. by adding colourings, flavourings, and decorations). A simple icing sugar glaze (made with icing sugar and a splash of milk or water) is the easiest option, but it may crack. Melted chocolate or a simple chocolate ganache is most common.
A key note for glazing: make sure that your glaze is thick enough! A translucent glaze will reveal the éclair shell under it and it will also drip, preventing you from achieving a neat, professional coating on your éclair.
Unlike what some may suggest, glazing an éclair is a four step process.
First, dip the éclair into the glaze and move it side to side to ensure that its top is completely coated. Then, take it out of the glaze. This is usually where most people stop, and they end up with sloppy glazing work. You don't want to be like most people though, right?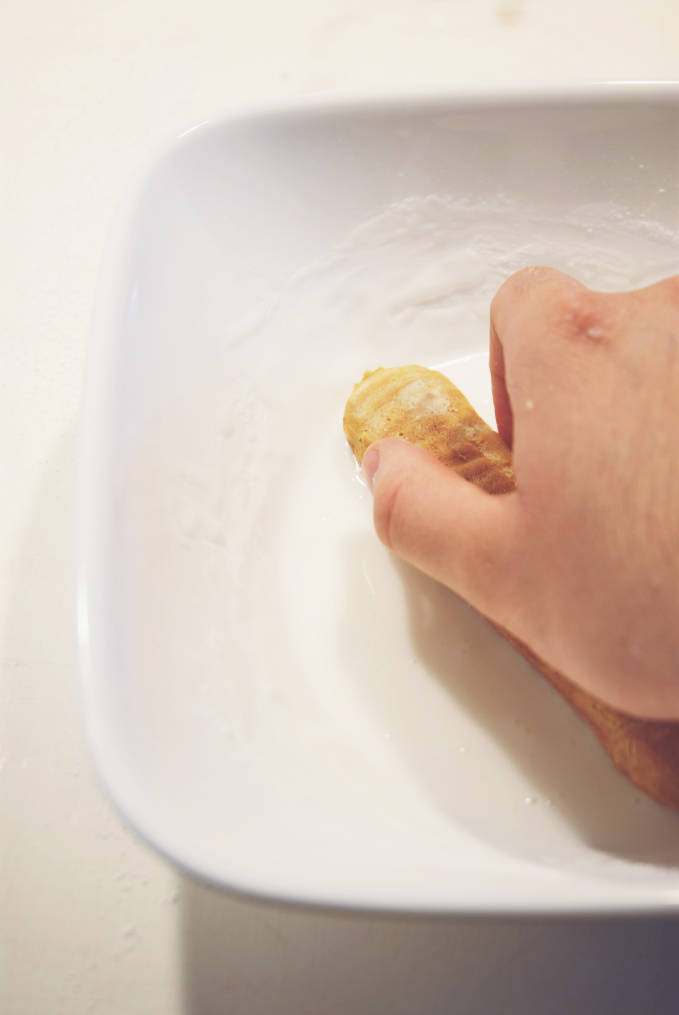 Second, use your finger to return the excess glaze on the top of the éclair back to the bowl by dragging your finger through the "stream" of excess glaze. (P.S. sorry for the blue hue in the next few photos; I had to switch lighting sources.)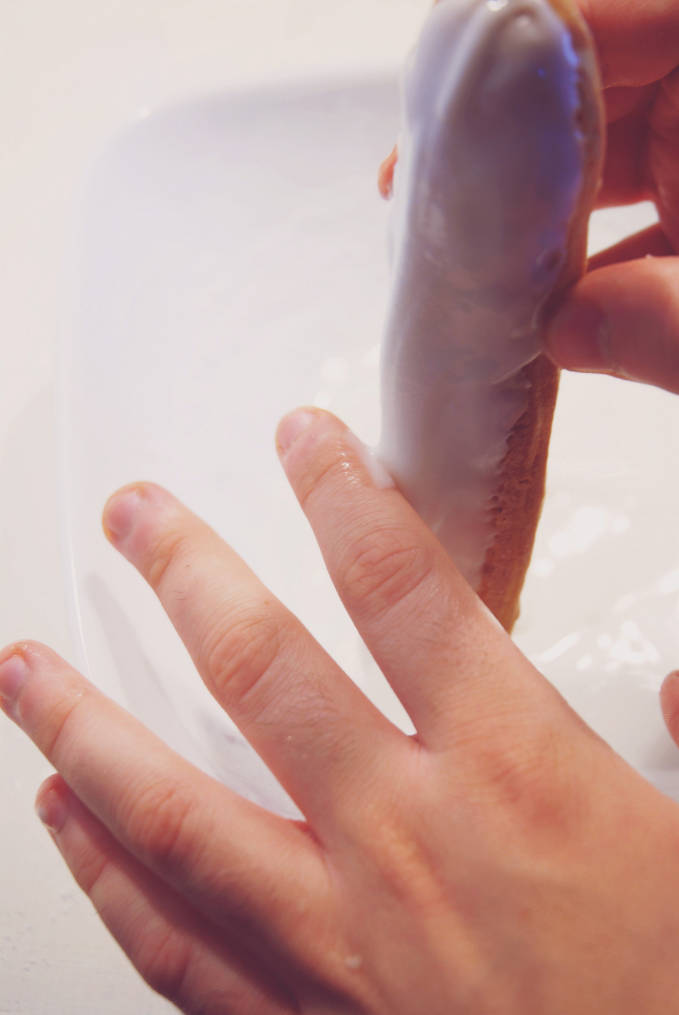 Third, use your fingers to wipe off excess glaze on the sides of the éclair and get a straight edge.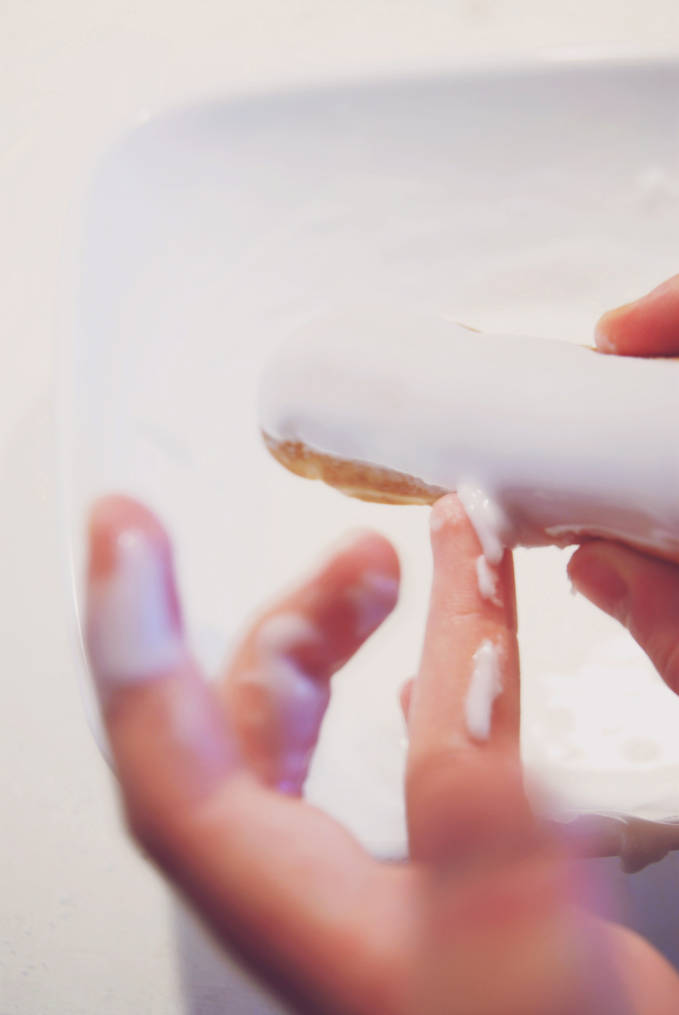 Fourth, use your fingers to wipe off excess glaze at the curved sections. At this point you can add any toppings you wish (like candied nuts, fruit, etc.)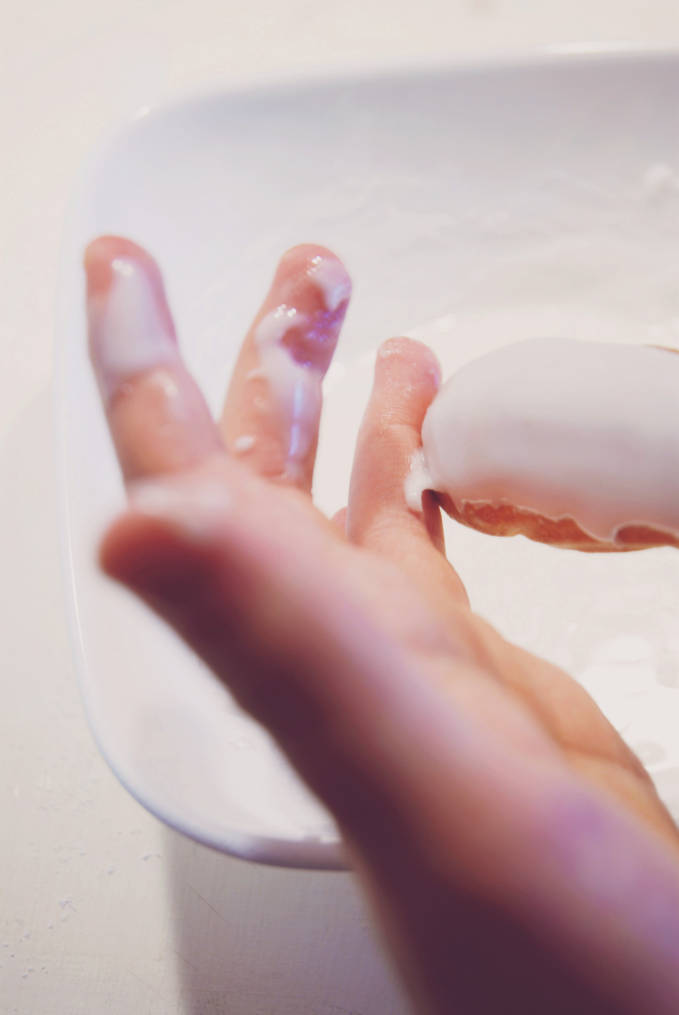 Ta-da, the perfectly glazed éclair!
Conclusion
Éclairs are special treats; they deserve more than haphazard technique. Focus. Refine. Practice. Eventually, you'll get the perfect éclair.
Below, you'll find my meticulously tested recipe for choux pastry. You can use this, as previously noted, for a variety of applications like éclairs, profiteroles/cream puffs, croquembouches, churros, crullers, funnel cakes, some beignets, St. Honoré cake, and gougères. To make the classic éclair (this recipe makes about eight 13cm/5 inch long ones), fill the baked dough with a vanilla pastry cream and dip in melted chocolate.
Liked this tutorial? Read another one!

Éclairs & Choux Paste
The definitive recipe for excellent choux paste that makes the perfect éclair or profiterole: lightly crisped, darkly browned, and completely hollow on the inside.
Ingredients
For the choux paste:
75g water
75g milk
75g butter
5g sugar
3g salt [Update 04/05/2019: Changed from 5g to 3g]
100g bread flour, sifted (note: if frying or boiling the choux, you can replace with AP flour)
150g eggs (about 3), room temperature and lightly beaten
Icing sugar, for dusting
Method
Prepare the choux paste:
Bring the water, milk, butter, sugar, and salt to a strong simmer in a medium saucepan over medium heat.
Remove the pot from the heat and add all the flour at once. Stir vigorously until the flour is completely incorporated.
Return to heat and mix the dough, being careful not to scrape the bottom of the pan as a film may form there while cooking. Cook until the dough reaches 75°C (170°F), about two minutes. You may see a film form at the bottom of the pan.
Transfer the dough to a bowl and, using a stand mixer fitted with the paddle attachment, mix on the lowest speed for about one minute and thirty seconds, such that the dough cools down to 60°C (140°F). You can also do this with a spoon or a hand mixer.
Add half of the eggs and mix, still on the lowest speed if using a stand mixer, until combined.
With the mixer still running, or your hand still stirring, add the rest of the beaten eggs slowly while you continue to mix. Once incorporated, mix for an additional minute until the dough is smooth.
Use as directed in your recipe, or make éclairs, below…
Pipe & bake éclairs (if making éclairs, obviously):
Prepare a parchment paper lined baking sheet by dabbing a bit of choux between the paper and the pan at each corner to secure the paper to the pan.
Transfer the choux to a pastry bag fitted with a star tip, about 1.5cm (1/2 inch) in diameter with as many small teeth as possible (about 16 is good).
Pipe the éclairs in 13cm (5 inch) lengths, and about 2.5cm (1 inch) wide, at about a 45° angle between the bag and the parchment paper-lined baking sheet. Space the éclairs about 5cm (2 inches) apart. If needed, mark lines with a pen or pencil on the parchment paper to ensure the éclairs are equal in length.
Dust with icing sugar.
Bake in a preheated oven at 180°C (350°F) for forty minutes, or until slightly darker than a golden brown.
Remove from the oven and make a thin slit at the bottom of each éclair while still hot to let the steam escape. Let cool completely before filling and glazing.