More than two years have passed since my last post. Time sure does fly! Since then, I've launched a few different start-up projects, completed my undergraduate degree, and rode around on a Segway in fairly questionable settings.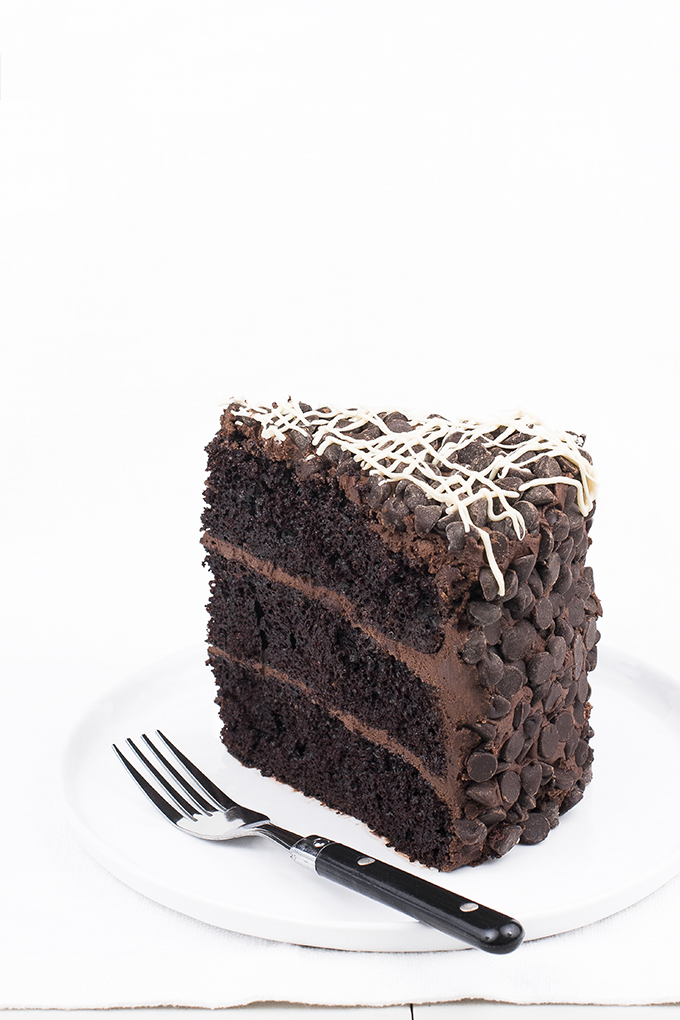 I was confident even as recently as a couple of weeks ago that I wouldn't share another recipe on IronWhisk. Other projects were taking up all of my time, and ending IronWhisk with precisely one hundred recipes was an appealing idea.
But then–a few days after my final undergraduate exam ended–I saw a beautiful photo of a chocolate cake online. Not one to refuse a slice of cake, I modified the recipe slightly and got to work. The results were delectable.
I decided to write a blog post about it partly to confirm that I am indeed still alive. On another note, it appears that my in-depth éclair tutorial has become super popular!
Maybe I'll be back again one day soon. A recent visit to a baking supply store proved quite inspirational. Until then, here's a chocolate cake to tide you over.

Chocolate Blackout Cake
Chocolate cake, with chocolate-cream cheese frosting, rolled in chocolate chips and drizzled with white chocolate. Slight modifications from
Pinch of Yum's
.
Ingredients
For the chocolate cake:
3 cups flour
2½ cups sugar
1½ cup cocoa powder
1 tablespoon instant coffee powder
1 tablespoon baking soda
1½ teaspoons baking powder
1½ teaspoons salt
4 large eggs
1½ cups plain Greek yogurt
2 cups water
½ cup vegetable oil
1 tablespoon vanilla extract
For the frosting:
1½ cups butter, softened
8 ounces cream cheese, softened
1½ cups cocoa powder
1 tablespoon vanilla extract
a pinch of salt
7 cups powdered sugar
¼ cup heavy cream
For the decoration:
3-4 cups of chocolate chips
White chocolate, melted (optional)
Method
Prepare the chocolate cake:
Preheat oven to 350°F (175°C). Grease and flour three 9-inch, round cake pans.
Whisk the dry ingredients together. Add the remaining wet ingredients and whisk to combine.
Divide evenly among the three cake pans and bake for 30-35 minutes. Let cool for at least an hour.
Prepare the frosting:
Cream all of the ingredients together.
Assemble the cake:
If you wish to create a cake stand, cut out a 9-inch round circle of cardboard and cover with tinfoil. Spread a little bit of frosting on it (it acts like glue) and put the first piece of cake on it.
Spread some frosting over the first layer (I used about three ice cream scoops of frosting), stack the second layer on top, and add more frosting. For the last layer, stick it on the cake flat side-up. Cover the entire cake in frosting, but make sure you have about ¾ cup of frosting remaining. Put the cake in the fridge for 30 minutes to chill.
Remove the cake from the fridge, cover in the remaining frosting, and gently push chocolate chips into the sides. Drizzle melted white chocolate on top with a pastry bag, if desired.