Funnel cake is one of my favourite carnival treats. Funnel cake is made with either pancake batter, or choux paste, poured through a funnel into hot oil. That's why it's called funnel cake. It's not because it's funnel-flavoured. While using pancake batter is definitely quicker, and far more efficient if you run a restaurant (you could make pancakes, waffles, and funnel cakes all from the same batter) choux paste is the tastier alternative that results in a fluffier and lighter funnel cake. While choux paste can be a bit harder to make, if you're looking for a gourmet carnival treat, it's the way to go. If you're looking for a less delicious option, feel free to use pancake batter.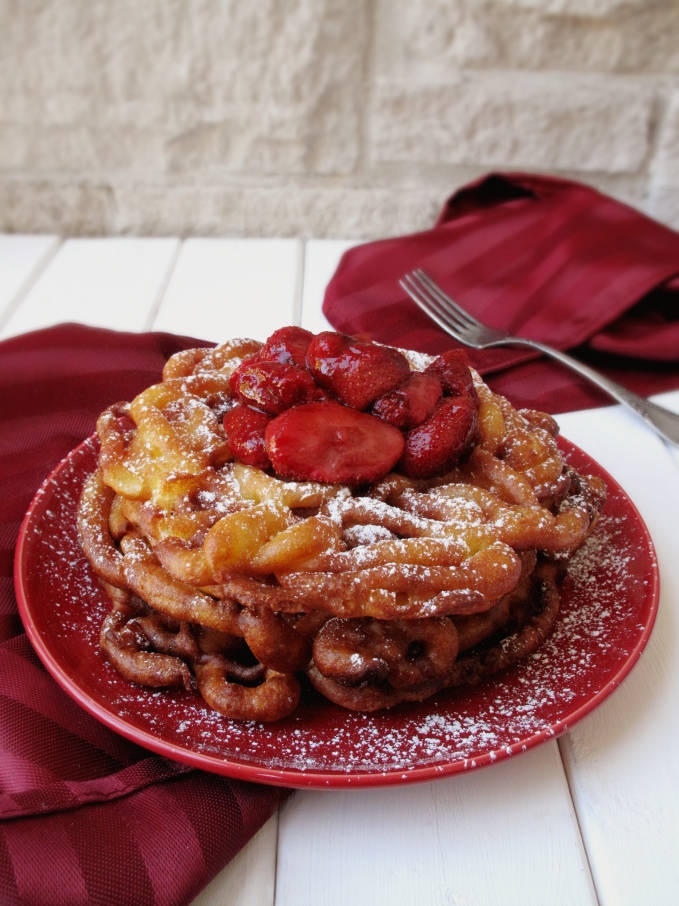 I'm a big fan of funnel cake. Whenever I go to the local amusement park (which also happens to be the largest in Canada) I always spend time standing behind a glass wall that lets park visitors see how the funnel cakes are made. First, the batter is cooked in hot oil until it turns golden brown. Then, the funnel cake is dusted with icing sugar, topped with strawberries, and served with soft-serve ice cream. I've stood behind that window countless times. Well, not countless, but let's just say I didn't count.
These funnel cakes are pretty amazing and are totally worth the effort of making choux paste. If you haven't used or made choux paste before, it's the same dough that's used to make éclairs, profiteroles, and churros.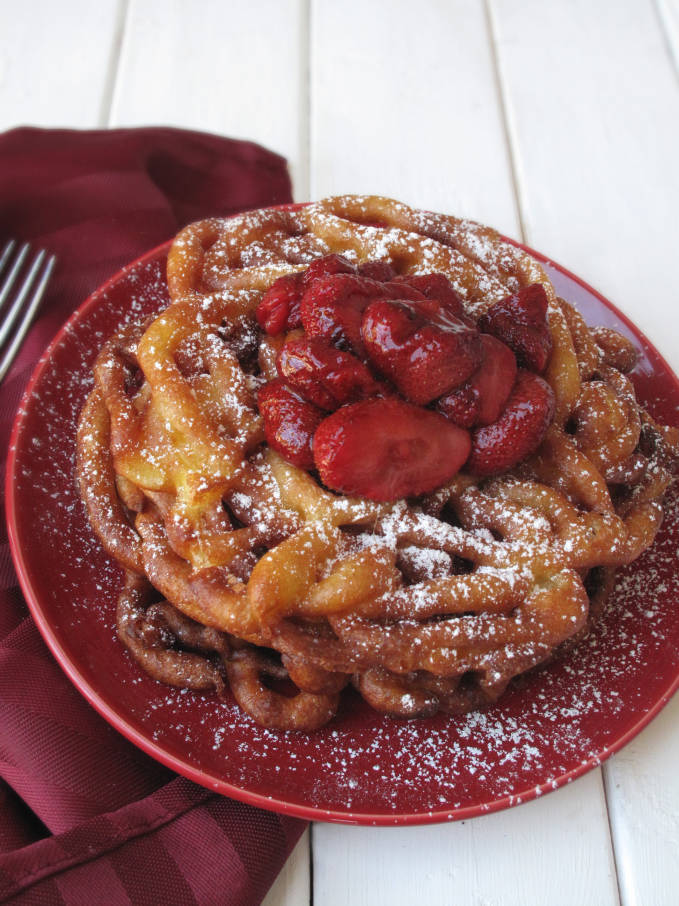 These funnel cakes have a light and fluffy center that is protected by a thin, crispy coating. They only need to cook for a few minutes per side until they turn golden brown and are ready to be dusted with a bit of icing sugar (or more) and topped with a heaping spoonful (or more) of fresh, warm Canadian strawberries and strawberry sauce. Add ice cream for an extra special treat!
Or you could just eat them plain. You shouldn't – you really should eat them with something.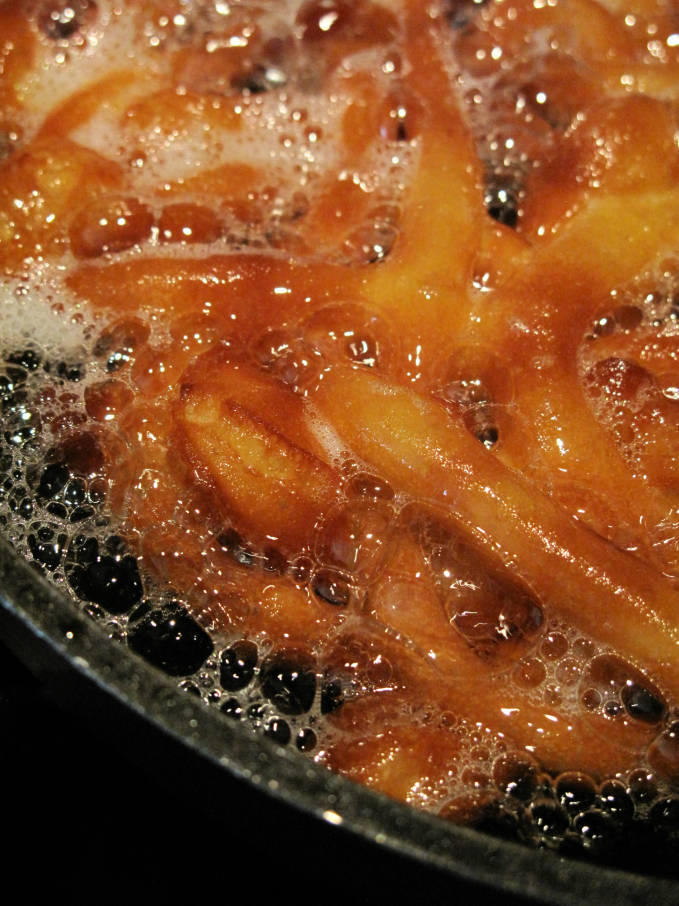 Creating the classic funnel cake shape might look difficult, but the beauty of funnel cake is that it isn't difficult at all. You can fill up a funnel, while holding the bottom to prevent batter leaking out, and then remove your finger while moving the funnel over the pan.
You could also fill up a plastic bag with choux paste, snip off the end, and press on it while moving the bag over the pan. Of course, you could always use a piping bag with a large round tip too.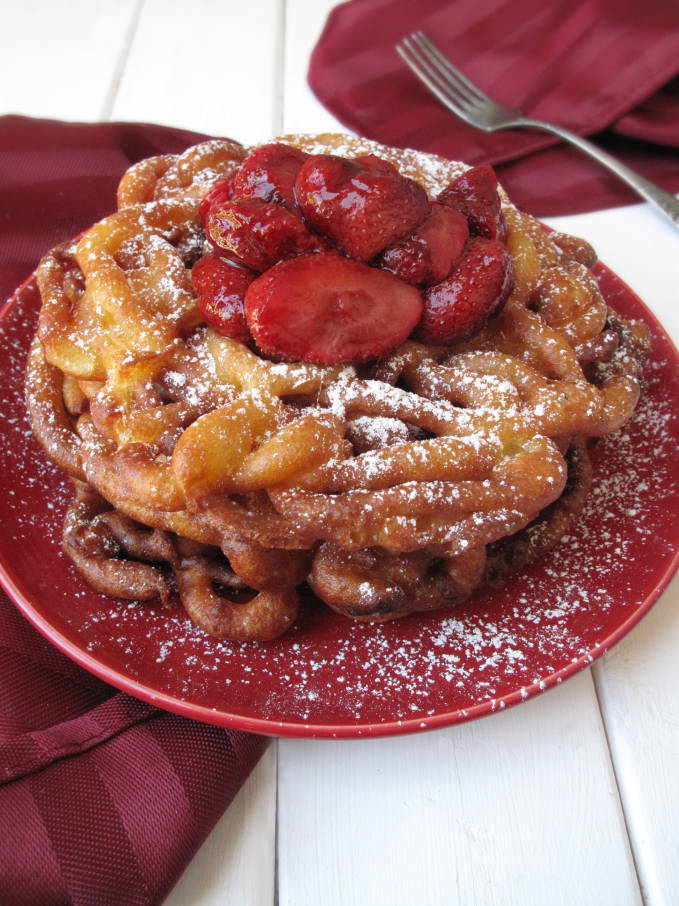 Regardless of which option you choose, pour the batter as close to the hot oil as possible so that it doesn't splatter and burn you. Although the burns may be worth a fresh funnel cake, it's still best to avoid them.
Don't they just look delicious? Yes, yes they do. That's why you're going to run to the kitchen and make them right now. I don't care if you don't have strawberries or if you have a doctor's appointment. There is no excuse not to make these right now. Unless of course you're – nope, none. Chop, chop.
Note (2017/08/10): If you want to make the best possible funnel cake, you may wish to view my tutorial on making the perfect éclairs. Follow the recipe there to prepare the choux dough, but fry it according to the instructions below. The recipe here still works quite well! The detailed steps/added complexity in the tutorial are most applicable for baking choux pastry, not frying it. However, they do make the funnel cake just slightly better.

Funnel cake is the ultimate carnival treat. This recipe uses choux paste instead of regular pancake batter for a fluffier, more delicious option at home.
Ingredients
For the funnel cake:
1 cup (120g) flour
1 teaspoon sugar
½ teaspoon salt
½ cup (120g) unsalted butter
1 cup (250ml) water
4 large eggs, lightly beaten
For the topping:
~20 strawberries
2 tablespoons sugar
¼ cup (62.5ml) water
1 teaspoon vanilla extract
Icing sugar, to dust
Ice cream (optional)
Method
Prepare the funnel cake:
In a bowl sift together the flour, sugar and salt. Set aside. Place the butter and water in a heavy saucepan over medium heat and bring to a boil. Remove from heat and, with a wooden spoon or spatula, quickly add the flour mixture. Return to heat and stir constantly until the dough comes away from the sides of the pan and forms a thick smooth ball. Transfer the dough to your electric mixer, or with a hand mixer, and beat on low speed a minute or two to release the steam from the dough. Once the dough is lukewarm start adding the lightly beaten eggs and continue to mix until you have a smooth thick paste. Using a piping bag with a round tip, pipe the smooth dough into hot oil (around 350°F) on medium heat in a small pan. If you use a smaller pan and cook one at a time you will get similarly sized funnel cakes. Pipe zig-zag shapes and circles around the pan. Make sure the oil is hot or the funnel cake will be hard instead of crispy. If the funnel cake gets brown too fast, turn down the heat or it will burn. Fry until golden brown, about two to three minute per side. Drain the funnel cakes on paper towels.
Prepare the topping:
Combine everything but the icing sugar in a saucepan and cook on medium heat until the strawberries are soft, about fifteen minutes.
Assemble the funnel cakes:
Using a sieve dust the funnel cakes with icing sugar. Top with strawberries and ice cream.