Paris is home to some of the world's best pâtisseries. Some are well known, like Pierre Herme's stores or Ladurée's, and others less so. But, undoubtedly, if you want the world's best pastries, Paris is the place to go. Right?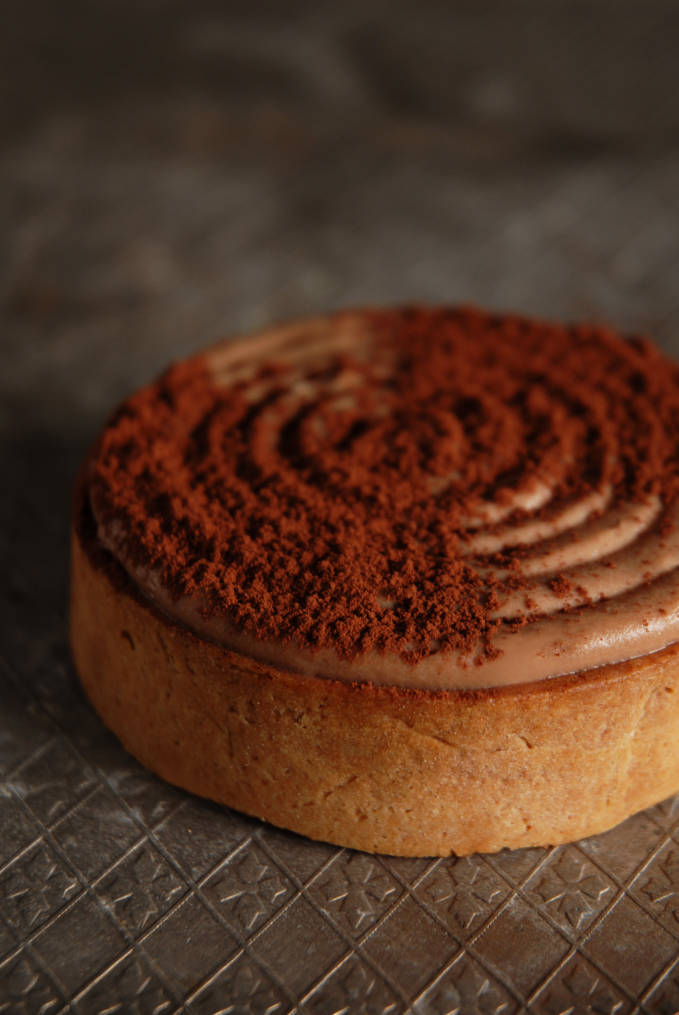 Well, not necessarily. Some of the most delectable pastries can be found in Japan, where pastry is nothing less than an art form.
Previously, I've written about Hidemi Sugino, a Japanese pastry chef who in 1991 won the World Pastry Cup with his Ambroisie, an entremet cake made with pistachio, raspberry, and chocolate. By no means, however, are his stores the only place in Tokyo to savour unique flavour combinations—a visit to Japan is incomplete without a bite of one of Sadaharu Aoki's masterpieces.
Aoki is known for combining Japanese flavours, like yuzu, matcha, and black sesame, with traditional French pastries the likes of millefeuille, éclairs, and macarons. And he does a damn good job of it. His stores, in Japan and Paris, are some of the most visited.
Unfortunately, unlike Hermé or Ladurée, Aoki does not publish any of his recipes. That's a big problem; his pastries (especially his salted caramel tarts and sesame éclairs) are often some of the highest rated ones on Paris to-eat lists.
Descriptions of his salted caramel tarts are vivid: a buttery, crisp tart shell filled to the brim with a luxurious vanilla bean salted caramel and topped with a perfect swirl of milk chocolate mousse. Think of a Twix or Caramilk chocolate bar, but much, much better.
I wanted to try them. Alas, flying over to Paris or Tokyo was not an option.
Recreating a pastry that I've never tasted before was certainly a challenge. I worked off of detailed descriptions and photographs that I had found online of these "perfect" salted caramel tarts.
From photographs, I figured out that they had five components: (1) a tart shell, (2) a layer of salted vanilla bean caramel, (3) some type of milk chocolate mousse/cream, (4) a dusting of some type of tan powder overtop the milk chocolate mousse/cream, and (5) a dusting of dark, Dutch-processed cocoa powder.
As soon as I understood what the components are, I got to work and made ten.
(1) The tart shells were easy. I used a simple recipe from Antonio Bachour's book, the same one that I used for the key lime and raspberry tarts I made a few weeks ago.
(2) For the salted vanilla bean caramel, I used Stella's recipe for caramel sauce. I had to make a couple of modifications though. I drastically cut down the amount of cream in the recipe (I used about 15% of the recommended amount) so that the caramel would have a more solid texture (I was not going for pourable, like she was).
I also increased the amount of salt and switched to fleur de sel, as the description for Aoki's tart in his stores specifically states that he uses fleur de sel. That being said, I'm sure that using standard kosher salt would work too. Salt is great in caramel because it both cuts down the sweetness and elevates other flavours.
(3) When figuring out how to make the milk chocolate mousse, I found a recipe online that claimed to be Aoki's. I was not convinced, however, because it only called for milk chocolate and whipping cream. From what I've read online about the tart, the mousse lasts for quite a while. From the recipe, it didn't seem like it would.
I decided to make a milk chocolate cremeux instead, also from Antonio Bachour's book. Bachour's recipe contains gelatin, which helps the spiral keep its shape for a long time.
Speaking of the spiral, it was a pain. Piping spirals is incredibly difficult.
I had to use a robot.
When I first saw the spiral top on Aoki's tart, I knew that using a robot was the only way I could replicate it. My piping skills aren't very good.
Luckily, in 2005, my parents bought me a LEGO NXT Robotics kit. I still had it.
I fashioned together a simple robot, in about fifteen minutes, that spun in a circle. To make the spirals, I simply placed the tarts on the robot and held the pastry bag above them. I pressed down on the cremeux, and perfect spirals formed before my eyes.
Well, actually, it took close to thirty tries (and lots of rants on Twitter) before I was able to get one right… (You can see a picture here.)
But, once I got it, I made about half of the tarts with spirals. For the rest, I got too annoyed. I just dolloped some of the cremeux on. I probably won't bother with the spiral in the future.
(4) I had no idea what the tan powder Aoki sprinkled on his tarts was. No clue. It might be ground up tart shells. In any case, I didn't want to take the risk and decided to leave the powder out.
(5) Sprinkling the cocoa powder onto the cremeux was probably the easiest step of this recipe. I used a small sieve and blocked sections of the tart off with parchment paper while dusting, and it ended up wonderfully.
These tarts were a bit of a project, especially the cremeux spiral which drove me nuts. That being said, the end result was unbelievable. The milk chocolate complemented the caramel so, so well.
The crunch of the shell, the creaminess of the caramel, the smoothness of the cremeux, and the bitter notes of the Dutch-processed cocoa powder are flawless together.

Salted Caramel & Milk Chocolate Tarts
Recipe for Sadaharu Aoki's salted caramel tart with fleur de sel vanilla bean caramel, milk chocolate cremeux, and Dutch-processed cocoa powder.
Ingredients
For the almond tart shells:
90g butter, softened
70g icing sugar
1 egg
30g ground almonds (i.e. almond flour)
¼ teaspoon fleur de sel (can substitute with kosher salt)
50g flour
150g cake flour
For the salted vanilla bean caramel:
125g whipping cream
2 vanilla beans, split and scraped
⅛ teaspoon ground vanilla beans (optional)
400g sugar
80g butter
1 teaspoon fleur de sel (can substitute with kosher salt)
For the milk chocolate cremeux:
8g gelatin
40g water
560g cream
30g sugar
220g milk chocolate, melted and in a large bowl
For assembly:
~30g Dutch-processed (dark) cocoa powder (you can use regular cocoa powder, but the colour will not be as nice)
Method
Prepare the almond tart shells:
Combine the butter and the icing sugar until smooth, using the paddle attachment of a stand mixer if you have one. Do not beat rapidly. The goal is not to incorporate air when making the dough.
Add in the egg, and beat to combine.
Add the almonds, fleur de sel, and all-purpose flour. Beat to combine.
Add the cake flour. Beat to combine.
Divide the dough into two pieces, wrap with plastic, wrap, and place to chill in the fridge until cold (around an hour).
Roll out the dough to the thickness you desire (being careful not to go to thin or the tarts will collapse), and line buttered mini-tart pans. You can use buttered, round cookie cutters on a parchment paper-lined baking sheet if you would like to make tarts with straight edges.
Place in the fridge to chill for at least half an hour. Meanwhile, preheat the oven to 325°F (160°C).
Once tarts are chilled, poke holes into the bottom of the tarts with a fork to prevent air bubbles from forming. Fill the tart with beans or rice (beans are easier to take out later) to prevent the bottoms from rising (you can reuse these beans in the future for the same purpose).
Bake for about 20-25 minutes, or until browned. Remove the beans, and cool the tart shells to room temperature.
Prepare the salted vanilla bean caramel:
Bring the cream, vanilla beans, and ground vanilla beans (if using) to a simmer over low heat. Turn off heat, cover, and let stand for one hour to infuse.
Place a large pot over a medium flame (large is important or else the caramel will overflow and you'll burn yourself ) to caramelize the sugar.
Sprinkle with some of the sugar to form a thin coat on the bottom of the pot. As the sugar melts, sprinkle more sugar in the areas where it is melting. Avoid stirring the pan, and shake and swirl it instead during the process. Continue adding sugar to the areas where it is melting until all the sugar is added.
Cook until it reaches what Stella describes as a "foxy" colour, between light and dark brown—so I guess just "brown". If you see clumps of sugar, then shake the pan. Do not stir.
Pour in a splash of the cream as soon as the sugar reaches the proper colour. Stir it in. It will bubble, but as long as you use a large pot you should be fine.
Continue adding the cream (and the vanilla beans) gradually and stirring.
Then, stir in the butter and the fleur de sel.
Strain into a container to remove clumps of sugar and vanilla beans, and then pour evenly into the tart shells.
Set in the fridge to cool overnight, or else the caramel will be too liquid to continue.
Prepare the milk chocolate cremeux:
Sprinkle the gelatin over the water and stir to combine. Let sit for five minutes.
Bring the cream and sugar to a simmer in a medium saucepan over medium heat. Once simmering, remove from the heat and stir in the gelatin.
Pour the cream mixture into the melted chocolate and whisk until smooth.
Place in the fridge overnight to set.
Assemble:
Take the milk chocolate cremeux and whisk until smooth (you can use a stand mixer, if you wish).
Add cremeux to each tart and scrape off excess with an offset spatula so you have a smooth surface.
Using a medium-large round piping tip, pipe a spiral of milk chocolate cremeux onto each tart, starting from the outside. You can also decorate with cremeux another way, if you wish.
Using a small sieve, dust with the cocoa powder. For Aoki's tarts, he dusts opposite quarters of the tart presumably by holding a piece of parchment paper above the non-dusted quarters while dusting.