I'm a Canadian. I live in North America. It's not always cold here (it is usually cold here). I don't play hockey. I don't own a pet beaver. I don't have a maple tree in my backyard (there is one in my front yard). It doesn't always snow here (although it's starting to hail right now). I don't own a toque.  I don't live in an igloo. I don't ride polar bears to school (that's only in Manitoba). You understand now, eh? I am a Canadian.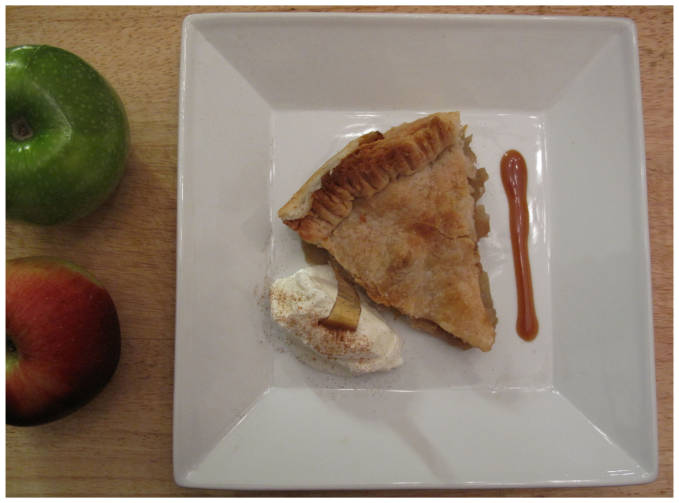 It sure is cold outside right now though. The hail is starting to cover the grass and the leaves that have fallen to the ground. Soon, as all Canadians know, the fields of green will become fields of white. Snowmen will be built, slush will be on the roads, and cocoa will be made. Canadians all over will step out of their homes to go to work and shiver. Yes, we shiver in the cold. We're Canadians, but we're still human.
We take the snow of our cars and drive to work, drive to school. We put on layers upon layers of clothing, and chuckle while others complain about subzero temperatures. We're used to the cold, but we're also used to the beauty. The trees are green, the rivers blue. The wind blows snow into faces and children run around happily (in hats, mittens, ear muffs…). I'm proud to be Canadian.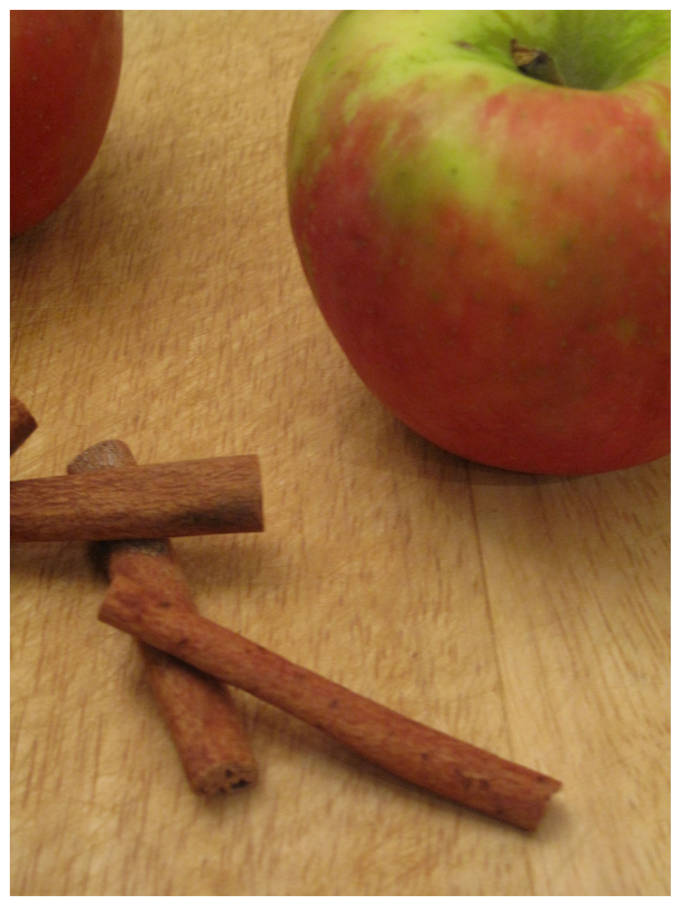 And so, I adapted an American classic: apple pie. I made an American-Canadian apple pie (I'm all for good international relations, you know). With maple syrup shards this beautiful apple pie with a flaky crust is delicious. It's warm. It's perfect on a cold winter day (or during the summer, if you're Canadian).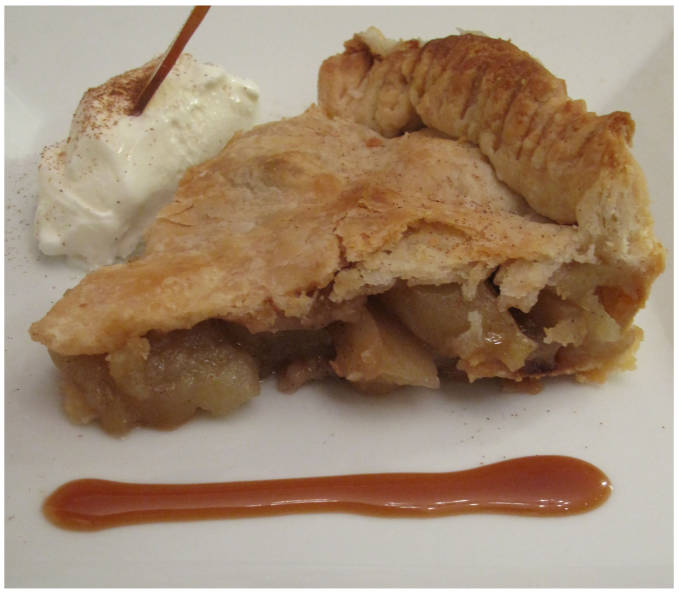 Check out my pie crust tutorial if you'd like some information on making a perfect crust.
International Apple Pie
Apple pie served with maple syrup shards brings together the best of both worlds!
Ingredients
For pie pastry (for one double-crusted pie):
4 cups (500g) all purpose flour
2 teaspoons salt
⅔ cups (160g) cold butter
⅔ cup cold shortening
14 tablespoons (210ml) very cold water
For the filling:
5 apples, peeled, cored, and chopped into small pieces
1 teaspoon cinnamon
½ teaspoon nutmeg
1 teaspoon lemon juice
¼ cup (50g) brown sugar
½ cup (100g) white sugar
1 tablespoon cornstarch
1 tablespoon unsalted butter
For the maple syrup shards:
½ cup (125ml) maple syrup
Method
Prepare the pie pastry:
With pastry blender/food processor on medium-low speed for thirty seconds/two knives/two forks, break and cut half of the shortening and butter into the flour and added salt until mixture resembles corn meal, then add remaining shortening and butter and continue blending until mixture resembles the size of small peas. It is important to add half at a time and not all of it at once. Sprinkle tablespoons at a time of the chilled water into the pastry dough, using the pastry blender (or forks, or knives, but NOT processor) until mixture is combined. Try to avoid using your hands, but you might need to use them near the end to shape the dough together. Divide the dough into two equal parts and squish down to make two circles. Wrap up pastry dough in parchment paper and place into fridge to chill for at least one hour. Roll out the dough on a lightly floured surface until ⅛ inches thick just before adding filling (note that filling must sit for thirty minutes).
Prepare the filling:
Pour lemon juice on apples and toss to incorporate. Add cinnamon, nutmeg, and both sugars. Mix and let sit for thirty minutes at room temperature. Drain juice into a medium saucepan and whisk in the cornstarch. Cook until the mixture thickens on medium-high heat, mix in butter, and pour back into the apples and mix once more.
Prepare the maple syrup shards:
Cook maple syrup on medium-high heat for about five minutes or until it begins to caramelize. Avoid stirring. Pour onto a baking sheet lined with parchment paper to create a thin layer of caramel. Let cool, about ten minutes, and break into shards.
Baking and assembly:
Take one of the rolled out layers and place into a 9-inch pie pan making sure that the dough goes over the sides of the pan slightly. Add apples. Take your second pie crust and place on top of the apples. Fold the sides of the top layer under the bottom of the bottom layer. Using a fork, press down on the sides of the dough all around the pie to attach both pieces of dough to each other. Alternatively, use your thumb and forefinger to hold the two layers of dough and your other forefinger to push the dough in to seal it. Cut five slits at the top of the pie and let sit in the freezer while preheating the oven. Bake at 400°F for around forty minutes, or until the crust is golden brown (this might take anywhere from thirty to sixty minutes). If the sides of the pie are browning too fast, wrap the sides with tinfoil. Serve apple pie with vanilla ice cream, maple syrup shards, and sprinkle with cinnamon.