I wanted to make a simple entremet cake. I wanted to convince the yet uninitiated entremet-bakers to get hooked on the magic that these mousse cakes are. That's what I tried to do.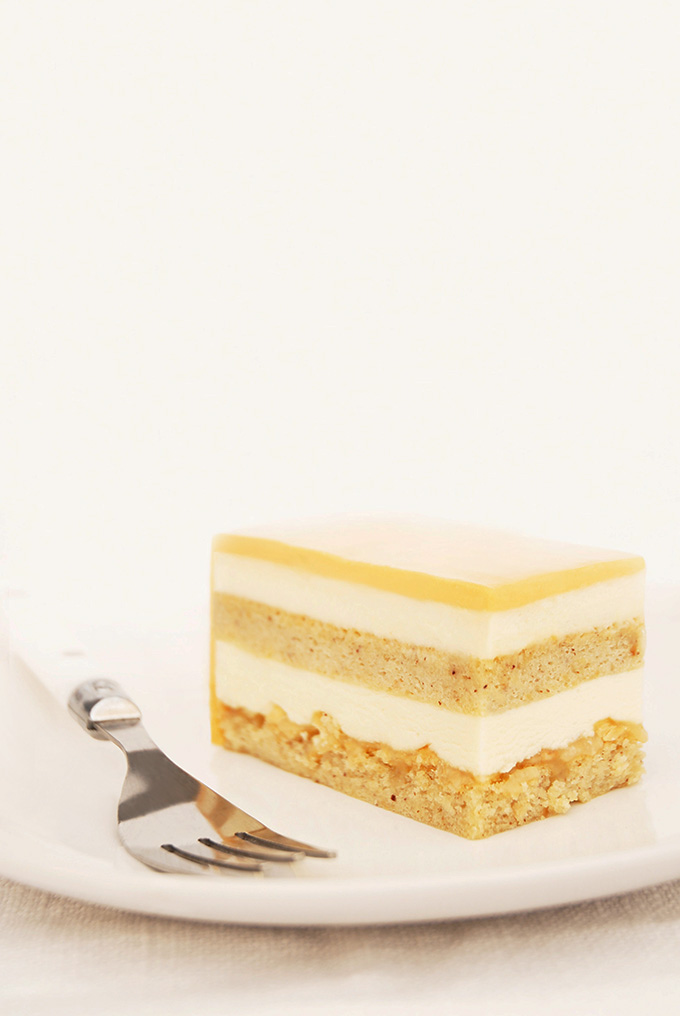 I ended up with this. This, apparently, is my idea of a simple entremet cake.
Well, for an entremet, I guess it is fairly simple. There are only four components: hazelnut cake, caramelized hazelnut crunch, white chocolate and coffee mousse, and a butterscotch glaze. However simple, together these elements are magnificent.
The hazelnut cake is unbelievably soft and fluffy—it compresses with the lightest of touches. Speckled with contrasting dots of hazelnut, it supports a layer of caramelized hazelnut pieces. This layer, however thin, provides a much needed juxtaposition of texture to the otherwise creamy cake. With every bite, the coffee notes of the mousse fade away to reveal the earthy taste of caramelized hazelnut hidden within. It's wonderful.
Here's the deal: this cake is amazing. I don't know how else to put it. When I first tried it, I was shocked at how good it was.
But, it looks scary.
I know it looks scary. I'm looking at the photo right now and I am slightly scared.
The good news, however, is that it's not that hard. It's not that scary.
The hazelnut cake is pretty much made in a food processor. If you can fold ingredients together and know how to press a button, that layer should be a piece of cake (ha!).
The caramelized hazelnut layer is also quite easy to do. Unlike with most caramels, you don't need to watch for it to get to the proper colour. You don't even need to measure its temperature. All you have to do is stick the mixture in the oven for ten minutes. If you can set a timer for ten minutes (I really hope you can), the caramel should be a piece of caramel.
Okay, that pun didn't work out as well as the previous 'as easy as a piece of cake' pun. Sorry. But, I guess, if you do set the timer for ten minutes the mixture will turn out to be a piece of caramel. Here's hoping, because caramel can't get any simpler.
The mousse is also pretty easy. All that's involved is folding a few ingredients together.
Just watch out for the glaze. That's probably the trickiest part. To make this cake, I slightly modified Antonio Bachour's recipe in his book Bachour for "Valrhona Ivoire Coffee Entremet with Dulcey Glaze". His book is targeted towards pastry chefs, and so the recipe called for some hard to find ingredients. As I was not baking for 200 people, and didn't have access to many of the ingredients, I substituted a few things and scaled the recipe down. This meant that I had to replace Valrhona Dulcey chocolate (it's a caramel coloured and flavoured chocolate) with butterscotch chips that I found in the grocery store. Naturally, the cheap butterscotch chips behaved quite differently than premium chocolate Bachour uses. So, they gave me a bit of trouble with his glaze recipe. It's okay though. It ended up okay once I added some more oil and water.
I also cut down the sugar in his recipe. I've been doing that a lot recently for American-sourced recipes. I've found that many American (North and South American) desserts just have way too much sugar in them. They're too sweet for me. All I taste is sugar. I much prefer a backdrop of sweetness to complement the starring flavours of the dessert.
Anywho, I highly suggest that you make this entremet. It's great because it's not too hard, but very tasty. At least within about 48 hours of glazing anyway, since after that the crunchy hazelnut layer gets soft and the textural contrast goes away. I recommend eating it soon after glazing.
If you don't have a mousse or pastry ring, which is needed for making entremet cakes, make one out of tinfoil. Yup, really. This is actually the first rectangular entremet that I made with a pastry ring. Before, I just made them out of tinfoil. It works quite well (see here for an entremet I made without a pastry ring).

Coffee, Hazelnut, and Caramel Entremet
Coffee, hazelnut, and caramel entremet with layers of hazelnut cake, white chocolate and coffee mousse, crispy caramelized hazelnuts, and butterscotch glaze.
Ingredients
For the hazelnut cake:
190g hazelnuts, toasted and finely ground
70g sugar
¼ teaspoon kosher salt
280g eggs (about five)
75g butter, softened
60g egg whites (about two)
30g sugar
For the caramelized hazelnuts:
50g sugar
40g butter
20g corn syrup
10g water
¼ teaspoon kosher salt
25g hazelnuts, roughly chopped
For the white chocolate and coffee mousse:
5g gelatin
20g water
25g coffee beans
125g milk
245g white chocolate, melted
245g whipping cream, beaten to soft peaks (if using a KitchenAid stand mixer, about 5 minutes on speed 6)
For the butterscotch glaze:
5g gelatin
20g + 25g water
215g whipping cream
265g butterscotch chips, melted
60g vegetable oil
Method
Prepare the hazelnut cake:
Preheat oven to 180°C (350°F) and line a half sheet pan with parchment paper.
In a food processor, grind together the hazelnuts, 70g sugar, salt, and eggs. If you're starting off with whole, toasted hazelnuts, then grind them with the sugar and add in the eggs once ground.
Add the butter and process until smooth, scraping down the sides of the food processor, as necessary.
In a large bowl, whip the egg whites and the 30g of sugar to stiff peaks. If you're using a KitchenAid stand mixer, this is about 9 minutes at speed 6.
Fold the hazelnut mixture into the egg whites, being careful not to deflate the egg whites too much. Fold until smooth.
Spread onto a half sheet pan lined with parchment paper.
Bake for about 15 minutes, or until golden.
Once cooled to room temperature, cut out two 18cm (7'') squares with your pastry ring.
Prepare the hazelnut crunch:
Preheat oven to 180°C (350°F) and line a half sheet pan with parchment paper.
In a small saucepan, bring the sugar, butter, corn syrup, water, and salt to a boil.
Stir in the chopped hazelnuts and pour onto the parchment paper-covered pan.
Refrigerate until cool (about 10 minutes), and then bake for 10 minutes.
Let cool for a few minutes before cutting out a 18cm (7'') square with your pastry ring. You may find it useful to hit the pastry ring with something (e.g. a rolling pin) to cut the caramel, as it can be a bit hard.
Prepare the white chocolate and coffee mousse (prepare right before assembling layers):
Bring the coffee beans and the milk to a boil in a small saucepan and then set aside to infuse for at least 15 minutes.
Meanwhile, combine the gelatin and the water in a small bowl and let sit for at least 5 minutes.
Strain the coffee beans out of the milk, warm up the milk to a simmer, and then stir in the gelatin until dissolved.
Whisk in the melted chocolate until smooth.
Cool for 10 minutes before folding in the whipped cream.
Assemble layers:
Place the pastry ring on a parchment paper-lined pan that will fit into your freezer.
Place a layer of hazelnut cake at the bottom of the ring, followed by a layer of the caramelized hazelnuts (it's okay if they break a little), and half of the mousse.
Add another layer of cake and the remainder of the mousse, smoothing it out as necessary.
Place in the freezer to chill overnight.
Prepare the glaze (prepare right before glazing):
Combine the gelatin and the 20g of water in a small bowl and let sit for at least 5 minutes.
Bring the cream to a simmer and then stir in the gelatin, until combined.
Whisk in the melted butterscotch chips.
Add the 25g of water and the oil and process with an immersion blender for a few seconds, until smooth.
Let cool to 46°C (115°F) before using.
Glaze the cake:
Remove the cake from the freezer and the pastry ring by briefly warming up the sides of the pastry ring with a flame.
Transfer the cake to a cooling rack on top of a sheet pan.
Pour the glaze over the sides of the cake until well-coated, and then pour the glaze onto the middle of the cake. If you run out of glaze, warm up the glaze that dripped down to the bottom of the pan and use it.
Let cool at room temperature for about ten minutes, and then slice as desired.
This cake should be stored in the fridge and is best eaten within the first 24 hours after glazing, as after that the caramel-hazelnut layer loses its crunch.