I'm really excited. This Tuesday, October 23rd, is this blog's one year anniversary. I think so at least. Yeah, I'm not really sure. Instead of opening the blog with one post, like most bloggers do, I thought it would be a good idea to already have some posts on the site before the big unveil. So, I opened IronWhisk with five posts on it already. I played around with the dates so they didn't all seem to be written on the same day.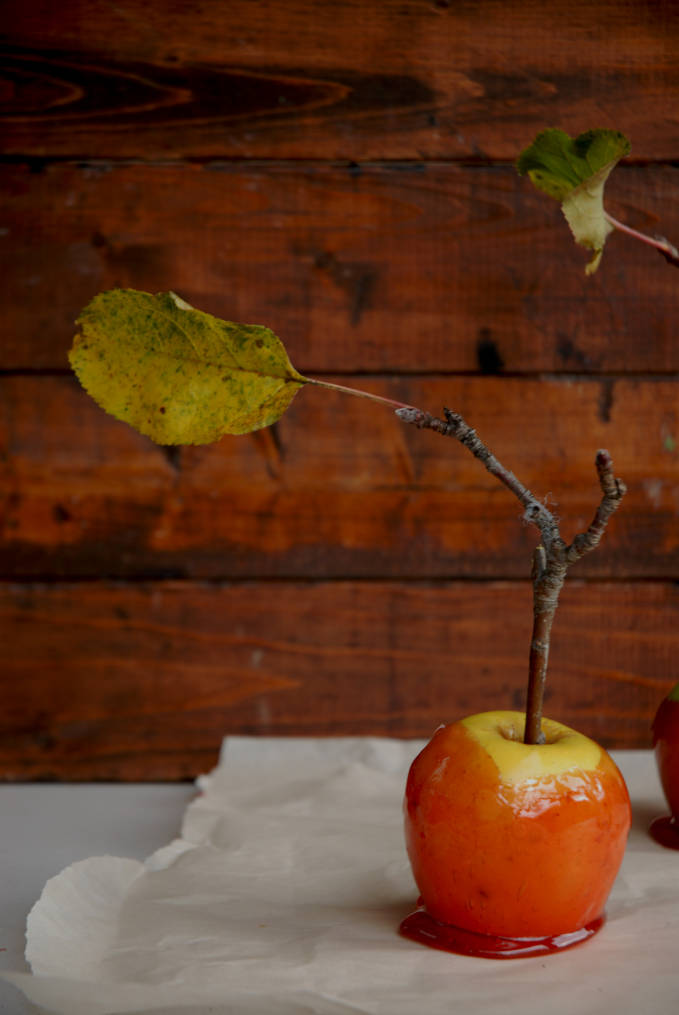 I ended up with about a month of content before I even told anyone about the website. While that appeared to be a good idea at the time, I now realize that it was a pretty bad one. I don't know when I baked the first post. I don't know when I wrote the first post. I don't know when I published the first post. All I know is when I first told someone about the site. That was on October 23rd, 2011. So that's what I'm celebrating. Not the first post but the great unveil.
Not that the unveil was great, or anything. It was pretty much "food blog, click here" but it ended up being a big deal. It led to me doing something that I really enjoy. It led to me meeting, online and offline, great people that shared similar interests. It led to fifty two posts and counting. It led to lots of sugar consumption. It helped me transform not only my culinary skills but also my photography skills. It changed my first photo of a pile of sagging, deflated profiteroles to one of profiteroles that anyone would love to eat.
Improving my photography and baking skills were not the highlights of this year though. The conversations I've had with all of you, whether through blog posts, comments, emails, or tweets, were amazing. Your sense of humour and your kind words were simply amazing. I'm very grateful to have all of you follow this blog despite my awful sense of humour. I don't think I would be able to do it. It means a lot to me. It really does.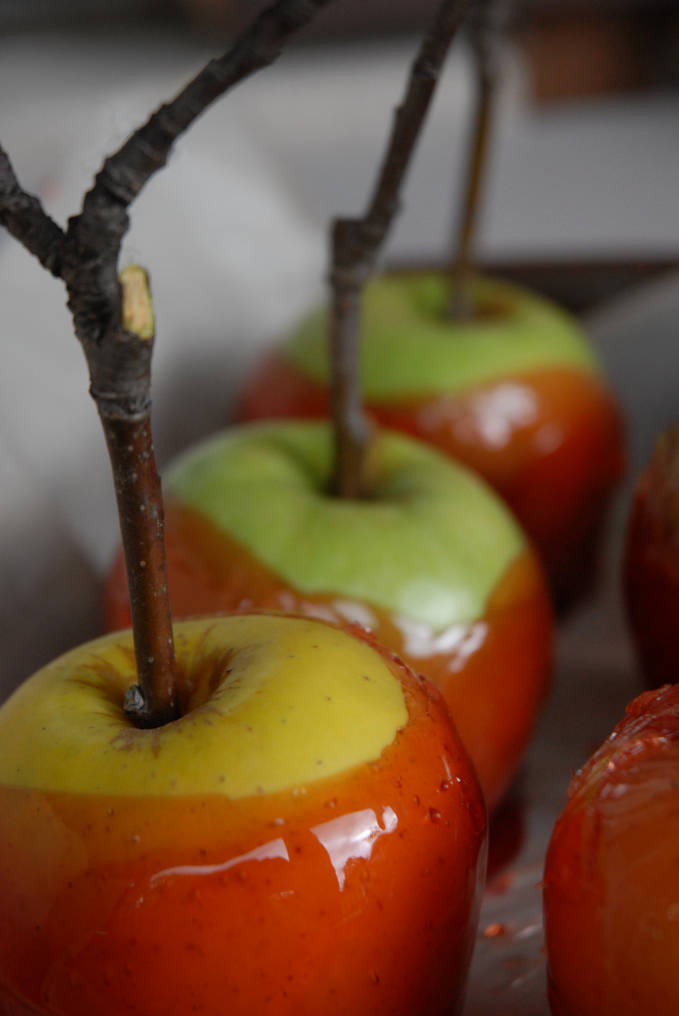 I still remember the day when I got my first international visitor and my first subscriber. I was so excited. At that point the website had grown from just a circle of friends who came on to see me rant about elephants to a place where people came to search for recipes.
I remember the day when a reader sent me a photo of their version of my tromp d'oeil eggs. I remember them telling me how much they enjoyed them. It was an awesome feeling. A feeling that my previous blog, about carpet steam cleaning (don't ask), could never give me.
This blog has transformed from a blank space on the web to our space full of sugar, laughs, and digressions. It has became a community of people who love sugar and awful jokes. A surprisingly large number of people. You would think that a savoury food blog would be more popular for corny jokes.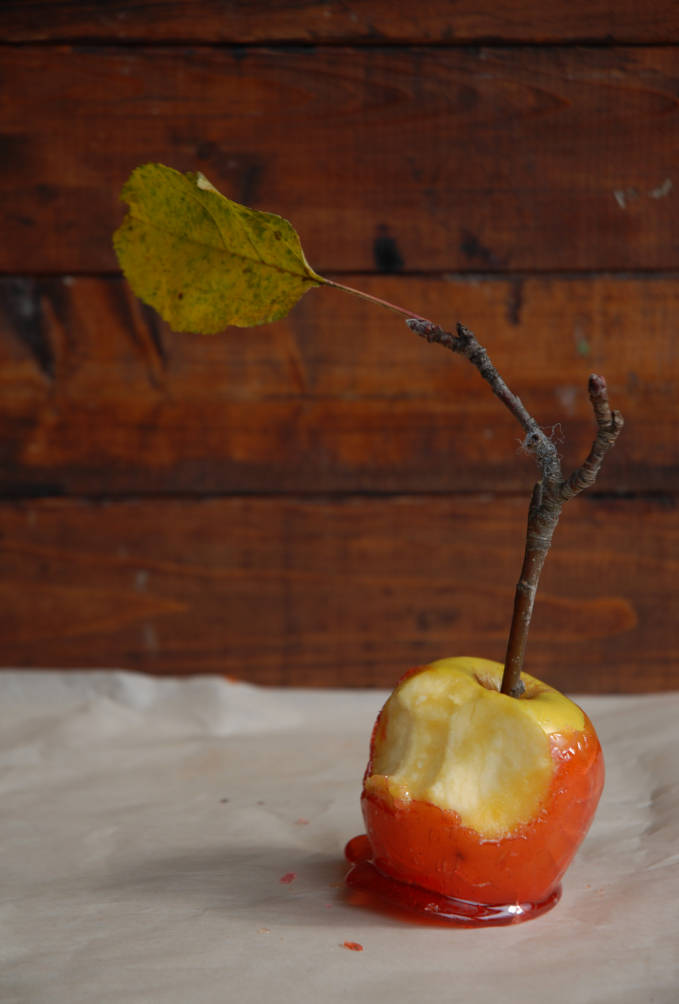 I'd like to thank all of you from the bottom of my heart for sticking around.
Whether or not it was because sugar is sticky.

Candy apples made with cinnamon and nutmeg and with tree branches instead of Popsicle sticks!
Ingredients
For the apples:
6 apples, washed with soap (I prefer softer, sweeter varieties of apples but most recipes recommend harder, more sour ones. Use soap to remove any wax that may be on your apple. Not removing the wax may cause the candy to slide off.)
6 Popsicle sticks or branches, washed
For the candy coating:
½ cup (125ml) light corn syrup
2 cups (400g) sugar
¾ cup (190ml) water
½ teaspoon cinnamon
⅛ teaspoon nutmeg
10 drops red food colouring
Method
Prepare the apples:
Remove the stems of the apples and stick a Popsicle stick or branch into each apple so that the stick is upright when the apple sits on a flat surface. Place the apples on a parchment paper lined baking sheet.
Prepare the candy coating:
Mix all ingredients in a medium saucepan. Cook over medium heat, stirring occasionally, until the mixture boils. Once the mixture boils do not stir anymore. Cook until the mixture reaches 295°F (measured with a candy thermometer) or until when a few drops of the candy dropped into cold water turn into threads that when bent will bend slightly and then crack. Obviously, it is much easier to make this recipe with a candy thermometer.
Dip the apples:
Dip each apple at a 45° angle into the candy coating. Swirl each apple in the candy and then remove it and place it back onto the parchment paper lined baking sheet until the candy hardens, about twenty minutes.