I think I'm getting lazy with my photography. If you haven't noticed, my last four posts (including this one) have all looked pretty much the same. White background. Minimal props. Shallow depth of field.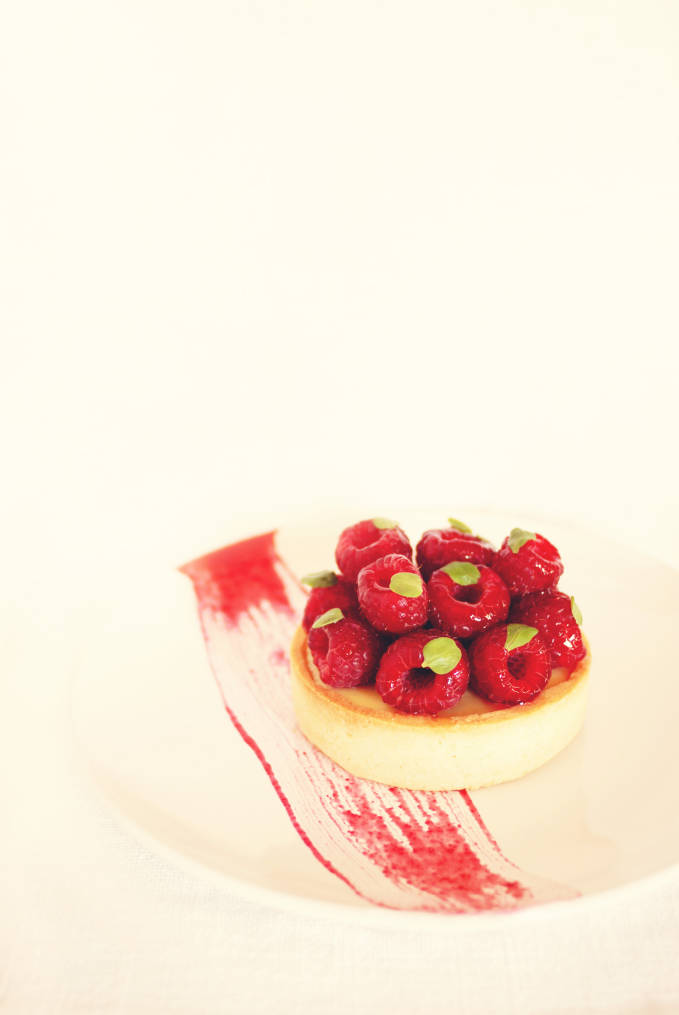 But, it's okay. I'm liking this. Before, I was spending too much money on props instead of on food and equipment. The props were too distracting. Making the backgrounds was too time-consuming. Now, with a clean white background and simple plates and utensils, the food really pops off the screen.
Nudging forks around to capture them from a perfect angle instead of improving my plating skills just doesn't make sense. No more. This time, I snapped a photo in a couple of minutes and spent much more time decorating the tart. I think I'm going to stick with this minimalist photography style from now on. It worked for Smitten Kitchen, right?
Making these tarts was a lot of fun and quite easy. The almond tart dough was very forgiving. Whenever it tore, I just pressed some more dough into the tart moulds. The tart shells came out perfectly with a nice, crumbly texture.
To make round tarts with straight edges, I used round cookie cutters that I placed on a parchment paper-lined baking tray. Otherwise, if I had used fluted mini-tart pans, I would've ended up with, well, fluted mini-tarts.
The process to make straight-edged tarts is very simple: line a rectangular pan with parchment paper, put cookie cutters on top, and then drape dough over the cookie cutters as though they were mini tart pans. Straight edges are quite nice.
The key lime filling came together quickly because it just involved stirring together key lime juice, sweetened condensed milk, and egg yolks. If you don't have key limes nearby, you can also use regular limes or lemons, or a mixture of all of the above (just don't call it a key lime tart). I've made delightful lemon tartlets before (with lemons, duh) and they were almost the same as these. The consistency of the filling and the garnish were were a tad different though.
Topping these tarts with raspberries was, naturally, not difficult. I just put the raspberries on. I put raspberries on a lot of tarts, actually.
But, to make the key lime tarts shiny and keep the microgreen leaves stuck to them, I brushed on some neutral glaze. I don't work with neutral glaze very often, but it's a great way to keep berries shiny on top of cakes or tarts. Usually bakeries buy it pre-made in large buckets, but you can make it at home with only water, sugar, citrus juice, and pectin. If you're one of those people who constantly needs to look in the mirror, making a neutral glaze and coating most everything with it might be a good idea.
Super simple. Super shiny. What else could you want in a tart? Oh yeah, they also taste amazing!

Key Lime and Raspberry Tarts
A luscious key lime creme within almond tart shells, all topped with shiny raspberries. Adapted slightly from Antonio Bachour's recipe.
Ingredients
For the almond tart shells:
90g butter, softened
70g icing sugar
1 egg
30g almonds, ground (i.e. almond flour)
a pinch of salt
50g all-purpose flour
150g cake/pastry flour
For the key lime filling:
380g sweetened condensed milk
3 egg yolks
175ml key lime juice (can substitute with other citrus fruits)
For the neutral glaze:
50g water
50g sugar
25g lemon or lime juice
~3g pectin
To assemble:
Raspberries
Microgreens/sprouts (optional)
Raspberry coulis (optional)
Method
To prepare the almond tart shells:
Combine the butter and the icing sugar until smooth, using the paddle attachment of a stand mixer if you have one. Do not beat rapidly. The goal is not to incorporate air when making the dough.
Add in the egg, and beat to combine.
Add the almonds, salt, and all-purpose flour. Beat to combine.
Add the cake flour. Beat to combine.
Divide the dough into two pieces, wrap with plastic, wrap, and place to chill in the fridge until cold (around an hour).
Roll out the dough to the thickness you desire (being careful not to go to thin or the tarts will collapse), and line buttered mini-tart pans. You can use buttered, round cookie cutters on a parchment paper-lined baking sheet if you would like to make tarts with straight edges.
Place in the fridge to chill for at least half an hour. Meanwhile, preheat the oven to 325°F (160°C).
Once tarts are chilled, poke holes into the bottom of the tarts with a fork to prevent air bubbles from forming. Fill the tart with beans or rice (beans are easier to take out later) to prevent the bottoms from rising (you can reuse these beans in the future for the same purpose).
Bake for about 20 minutes, or until lightly browned. Remove the beans, and cool the tart shells to room temperature.
To prepare the key lime filling:
Whisk together the sweetened condensed milk and egg yolks until smooth.
Then, whisk in the key lime juice.
Pour evenly into tart shells.
Bake at 300°F (150°C) for 15 minutes, until the tarts are slightly jiggly when gently shaken in the oven.
Let the tarts cool to room temperature and then place in the fridge to chill for at least two hours before proceeding.
Prepare the neutral glaze (right before plating):
Bring all ingredients to a simmer for three minutes.
To assemble:
Brush a stroke of raspberry coulis on the plate.
Place raspberries on the tart shells and brush them with neutral glaze, while it is still warm.
Decorate with microgreens/sprouts.