Lately, I have become fascinated with Japanese entremets. I have learned how to spell "entremet", pronounce [on-TRAH-may], and most importantly make an entremet. I also know how to eat an entremet, but that was a skill I honed long before I made this marvellously refreshing recipe by Japanese pastry chef Hidemi Sugino.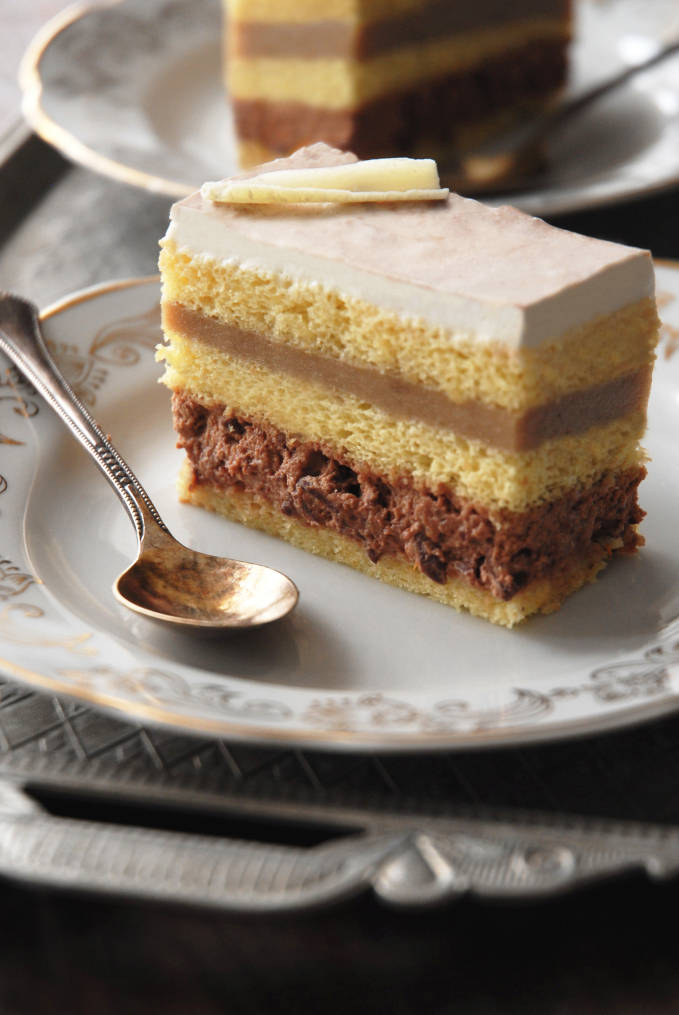 Sugino rightfully has a cult following in Japan (and – ahem – in Toronto). His desserts are incredibly artistic and his flavour combinations are exquisite. Sugino only uses enough sugar in his creations to accentuate his delicate flavour combinations. Even dark chocolate proves to be light in his recipes.Unfortunately for me, his cookbook is in Japanese. I cannot read Japanese (even though I often pretend I am fluent – but that is a story for another time) so I rarely get an opportunity to make any of his recipes. Sigh.
A few days ago, however, I found a wonderful blog called Foodagraphy by Michelle, who lives in Singapore. A few years ago she made this B-Caraibe cake and posted a translated recipe (read: one that I could follow without bugging my only Japanese speaking friend, A, and consulting a Japanese to English dictionary) on her blog. Great find, eh?
The B-Caraibe is actually one of Sugino's easier entremets, so it is the perfect push (if you for some reason need it) into entremet-baking. Sugino's recipe uses almond powder/flour in the bisquit joconde cake layers, but I ran out of almonds. I was not particularly keen on blanching, peeling, drying, and grinding the remaining 47g I required. I threw in some ground hazelnuts I had lying around instead. My substitution was "an experiment in the culinary arts".
Next up was the chocolate chantilly cream (which is really just orange infused chocolate whipped cream). Unfortunately, my chocolate did not melt very well. I folded it into the softly whipped cream anyway, which left tiny chunks of chocolate dotted throughout the cream. At first I was really disappointed: I had failed at melting chocolate in the microwave. The chunks proved, however, to be a nice textural contrast against the otherwise smooth entremet. So feel free to not do a very good job melting your chocolate as well.
My favourite part of the B-Caraibe is definitely the banana sauce, which is not really banana sauce at all. It is more like banana jelly. I am sure I did not accidentally add too much gelatin. Regardless, I loved how the fruity taste of perfectly ripened bananas complemented the fluffy almond-hazelnut joconde and chocolate chantilly.
The slightly sweetened vanilla chantilly was light and creamy, which was expected since it was essentially whipped cream. A thin layer was the perfect way to top off this fabulous, and extremely light, dessert.

B-Caraibe Cake
Japanese pastry chef Hidemi Sugino's B-Caraibe is a refreshing combination of banana jelly, orange-chocolate chantilly, and (now) hazelnut-almond joconde cake. Recipe adapted from the one posted on
Foodagraphy
, by Michelle. Note: I highly recommend using the mass measurements instead of the volume measurements due to the precision of the recipe (I tried to make the volume measurements as precise as I could, however).
Ingredients
For the hazelnut-almond joconde:
½ cup (50g) almond flour
½ cup (50g) ground hazelnuts
1 cup (100g) sifted icing sugar
¾ cup (90g) cake flour
4-5 (80g) egg yolks (I used ~5 egg yolks)
2 (60g) + 6⅔ (200g) egg whites
¼ teaspoon (~1g) cream of tartar
3/5 cup (120g) granulated sugar
For the soaking syrup:
¼ cup, 1 tablespoon (65g) sugar
⅕ cup (50g) water
⅕ cup (60g) rum
For the orange confit:
¼ cup (50g) sugar
⅕ cup (50g) water
zest of 1 medium orange
For the chocolate chantilly cream:
100g dark chocolate, melted
zest of 1 medium orange
170g whipping cream
25g orange confit
For the banana jelly:
325g + ~25g banana puree (about three mashed, ripe bananas)
2 tablespoons (25g) lemon juice
1 satchet (7g) gelatin
3 tablespoons (35g) sugar
2 tablespoons (10g) rum
Prepare the vanilla chantilly cream:
1 cup (250ml) whipping cream
3 tablespoons (35g) sugar
a drop of vanilla extract
Method
Prepare the hazelnut-almond joconde:
Preheat your oven to 230°C and line two 9 x 13 pans with parchment paper (note: you will be cutting three layers of cake from these two pans of cake later on). Combine the almond flour, ground hazelnuts, and icing sugar in a large bowl. Add the yolks and 80g of the egg whites and beat till thick and fluffy. Add the flour and beat to combine. Set aside. In another big bowl, whip the egg whites (200g) and cream of tartar until foamy. Gradually add the sugar in and continue beating until stiff peaks form. Slowly fold the beaten egg whites into the almond mixture until there are no white streaks.Pour into the pans, spread out evenly using a scraper, and bake at 230°C for 5-6 minutes. Cool.
Prepare the soaking syrup:
Mix the sugar and water in a saucepan over medium heat until the sugar dissolves. Remove from heat and leave to cool before adding the rum.
Prepare the orange confit:
Heat water and sugar in a saucepan over medium heat. Add the zest and cook for 2-3 minutes. Remove from heat and cool.
Prepare the chocolate chantilly cream:
Mix the chocolate and orange zest together. Whip the cream until soft peaks form and then gradually fold into the melted chocolate. Add in the orange confit and fold together.
Prepare the banana jelly:
Combine 325g of the banana puree and the lemon juice together in a saucepan; blend together using a hand blender. Add in the sugar and place on stove. Cook over low heat until thickened (you will need to stir often to prevent the bananas from burning). Mix the remaining banana puree with the gelatin and let sit for five minutes.Remove the thickened bananas from the stove, add the gelatin mixture, and mix to combine. Add the rum and stir to mix.
Prepare the vanilla chantilly cream:
Combine all ingredients in a bowl and whip until soft peaks form.
To assemble:
Cut out three 8" square pieces from the two trays of cooled joconde. Place one piece into a ring mold (note: I don't have a ring mold so I just fashioned one out of tinfoil and tape) and brush rum syrup liberally on it. Pour the chocolate orange chantilly cream into the ring and smooth flat. Place second piece of cake above the chocolate layer and press down to remove any empty spaces in between the layers. Brush with rum syrup. Pour the banana jelly into the ring and place the third piece of cake on top of it. Brush with rum syrup. Pour the vanilla chantilly cream into the ring. Using a scraper, smooth the top so that the layer is even. Refrigerate to chill overnight. Unmold and slice into individual portions with a hot, dry knife.