This isn't exactly a seasonal dessert. Unless you read this about half a year from now. If you're reading this in the future, I have two things to say. First, congratulations – raspberries are in season and you probably have a few boxes in your fridge to make this right now and therefore you should make this right now. Your future (future) you will thank you.  Second, you're awesome.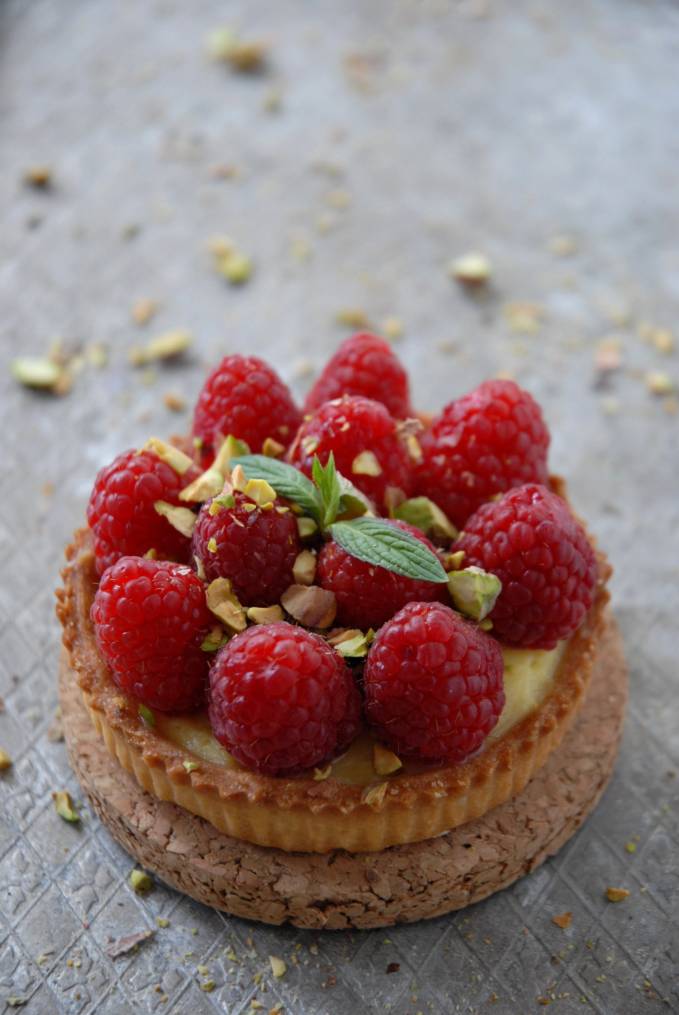 If you're not from the future well, that sucks. You're going to get an awesome recipe for a raspberry tart in October though. I would've made it earlier but I was too busy with other things. Yeah, I know, it's a pretty lame excuse. I was just so busy with sugar, schoolwork, and butter though. There's something about creaming butter and sugar together that's kind of mesmerizing (and tasty).
When I think about it now, most of the stuff that I make isn't really in season. I remember last year I made a pumpkin pie in July and then an apple pie in January. Am I the only one who does that? I really should be using seasonal ingredients, being that it's in the "foodie code", but these days everything is imported from everywhere and thus raspberries are in season somewhere. Grocery stores have tomatoes all year round – even when there's half a metre of snow outside (aka "Canadian summer").
I guess I am using seasonal ingredients then. The produce I use is in season, somewhere, and I'm eating it during a season. Hence it is seasonal.
I'm just on the "8000 mile diet".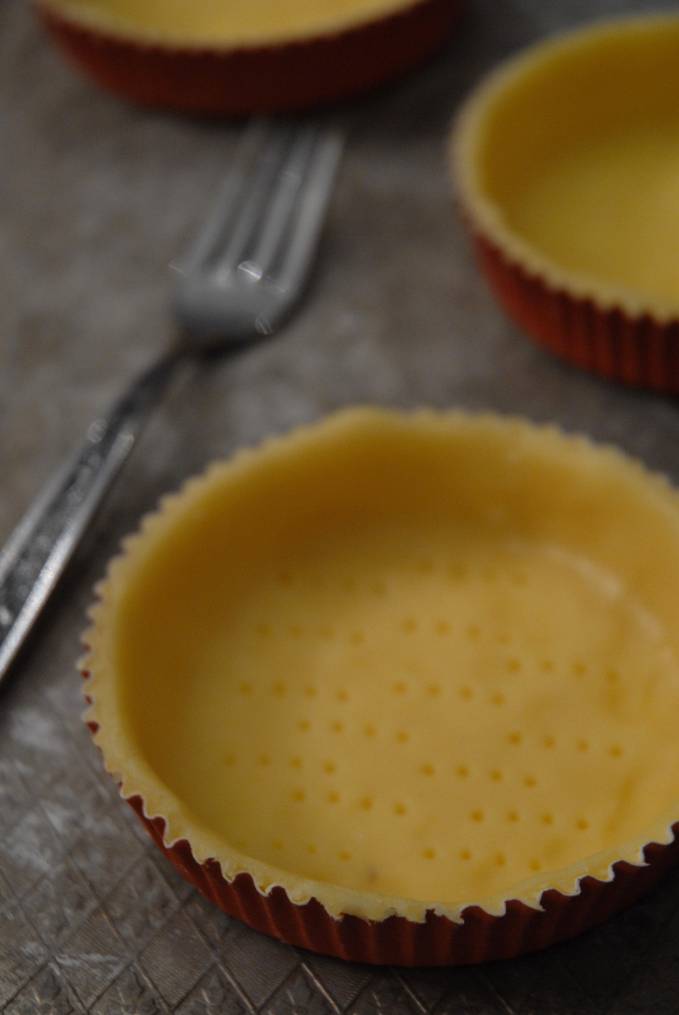 Regardless of season though, these tartelettes (small tarts) were scrumptious. I found and slightly modified a recipe for pâte sucrée (French for sweet shortcrust dough – pronounced [pat sue-KRAY]) that could be made easily in any kitchen with minimal equipment and is pretty much fool proof. I'm really pleased with this dough! It's an incredibly easy recipe where you don't even need to use cold butter. The dough doesn't stick and it doesn't rip. Not only that, but it tastes amazing! It's a pretty awesome recipe. To be fair though, I haven't tried every other pâte sucrée recipe so I can't say it's the best one out there but out of all the ones I've had this one is by far my favourite. A definite plus is how easy it is to work with.
I was really surprised how easily it all came together, especially since tartelettes can sometimes be so threatening (i.e. really scary sharp corners on the shells). Those corners are almost as scary as getting an egg yolk into your egg whites or only eating one doughnut. I have nightmares about these things. I live in constant fear of things like inhaling too much powdered sugar.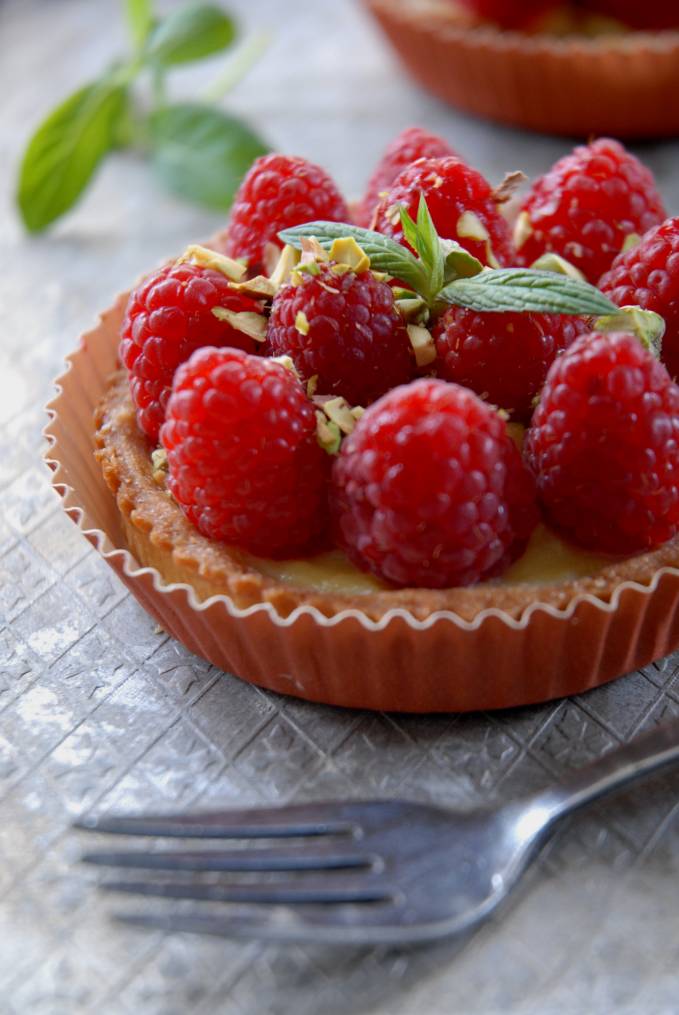 I also don't like cracked tart shells. They're such a pain. I have a solution though! The solution involves chocolate. That instantly makes it a better solution. All solutions are better with chocolate. For example, if you don't have enough chocolate and someone kicks you hard in the leg that is not a good solution to your problem of not having enough chocolate. However, if someone gives you a bar of chocolate and kicks you hard in the leg your problem is solved. You have a new problem, but your original problem was solved.
Perhaps I should consider becoming a mediator…
You can make your tart shells last longer, fix cracks in your pastry, and seal the shells from wet fillings (to prevent the crust from getting soggy) by simply applying a thin layer of melted chocolate to the inside of the shells once they come out of the oven and cool to room temperature. Just melt some chocolate that goes well with the flavours of your tart (so, for example, dark chocolate for a ganache filled tart or white chocolate, in my case, for a raspberry tart) and spread a teaspoon or so in the bottom of your tart. Anywhere you have a crack spread some more chocolate so that when it hardens it will hold the pastry together. Place the tart shells in the fridge so that the chocolate will harden and then you can fill up the tarts like you would normally. This is a much better alternative to the "coat with egg white" option since, well, it's chocolate. I hope I don't have to give you another example of why solutions with chocolate are always the better solutions.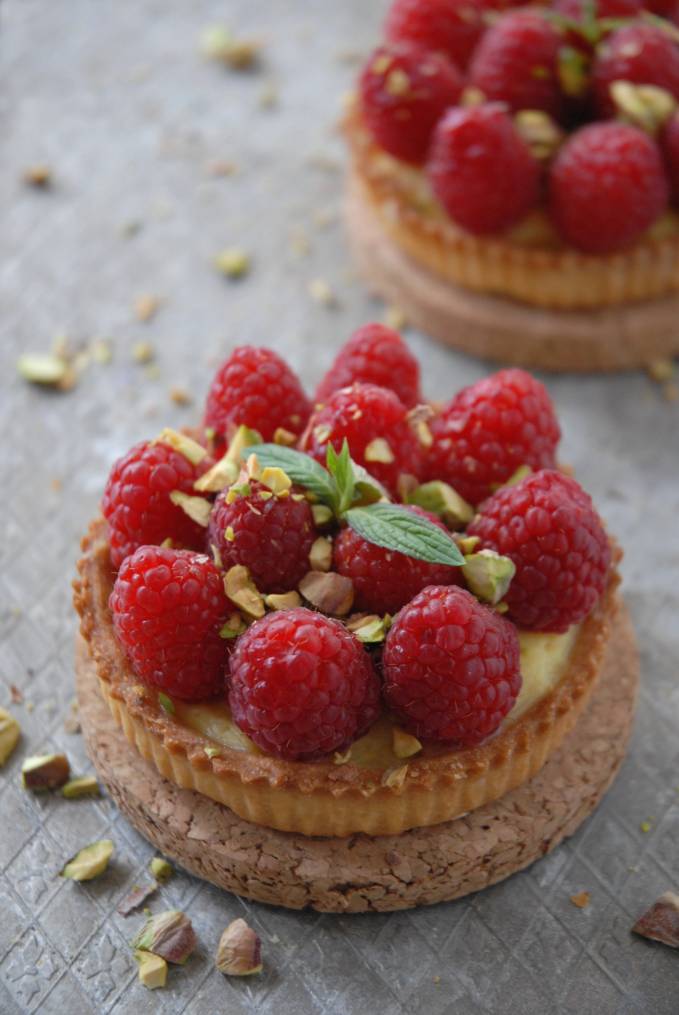 Right then. So not only are these tartelettes made out of an irresistible and simple pâte sucrée, they also have a layer of white chocolate! I filled them up with fresh and creamy vanilla pastry cream and arranged some raspberries on top. Plus, I sprinkled some roughly chopped pistachios on top for a crunch and poured some honey over some of them. Scrumptious and "seasonal".
Oh, also, this is my fiftieth post! Yay!

Raspberry Pistachio Tartelettes
Miniature raspberry and pistachio tarts with creamy vanilla pastry cream and a thin layer of white chocolate. Pâte sucrée recipe adapted from
Leite's Culinaria
.
Ingredients
For the pâte sucrée:
½ cup (115g) butter, at room temperature
¼ cup (50g) sugar
½ teaspoon salt
1 cup (125g) flour
1 egg yolk
For the tart shells:
½ cup white chocolate, chopped
For the vanilla pastry cream:
6 large egg yolks
½ cup (100g) sugar
4 tablespoons (40g) flour
4 tablespoons (40g) cornstarch
3 cups (750ml) milk
2 teaspoons vanilla extract
For assembly:
Raspberries
Pistachios, roughly chopped
Honey (optional)
Method
Prepare the pâte sucrée:
Cream together the butter, sugar, and salt. You want to beat them together until the mixture is light and fluffy on the lowest speed possible on your hand mixer or stand mixer. You can do this by hand but it's going to take a lot of effort. Scrape the sides of the bowl with a spatula and then dump in the flour. Again, on the lowest speed on your mixer, mix in the flour for about thirty seconds. You should see pea-sized chunks of dough. Then, add in the egg yolk and mix for thirty more seconds. You should get a few pieces of dough from this. Take the pieces, press them together, and wrap in plastic wrap. Place in the fridge for one hour. Once the dough finishes cooling place it on a floured work surface. Sprinkle some more flour on top and then smack the dough with your rolling pin. Roll the dough out, turning it a quarter turn every few rolls, until your dough is about 3mm thick. If you're making one large tart then roll it out until it matches the size of your pan. If you don't have a tart pan then you can use a pie pan that you cover with tinfoil so that you can remove the tart later. Cut the dough into squares that are larger than your miniature tart pans. Press the dough down to the base of the tart pan and then press lightly using the blade of the knife on the edges of the tart pan to scrape away the excess dough. You're not looking to cut it away, but to scrape it away. Move the knife away from the center of the pan over the edge of the pan to do this. If any rips form in the dough just use some of the scraps that you cut off to patch them up. Using a fork, poke holes in the bottom of the dough. Refrigerate the dough for at least thirty minutes and then fill up the center of the tart with rice or beans to weigh down the dough as it bakes so that it doesn't rise. Bake for thirty minutes, or until light brown, at 350°F (176°C). Remove the rice or beans and bake for five more minutes, or until golden brown. Let cool to room temperature and then remove the tart pan's bottom or remove the shell from the pie pan if you used the aluminum foil method.
Prepare the tart shells:
Melt the chocolate in your microwave by heating it up in fifteen second intervals and stirring in between. Spread about a teaspoon of chocolate over the base of each tart shell, making sure to cover up all the holes and sealing any cracks that may have formed. Place in the fridge to harden while you prepare the pastry cream.
Prepare the vanilla pastry cream:
Whisk together the egg yolks and sugar together until they are a pale yellow. Sift together the flour and cornstarch and then whisk them into the egg yolk mixture until you get a smooth paste. Meanwhile, bring the milk and vanilla to a simmer (small bubbles) in a saucepan over medium heat. Remove from the heat and add slowly to the egg mixture, one drop at a time and then in a steady stream, constantly whisking. Then, pour the mixture back into the saucepan and cook over medium heat until very thick, stirring constantly. Pass through a sieve if your eggs curdled (if there are pieces of egg in your pastry cream). Let cool to room temperature.
Assemble the tartlets:
Fill the tart shells with the pastry cream. Place raspberries on top, working from the outside in and arranging them in a circle. Sprinkle the chopped pistachios on top. Drizzle with honey.