Sugar used to be really expensive so people used carrots instead. That's how carrot cake came to be. Someone couldn't afford sugar, so they put carrots into their cake. Seems counter-intuitive now, but back then it was perfectly logical.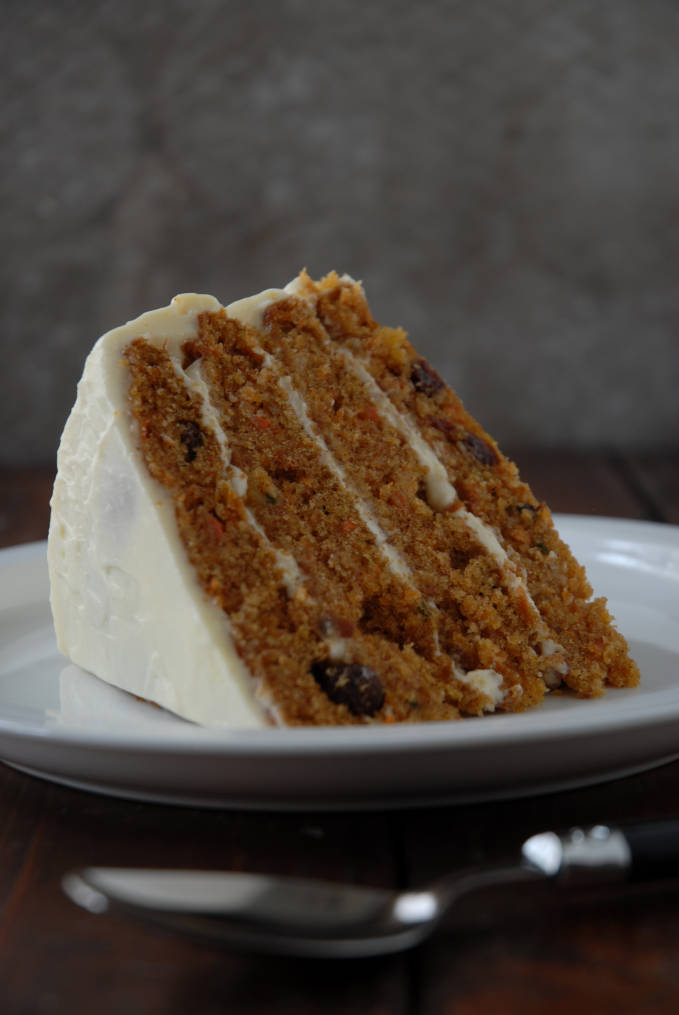 Turns out that carrot cake is one of the unhealthiest cakes you could eat, even though it's full of carrots. With all the oil, butter, cream cheese, and sugar (yeah.. this is a modern recipe), it's pretty bad for you. It's really tasty, but really unhealthy. It's a once in a decade type of treat.
Even though you could pretty much get rid of your enemies, or at least render them harmless, by feeding them this cake you could also make some friends. It's one of those things that's good or bad depending on who uses it, like superpowers. I recommend using the cake for good, but hey, use your best judgement.
There's this debate about what should go inside a carrot cake. Pretty much everyone agrees that carrots should be involved but not everyone is sure about raisins, pineapple chunks, and walnuts/pecans. I like raisins and pineapple chunks in my carrot cake but I'm not such a big fan of walnuts or pecans. Not only because of taste though. I find that when you cut through a carrot cake that has nuts inside they tend to rip the cake and you end up with a really ugly cut.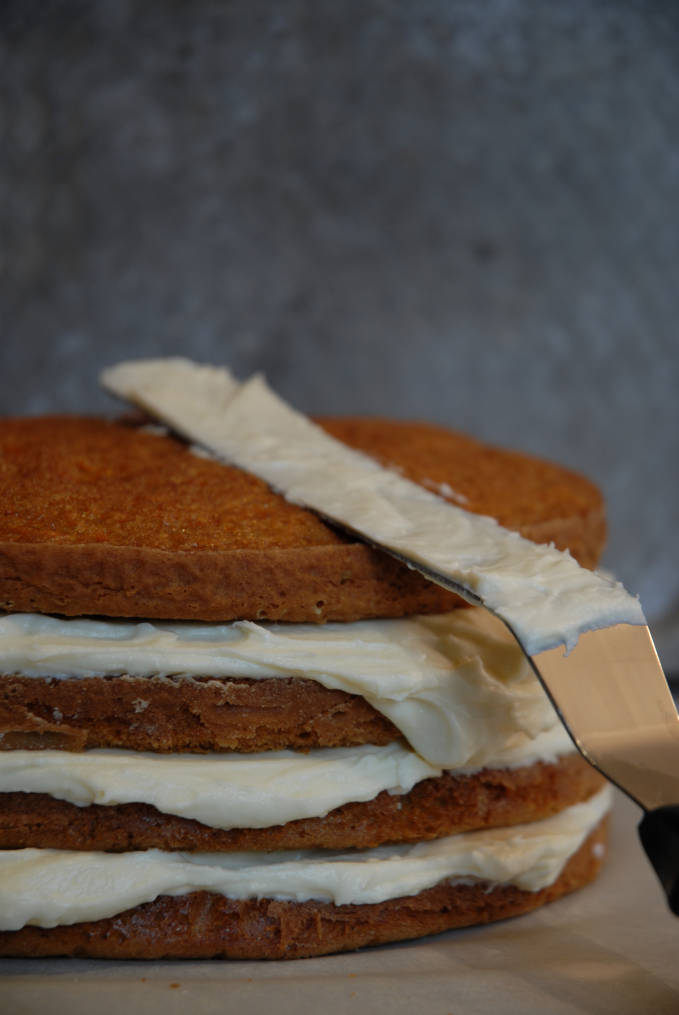 If you really want to use nuts in your cake you can either add them into the batter or you could decorate the cake itself with them. I'd opt for the latter.
Cream cheese frosting is also important for the perfect carrot cake. More importantly, the ratio of tangy to sweet. I've had carrot cakes that are way too sweet and the only way to eat them is to scrape off the frosting.
The best cream cheese frosting is adapted to every individual recipe, depending on the sweetness and tang desired. That's why I have a separate cream cheese frosting recipe for this cake and for my cinnamon bun recipe. Cinnamon buns require more sweetness in the cream cheese frosting to balance the cinnamon flavour while carrot cake needs more tang in the frosting to balance the sweetness from the carrots.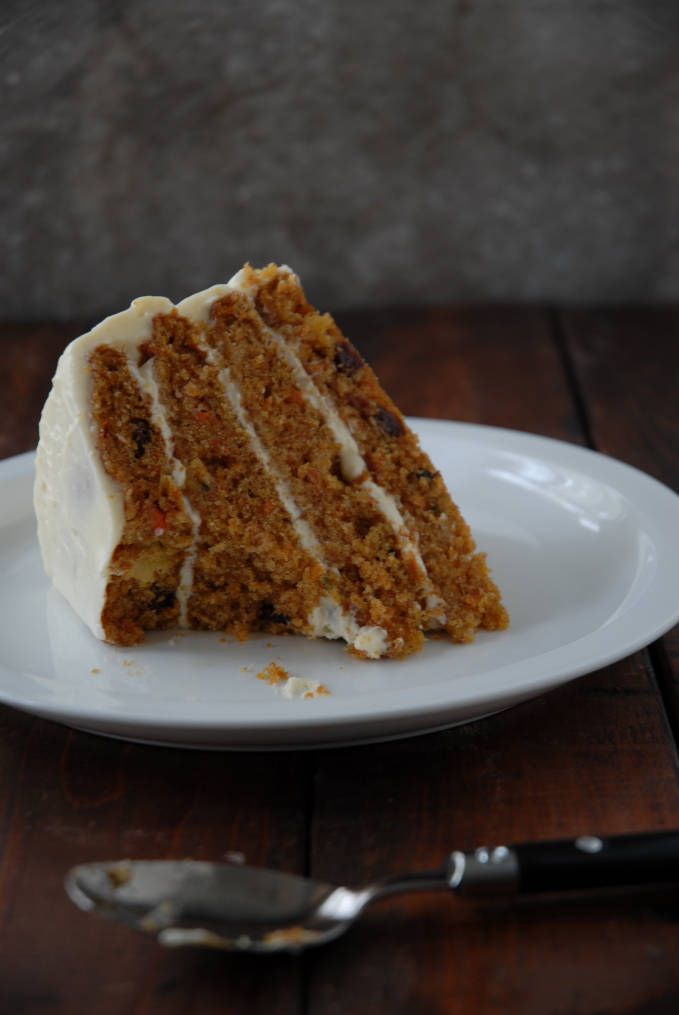 I really hope you try this recipe out. It's delectable. I've tried a few carrot cake recipes but this one is my favourite. It's dense but also fluffy. It's sweet but also tangy. It's perfect.

A dense, yet surprisingly fluffy, carrot cake made with chunks of juicy pineapple and raisins. Recipe adapted from
Ina Garten
.
Ingredients
For the carrot cake:
2 cups (400g) granulated sugar
1⅓ cups (330ml) vegetable oil
3 extra-large eggs (large eggs work too), at room temperature
1 teaspoon pure vanilla extract
2½ cups (315g) cake flour (all-purpose flour works too)
2 teaspoons ground cinnamon
2 teaspoons baking soda
1½ teaspoons kosher salt
~1 cup raisins (optional)
~1 cup chopped walnuts/pecans (optional, I didn't include these)
3½ cups (450g) carrots, grated
~1/2 cup diced canned pineapple (optional)
For the cream cheese frosting:
2 packages (500g) cream cheese, at room temperature
1½ cups (335g) unsalted butter, at room temperature
1 teaspoon vanilla extract
2 cups (250g) icing sugar
Method
Prepare the carrot cake:
Preheat the oven to 350°F. Butter and flour four round cake pans for a four layer cake or two cake pans for a two layer cake. Place a circle of parchment paper at the bottom of each pan (just to be safe!). Beat the sugar, oil, and eggs together until light yellow. Add in the vanilla and beat a little bit more. In another bowl, sift together the flour, cinnamon, baking soda, and salt. Stir in the raisins and walnuts or pecans, if using. Add the dry ingredients to the wet ingredients. Add in the carrots and pineapple, if using. I mean, if you're using the pineapple. You kind of need to include the carrots for a carrot cake. Mix everything well. Divide the batter equally between the pans and bake for about 20-25 minutes, or until a toothpick comes out clean when inserted into the center of the cakes (note: if you make less than four layers your baking time will increase). Allow the cakes to cool completely in the pans set over a wire rack.
Prepare the cream cheese frosting:
Beat together the butter, cream cheese, and vanilla until light and fluffy. Add the icing sugar and continue beating for about a minute or two.
Assemble the cake:
Place one layer of the cake on a piece of parchment paper or a tray. Add about a cup of frosting (approximately) onto the layer. Spread over the cake. Repeat with the remaining layers. Use extra frosting to spread over the rest of the cake.