Mallow cookies are shortbread cookies topped with marshmallow cream and dipped in chocolate. They're also called mallowmares – and this is the homemade version. This is part of my collection of at-home copycats, like cheddar bay biscuits, funnel cake, and the best chocolate chip cookies ever.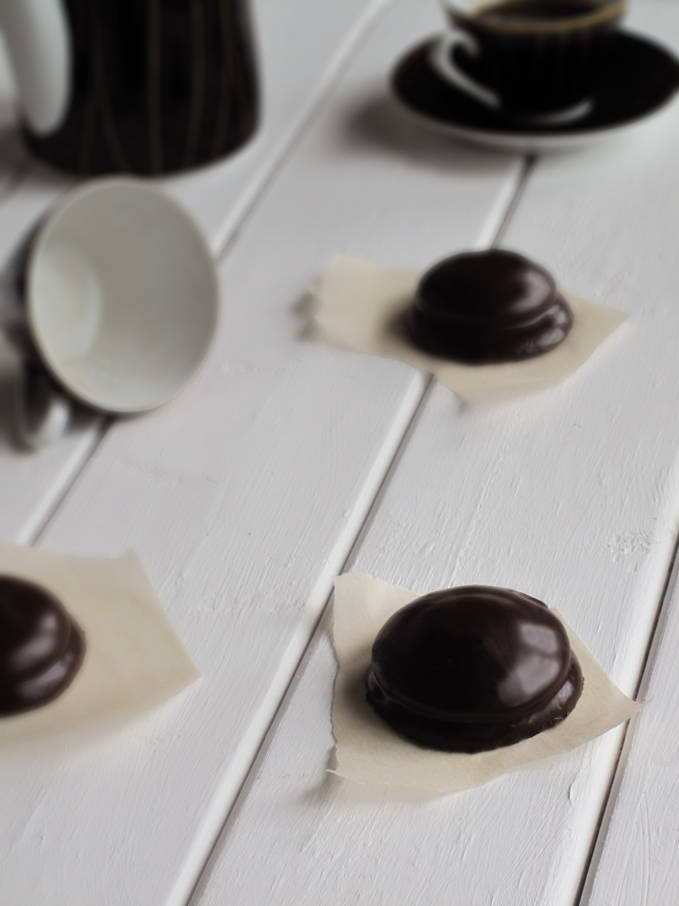 I probably ate about a dozen of these while watching the opening ceremonies earlier this week. I make a pretty big deal out of the Olympics whenever they're on. Ever since I can remember (which actually isn't that far) I've watched the Olympics. It's pretty neat to see hundreds of countries join together to celebrate sport. Even though I'm not the biggest fan of physical activity (instead opting for sleeping) it's still amazing to watch other people, who are so good at what they do, do it. Especially interesting are the shot-putters, like Canadian Dylan Armstrong. it amazes me how they're able to spin so quickly, with such grace, to throw a metal ball. I've tried that. It's not easy. In elementary school they made us do "shot-put" with a tennis ball and then a real shot-put ball. Those balls are heavy. It just amazes me what years of training can do. It almost makes me want to be an Olympian.
It's unlikely I'll go that path though. In fact, I'm sure I won't. I doubt I'll ever parade around Olympic stadium but I really hope to one day go to the Olympics as a spectator. However, I'm really looking forward to when the Pan American games come to Toronto in 2015. If you've never heard of the Pan American games, it's an athletic event with thousands of athletes from the Americas held each year before the summer Olympics. It's not the Olympics, but it's still pretty cool and I'm excited to go – especially when it's around the block.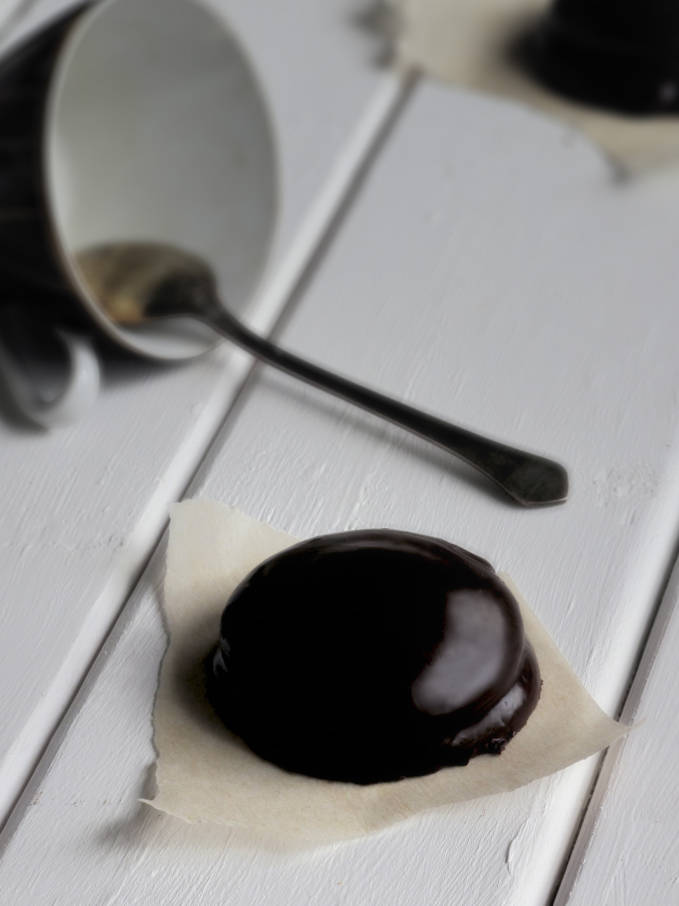 Anyway, for the Olympics I made these mallow cookies. Cookies are the perfect Olympic food. They're great to pass around while watching people jump and run. I feel like if I watch people exercise I myself, by extension, am exercising. It's the easiest weight-loss program out there: cookie-consumption-while-watching-the-Olympics. Ever wonder why the Cookie monster is in such good shape? It's because he's a puppet and therefore he doesn't gain weight. However, it's also because he watches the Olympics while eating cookies. Seriously. I'm on the cookie monster diet.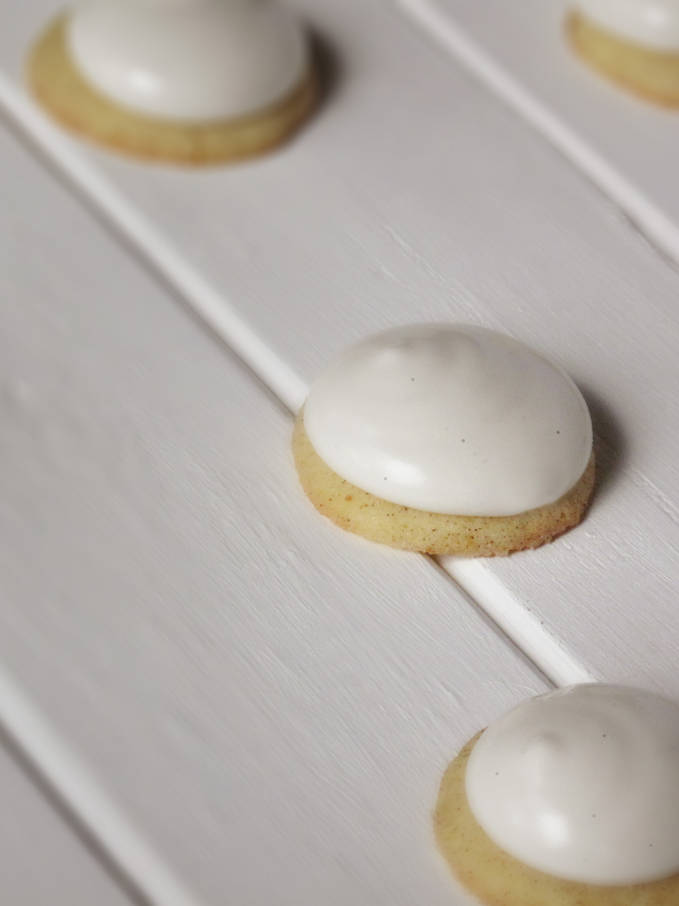 Mallow cookies are made with a shortbread cookie, topped with home-made marshmallow, and then dipped in chocolate. Instead of shortbread cookies though I decided to make snickerdoodles. To be honest I've never had snickerdoodles before, but they're oddly good! They're as oddly good as their name is odd. In case you've never had them either, or maybe you had but thought they had a more sensible name and therefore didn't know you were eating them, they're buttery cookies that are crispy around the edges and chewy in the center. Apparently, people like their snickerdoodles either chewy or crispy. I didn't really know how I liked them so I found a recipe that was supposed to be the best of both worlds. It was the best of like three worlds though: crispy, chewy, and one other world. They were quite good. The recipe made about forty cookies but by the time I made the marshmallows there were only twenty-four left.
I was pleasantly surprised by the marshmallow cream. It was velvety smooth and creamy, a mix between marshmallows and marshmallow fluff. It was perfect under the chocolate shell. The chocolate cracked when bitten into, complementing the texture of the cookie and contrasting that of the marshmallow beneath it.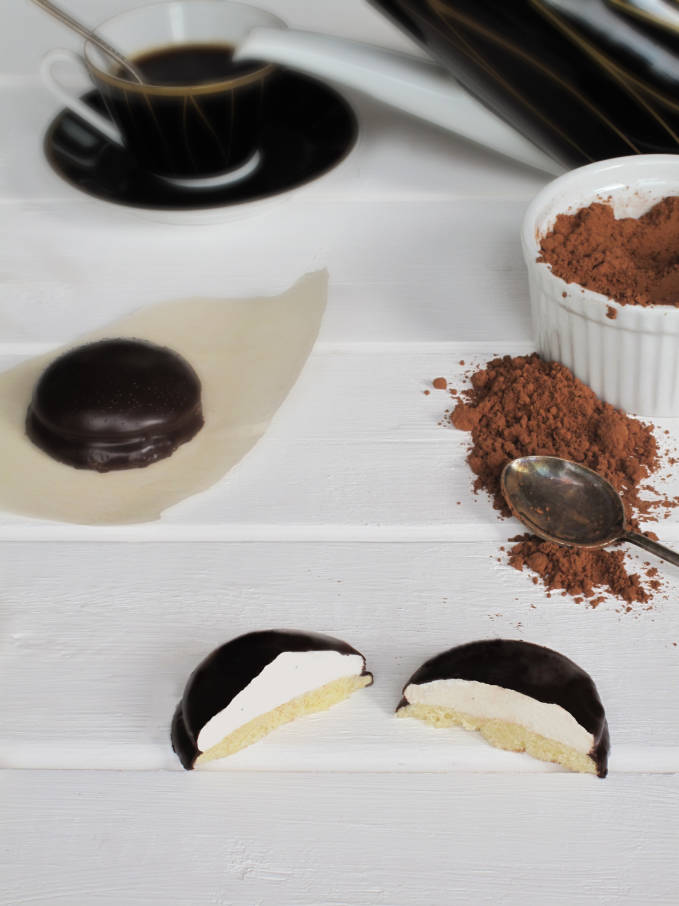 I really recommend making them. On another note, I'm going to try to post more regularly (instead of the random times I post during the week). You can look for new posts on Monday mornings. So be sure to check out the posts! Or, if you're forgetful, you can always subscribe. I hope you enjoy the Olympic games. They sure look exciting.. except for the fact that it wasn't the Queen that jumped from the helicopter but a stunt double during the opening ceremonies. I was really hoping that the Queen would jump from the helicopter. In fact, I was cheering for it with a mouth full of chocolate-marshmallow bliss.

Mallows are shortbread cookies topped with marshmallow cream and then dipped in rich, dark chocolate. These are made with snickerdoodles from Anna Olson's recipe.
Ingredients
For the snickerdoodle cookies:
1 cup (227g) unsalted butter, softened but still cool
1 cup + ⅓ cup (260g) sugar
2 eggs, taken directly from the fridge
1 tsp vanilla extract
2½ cups (310g) all-purpose flour
1 tsp cream of tartar
½ tsp salt
¾ tsp ground cinnamon
For the marshmallows:
½ cup (125ml) water
½ cup (125ml) light corn syrup
1½ cup (340g) sugar
2 tablespoons powdered gelatin
¼ cup (62.5ml) cold water
4 egg whites, room temperature
2 whole vanilla beans, split open and seeded
For the chocolate coating:
Three dark or milk chocolate bars (3.5oz), melted and tempered
Method
Prepare the snickerdoodle cookies:
Preheat the oven to 350 degrees F and line 2 baking trays with parchment paper. Cream the butter and 1 cup of the sugar until fluffy and light. Add the eggs one at a time, blending well after each addition. Stir in the vanilla. In a separate bowl, stir the flour, cream of tartar and salt to combine, and then add to the butter mixture, blending well. Stir the remaining ⅓ cup of sugar and cinnamon together in a small bowl. Portion the prepared cookie dough by tablespoonfuls and drop into cinnamon sugar. Gently roll each cookie to coat it with the sugar and to shape them into balls and place them onto the prepared baking tray, leaving 1½ inches between them. Before baking, gently press the cookies with your palm to flatten. Bake for 12 to 14 minutes, until the cookies are just lightly browned on the bottom. Cool the cookies for 2 minutes before removing to a rack to cool completely.
Prepare the marshmallows:
In a medium saucepan, combine the water, corn syrup, and sugar, bring to a boil until "soft-ball" stage, or 235 degrees on a candy thermometer. Sprinkle the gelatin over the cold water and let dissolve. Remove the syrup from the heat, add the gelatin, and mix. Whip the whites until soft peaks form and pour the syrup into the whites. Add the vanilla seeds and continue whipping until stiff. Transfer to a pastry bag.
Assemble the cookies:
Pipe marshmallow onto each cookie and let sit at room temperature for two hours. Line a cookie sheet with parchment paper. One at a time, dip the cookies into the chocolate and place on the parchment paper. Or, place a cooling tray over parchment paper and pour chocolate over the cookies. Gather excess chocolate from the parchment paper, melt, and reuse. Let sit until the coating is firm.