I think I may be a tad obsessed with Japanese pastry chef Sadaharu Aoki. I'm on an Aoki binge. Three weeks ago, I created his legendary salted caramel and milk chocolate tarts using a robot I had built just for the project.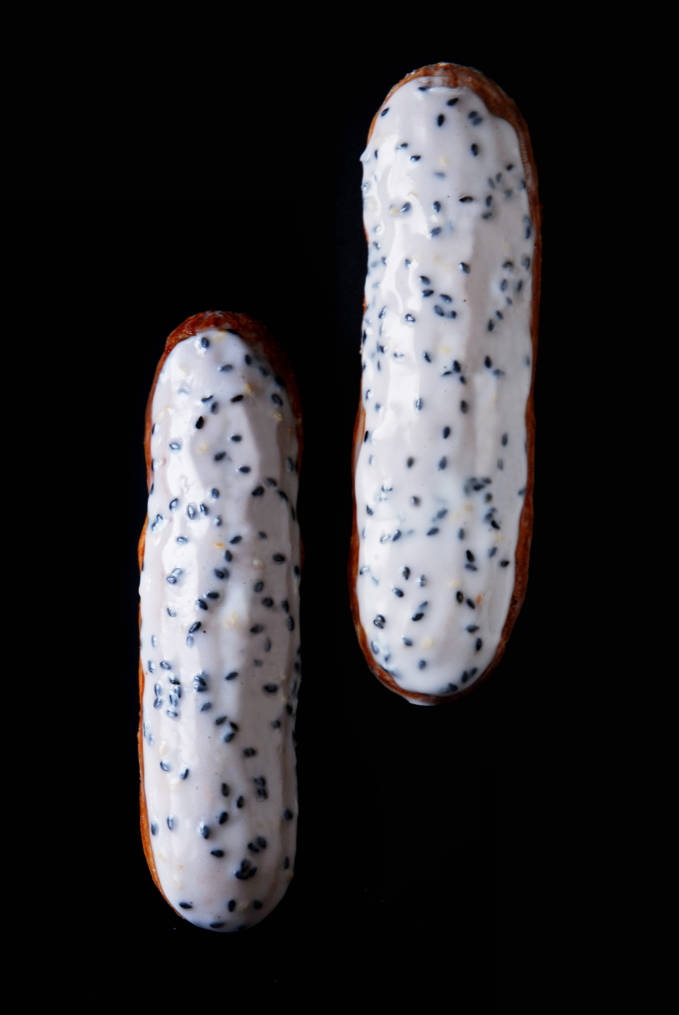 Two weeks ago, I wrote a lengthy éclair tutorial primarily based on his acclaimed (but previously untranslated from Japanese) method. This week, I am sharing the results of my efforts to reverse engineer his black sesame éclair, one of the highest rated pastries in Paris together with his salted caramel and milk chocolate tart.
Unfortunately, as I have mentioned before, Aoki does not share his techniques. Perhaps the constant rejection I face when searching online for his recipes is the cause of my attraction to them. Chef Aoki is playing hard to get, and it's working.
I had figured out a recipe for these black sesame éclairs two weeks ago when I posted my detailed éclair tutorial (more like a book, really). In fact, there are a couple of photos of the black sesame éclairs in that article. That tutorial, however, focused more on the technique behind a great éclair while today's discussion is specifically about Aoki's black sesame version.
To make these éclairs, I started by making some standard éclair shells with the meticulously-tested pâte à choux (choux paste) recipe I shared two weeks ago. If you're planning to make these éclairs, or any éclairs, I highly recommend that you read that post. There are a lot of detailed tips in there (gathered from a plethora of sources and my personal experiments) that will help you achieve perfectly browned, lightly crisped, and hollow éclairs. You'll no longer have to deal with the disappointment of seeing, or eating, ugly, pale, and cracked ones ever again. Actually, that's not true. Failclairs are everywhere.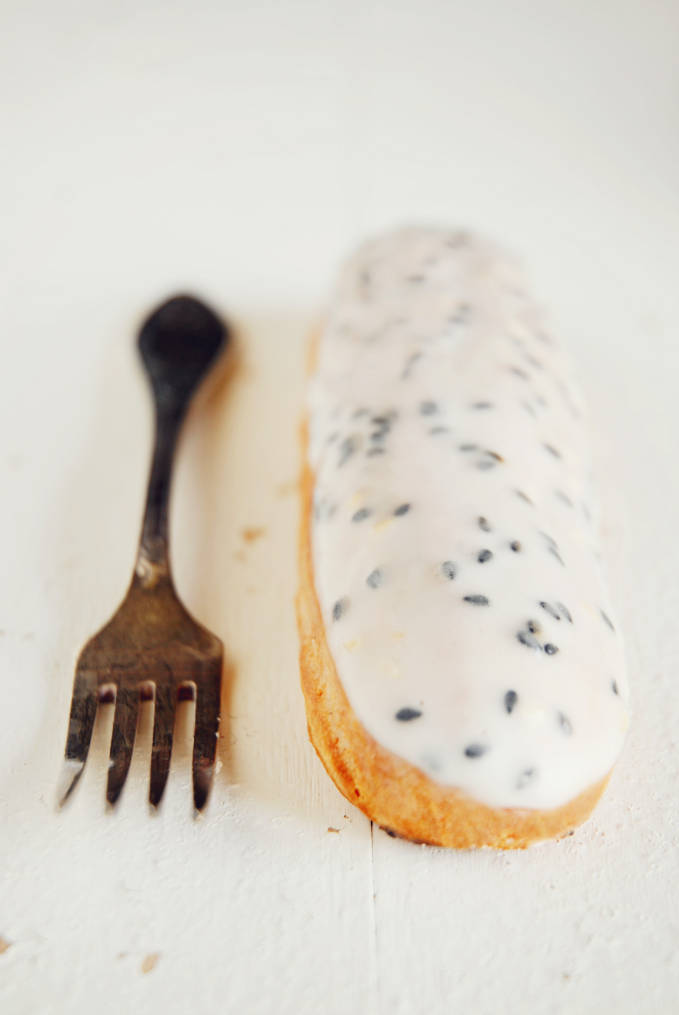 While the shell is unflavoured, photos suggest that Aoki incorporates black sesame into his popular creation in two ways: the crème pâtissière (pastry cream) and the poured fondant glaze.
Black sesame seeds are often sprinkled onto foods as an afterthought in the Western world (think bagels), but in Japan they are rightfully showcased. The nutty, smoky, and sweet flavour of toasted and ground black sesame seeds—black sesame seed paste—is unmatched. Although, if pressed, a comparison to homemade almond butter with a splash of liquid smoke isn't out of the question.
Just a few spoons of the rich, black paste can give most anything an impressive recoloring. In this case, an eggy, off-yellow crème pâtissière becomes dark-grey, nutty bliss. In another, macarons become pitch black. The dramatic colour transformation black sesame paste imparts is unparalleled.
Cross-sectional photos of Aoki's éclair, readily available to anyone with an Internet connection (like me), show that his crème filling is not a uniform shade of grey. Within the crème, to add texture, are lightly toasted black sesame seeds. Naturally, Aoki remembers, while many others forget, that the perfect éclair plays with textures. The shell is crisp. The filling is smooth. Together, the two are perfect.
By adding toasted sesame seeds, Sadaharu adds a smidgen more crunch and elevates his éclair to an entirely new level above mere perfection: Aoki.
His most famous éclair is crowned with a thin layer of sesame seed-studded poured fondant. Poured fondant is a popular choice for most haute, "designer" éclairs like Aoki's. Its flavour and colour can be easily adjusted, it dries without cracking, and it is not overbearingly sweet. Excessive sugar can quickly render intolerable an otherwise excellent pastry.
Originally, after having found a recipe from Joe Pastry, I had intended to glaze these éclairs with poured fondant (essentially whipped sugar syrup that is left to harden and then heated until fluid with a sugar syrup—this is not like regular fondant, which is gummier). However, the first time around I did not cook the sugar solution long enough and I ended up with a glaze that never hardened. The second time around, I broke my food processor because I had left the sugar solution to cool for too long. At that point, I ditched the poured fondant idea, which necessitated a particular Goldilocks temperature I did not have the patience to find, and settled for a simple icing sugar glaze.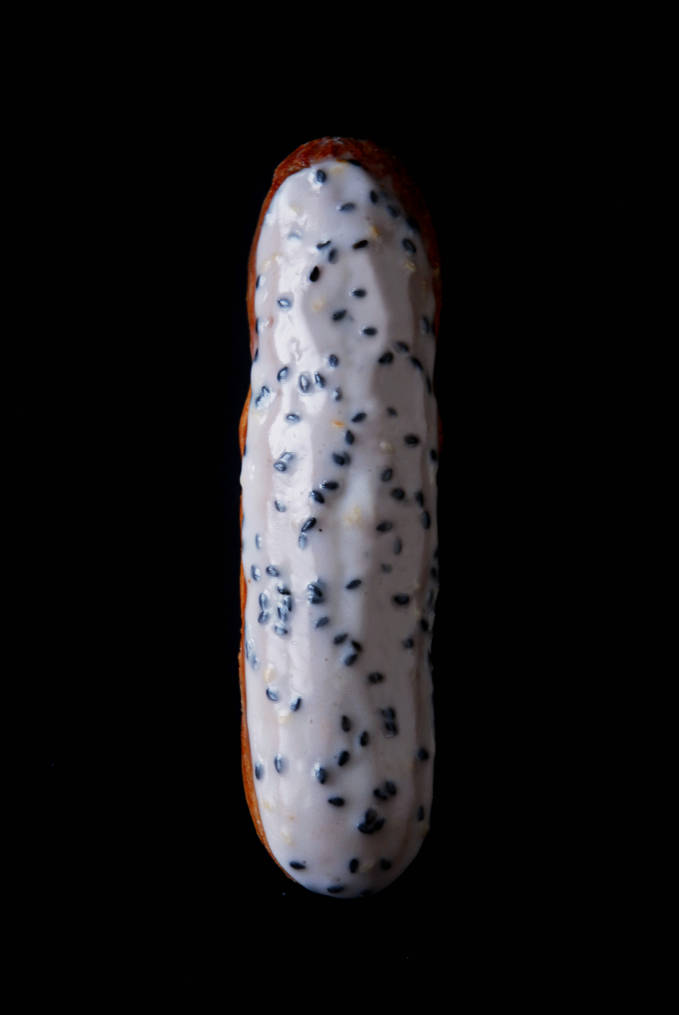 The glaze was a touch too sweet for my liking, but at this point I had no food processor to play around with to make poured fondant and I wasn't willing to risk my stand mixer. If you're braver, or if you have a more accurate thermometer, then I'd suggest going the poured fondant route as Aoki does. (Note that I have adjusted the sugar down a bit in the posted recipe to compensate for the sweetness of the icing sugar glaze.)

Black Sesame Éclairs
I reverse engineered the recipe for Sadaharu Aoki's legendary black sesame éclairs, one of the highest rated pastries in Paris.
Ingredients
For the éclair shells:
75g water
75g milk
75g butter
5g sugar
5g salt
100g bread flour, sifted
150g eggs (about 3), room temperature and lightly beaten
Icing sugar, for dusting
For the pastry cream (used up in the following parts):
70g egg yolks (about 4)
15g sugar
25g flour
25g cornstarch
250g milk
250g half and half
1 vanilla bean, scraped
20g butter, cut into cubes
For the toasted sesame seeds (used up in the following parts):
115g black sesame seeds
10g white sesame seeds
For the black sesame seed paste:
80g toasted black sesame seeds
10g oil
15g sugar
For completing the black sesame pastry cream:
500g pastry cream
75g black sesame seed paste
5g toasted black sesame seeds
For the glaze:
30g toasted black sesame seeds
10g toasted white sesame seeds
Icing sugar
Water
Method
Prepare the choux paste:
Bring the water, milk, butter, sugar, and salt to a strong simmer in a medium saucepan over medium heat.
Remove the pot from the heat and add all the flour at once. Stir vigorously until the flour is completely incorporated.
Return to heat and mix the dough, being careful not to scrape the bottom of the pan as a film may form there while cooking. Cook until the dough reaches 75°C (170°F), about two minutes. You may see a film form at the bottom of the pan.
Transfer the dough to a bowl and, using a stand mixer fitted with the paddle attachment, mix on the lowest speed for about one minute and thirty seconds, such that the dough cools down to 60°C (140°F). You can also do this with a spoon or a hand mixer.
Add half of the eggs and mix, still on the lowest speed if using a stand mixer, until combined.
With the mixer still running, or your hand still stirring, add the rest of the beaten eggs slowly while you continue to mix. Once incorporated, mix for an additional minute until the dough is smooth.
Pipe & bake éclairs:
Prepare a parchment paper lined baking sheet by dabbing a bit of choux between the paper and the pan at each corner to secure the paper to the pan.
Transfer the choux to a pastry bag fitted with a star tip, about 1.5cm (1/2 inch) in diameter with as many small teeth as possible (about 16 is good).
Pipe the éclairs in 13cm (5 inch) lengths, and about 2.5cm (1 inch) wide, at about a 45° angle between the bag and the parchment paper-lined baking sheet. Space the éclairs about 5cm (2 inches) apart. If needed, mark lines with a pen or pencil on the parchment paper to ensure the éclairs are equal in length.
Dust with icing sugar.
Bake in a preheated oven at 180°C (350°F) for forty minutes, or until slightly darker than golden brown.
Remove from the oven and make a thin slit at the bottom of each éclair while still hot to let the steam escape. Let cool completely before filling and glazing.
Prepare the pastry cream:
Bring the milk, half and half, and the scraped vanilla bean to a simmer in a large saucepan over medium heat. Turn off the heat, cover, and let infuse for one hour. Then, remove the vanilla bean and bring back to a simmer.
Meanwhile (during the second simmer), whisk together the egg yolks and sugar in a large bowl until combined.
Sift in the flour and cornstarch and whisk until smooth.
Slowly drizzle the warm milk mixture into the egg yolk mixture, whisking constantly to ensure the eggs do not curdle.
Pour the mixture back into the large pot and, over low heat, cook, whisking often, until well-thickened.
Remove from the heat and whisk in the butter until incorporated.
Transfer to a container, cover with plastic wrap to prevent a film from forming, and let cool completely in the fridge.
Toast the sesame seeds:
Toast the sesame seeds separately in a large pan over high heat, without oil, for three minutes, constantly mixing. At about the two minute and thirty second mark you should hear popping. Remove from heat and cool completely, also separately.
Prepare the black sesame seed paste:
Grind the toasted black sesame seeds (that are meant for the paste), oil, and sugar in a food processor until smooth.
Complete the black sesame pastry cream:
Whisk together the pastry cream, black sesame paste, and the toasted black sesame seeds until smooth.
Fill the éclairs:
Using a large, round piping tip poke three equally-spaced holes into the bottom of each éclair.
Then, place the piping tip into a pastry bag filled with the black sesame pastry cream. Insert the tip into the holes and press until you feel some resistance, being careful not to add too much cream to burst the éclairs or too little such that they are dry.
Glaze the éclairs:
Combine the toasted sesame seeds in a small bowl.
In a wide, flat bowl combine the icing sugar and water such that you get a thick glaze (much more icing sugar than water); I just played around with the quantities until I got a good thickness.
Sprinkle in some of the sesame seed mixture, as needed (you won't need all of it).
Dip the éclairs in the glaze and wipe away any excess glaze with your fingers. For more details about how to do this (along with how to make the shells), please see my éclair tutorial.