A few weeks ago K posted on my Facebook wall: "ILAN. CALL ME. QUICKLY." This was pretty strange since I hadn't spoken to K for months, since I moved to Toronto and switched high schools. Wondering what was so important, and sudden, I ran around searching for my cellphone. Once I finally found it, hidden under my pillow and connected to a tangled wire, I dialed K's phone number and listened anxiously to the tones. "Hi Ilan," she said calmly.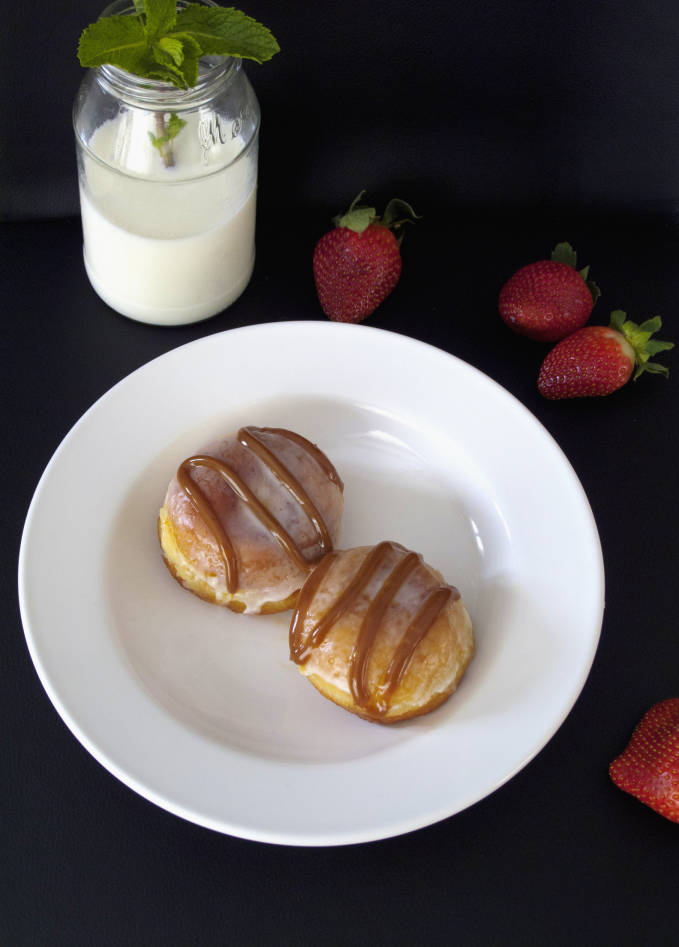 K told me that one of her family's friends, Emanuela, was the host of a cooking show called Home Cookin' (also known as Home Cooking) on Rogers Television (that's a Canadian television station) and she showed her my blog. As I listened I wondered where the conversation was going. No, really, I had no idea where the conversation was going. I soon found out that Emanuela talked to her co-producer and they wanted me on the show!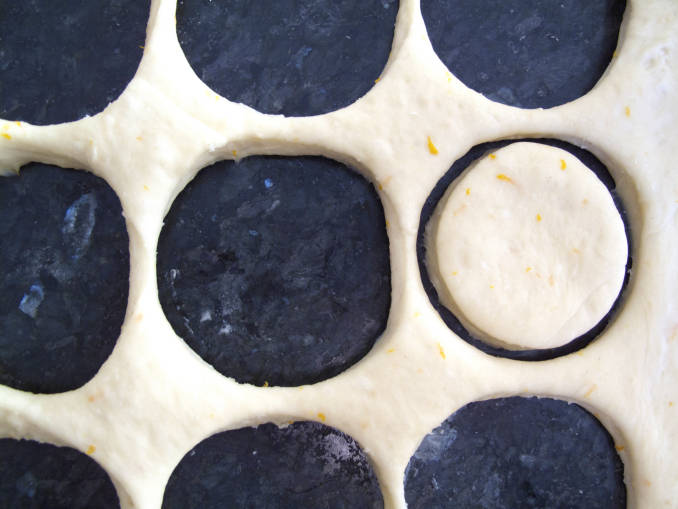 Home Cookin' is a show showcasing Toronto's home cooks. The host, Emanuela, goes to the homes of people across Toronto and cooks with them. I was so excited, especially when I heard that I was going to be the youngest person ever to go on the show (the next youngest person was ten years older than me!) I quickly decided that I would make Cinnamon-Sugar Churros, Kung Pao Chicken, and Tangy Lemon Bars.
About a week later Emanuela Pires, her co-producer Lewen, and two cameramen knocked on my door, ready to film. The kitchen became a studio in moments. Tripods supporting mammoth cameras stood facing the counter and the floor became covered with tapes and batteries.
The shoot began with an interview, where they asked me to spell out my name: I-L-A-N. Then, Emanuela began to ask me questions about my cooking memories and favourite foods (which, coincidentally, included churros, lemon bars, and kung pao chicken). We soon began to cook and talk, sharing stories and tips. It was a ton of fun. The show will premier in about a week, and I'll be sure to post a video on here.
It was an experience that I won't soon forget.

Instructions for how to make fluffy yeast doughnuts filled with banana cream and topped with caramel. Adapted from Grace's Sweet Life.
Ingredients
For the doughnuts:
4 cups (500g) all-purpose flour
¼ cup + 1 tablespoon (63g) sugar
1 tablespoon active dry yeast
2 tablespoons vanilla extract
Zest of 1 orange
Pinch of salt
1 cup (250ml) warm milk (about 100°F)
3 large eggs
3½-tablespoons (50g) unsalted butter, cut into 4 pieces, softened
Vegetable or canola oil, for frying
For the banana cream:
2 cups (500ml) milk
1 tablespoon vanilla extract
6 egg yolks
½ cup + 2 tablespoons (150g) sugar
⅓ cup (40g) all-purpose flour, sifted
¾ teaspoon banana extract
For the glaze:
About 1 cup (120g) of icing sugar, sifted
About 1 tablespoon milk
For assembly:
Method
Prepare the doughnuts:
Combine the warm milk with the yeast and 1 tablespoon of sugar and let sit for five minutes. Place flours, sugar, zest of your choice and salt in a large bowl. Using a large whisk, whisk to well combine. Make a well in the center; pour in the warm milk.  Work together the milk and the dry ingredients with the tips of your fingers. Add the eggs all at once along with the vanilla; work together the ingredients until you have a rough ball of dough. Gradually add the butter, one-piece-at-a-time, working each piece of butter into the dough before adding the next. Transfer dough to a clean, lightly floured work surface; knead until smooth and elastic (not sticky), 10 to 15 minutes. I would not suggest using a mixer to knead these doughnuts – stick to using your hands. Transfer dough back to the large bowl; cover with a sheet of plastic wrap and leave to rise in a warm place, 1½ to 2 hours. When the dough has doubled in volume, transfer to a clean, floured work surface. Roll the dough out to a thickness of about 1 cm (a little less than ½-inch); using a cookie cutter or glass cut out rounds about 7-cm to 7½-cm (2¾-inch to 3-inch) in diameter (keep the cuts as close together as possible).  (Gather up the leftover pieces, give a quick knead to bring the pieces together, return dough to the bowl, cover and leave to rise in a warm place until double in volume, about ½-hour and proceed to roll out and cut out rounds.  At this point if you have any remaining dough, gather together re-roll and cut rounds until all of the dough has been used.) Place the rounds on small squares of parchment paper (one square per doughnut) lightly coated with vegetable oil, cover with a sheet of plastic wrap and leave to rise in a warm place until doubled in volume (they should appear full of air), 1½ to 2 hours. Heat 1 ½ inches of oil in a heavy-bottomed saucepan over medium heat to between 160° C and 170° C (320°F and 340°F). Prepare a plate for draining the doughnuts.  Layer the plate with 3 to 4 sheets of paper towel for draining. Place the doughnut with the parchment paper into the oil (do not pick up the doughnuts; touch the individual parchment paper squares to avoid forcing air out of the doughnuts). Fry three doughnuts at-a-time to ensure even frying.  Remove the piece of parchment paper a few seconds after putting the doughnut into the oil. Fry until golden on both sides, 3 to 5 minutes.  (Doughnuts should be golden on both sides creating a distinct line lighter in colour in between – can be difficult at times to achieve because the doughnuts have a mind of their own and they puff up while cooking, sometimes more on one side than the other.) Remove the doughnuts, one-at-a-time, with a spider skimmer or slotted spoon, and drain on paper towels.
Prepare the banana cream:
In a small saucepan bring milk, vanilla, and banana extract just to the boil over medium heat.  Remove from heat, cover and let steep 10 to 12 minutes. In a large bowl, using a large hand whisk, cream together egg yolks and sugar until thick and pale. Add the flour and whisk to well combine. Gradually, in a steady stream, add the hot milk mixture to the egg mixture; whisking constantly until well combined. Return the milk-egg mixture to the saucepan and cook over medium heat, whisking constantly, until thickened, about 3 to 5 minutes. Remove from heat and strain through a fine mesh sieve into a bowl. Place a sheet of plastic wrap directly onto the cream to prevent a skin from forming while cooling. When the cream has completely cooled place in refrigerator to chill until ready to fill.
Prepare the glaze:
Mix the icing sugar and the milk until the desired thick consistency. Add more milk for a thinner glaze, and more icing sugar for a thicker glaze.
To assemble:
Cut/poke a hole into the side of each doughnut. Pipe the banana cream into the doughnuts using a piping bag with a plain round tip or using a Ziploc bag. Pipe in banana cream until the doughnut feels heavy. Dip the doughnuts into the glaze and let sit for a few minutes for the glaze to harden. Decorate with the Dulce de Leche and serve warm (you might have to heat them up). Doughnuts are best enjoyed the day they are made.