A couple of days ago I flew from Toronto to San Francisco! My brother promised to take me to Chile once I had graduated high school (this was a promise he made six years ago), but I recently decided to switch destinations to the land of sourdough bread.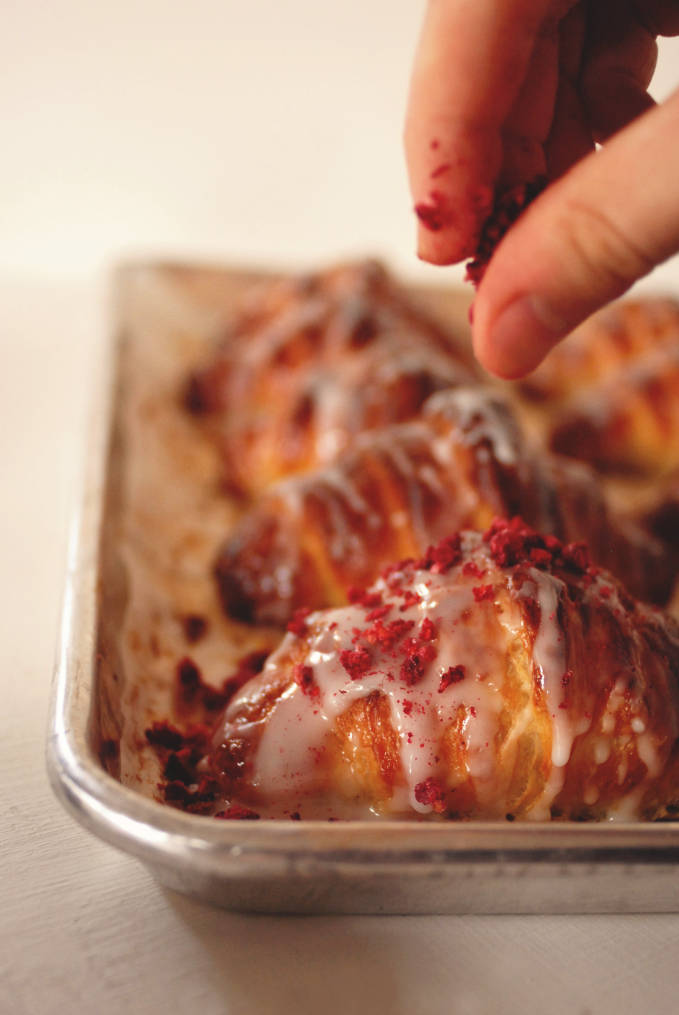 Before I left, I made these amazing Ispahan croissants, which were inspired by Pierre Hermé's croissants of the same name. Inside these croissants is homemade rose-scented almond paste and a delightful raspberry-lychee gelée. These are also glazed with rose icing and crunchy freeze-dried raspberries. The Ispahan croissants are totally amazing and surprisingly not much more difficult to make than regular croissants!
Pierre Hermé is one of the most influential pastry chefs in modern pastry. He often comes up with "fetishes", which are unique flavour combinations. The Ispahan is the most popular of these, and includes raspberry, rose, and lychee. This winning trio stars in many of his pastries.
Hermé's book Pastries, in which he actually shares a recipe for his version of an Ispahan croissant, is not very well edited. The book contains many errors and unclear instructions that could easily mislead many bakers (note, however, that some of the newer versions have been corrected).
When I read over the instructions for these croissants I was pretty amazed at how sparse they were. Hermé covers making croissant dough in under a page, while I have written a full photo tutorial on the subject!

I decided to not use Hermé's recipe because it calls for uncommon ingredients that are not easily accessible, such as gellan gum (which sets food similarly to gelatin). I used his recipe more for inspiration rather than for instructions.
I started off by making a batch of my all-butter croissant dough.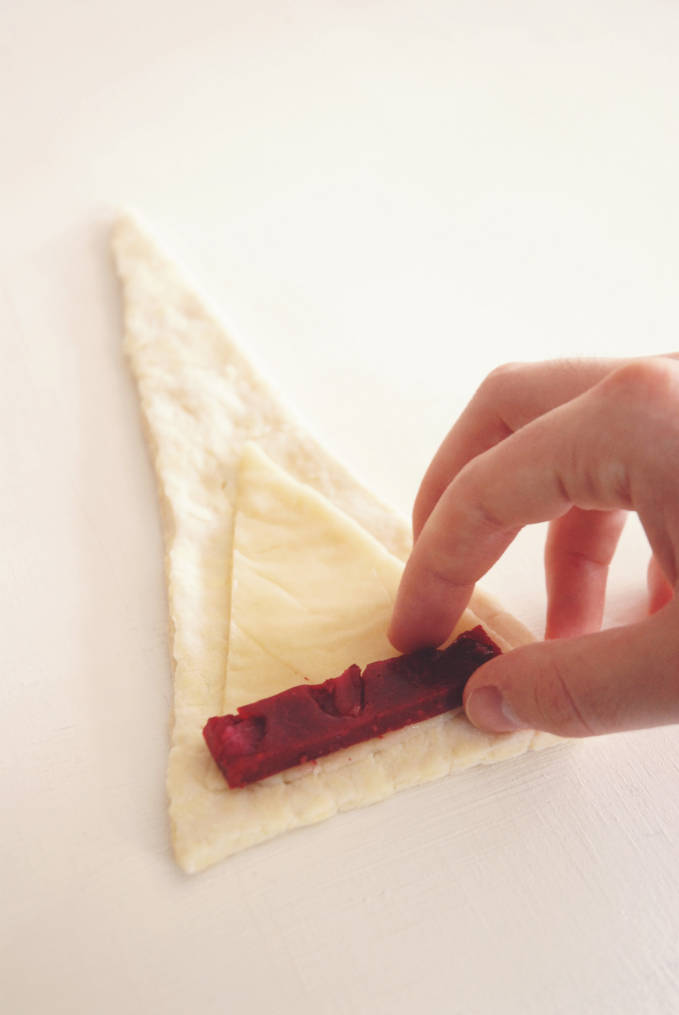 I also made some homemade almond paste (which is as simple to make as combining a few ingredients in a food processor). A couple of drops of rose essence imparted the rose flavour to the almond paste. I then rolled out the almond paste between two sheets of parchment paper (Hermé suggests using acetate sheets, which are not a very common tool even in professional bakeries). Next, I cut the almond paste into triangles that I placed on the croissant dough.
To make the raspberry-lychee gelée, I knew I had to replace Hermé's gellan gum. Gellan gum is different from gelatin in that it is not very thermoreversible (this means that the gelée will not easily reverse into a liquid, unlike gelatin, upon heating). Gellan gum is difficult to find, and also using it will result in a perfectly rectangular prism of gelée in the center of your croissant. Um, no thanks.
I couldn't use gelatin, however, because gelatin gelées 'melt' at around body temperature. Using gelatin would mean that the gelée would melt into a mess while the croissants were baking.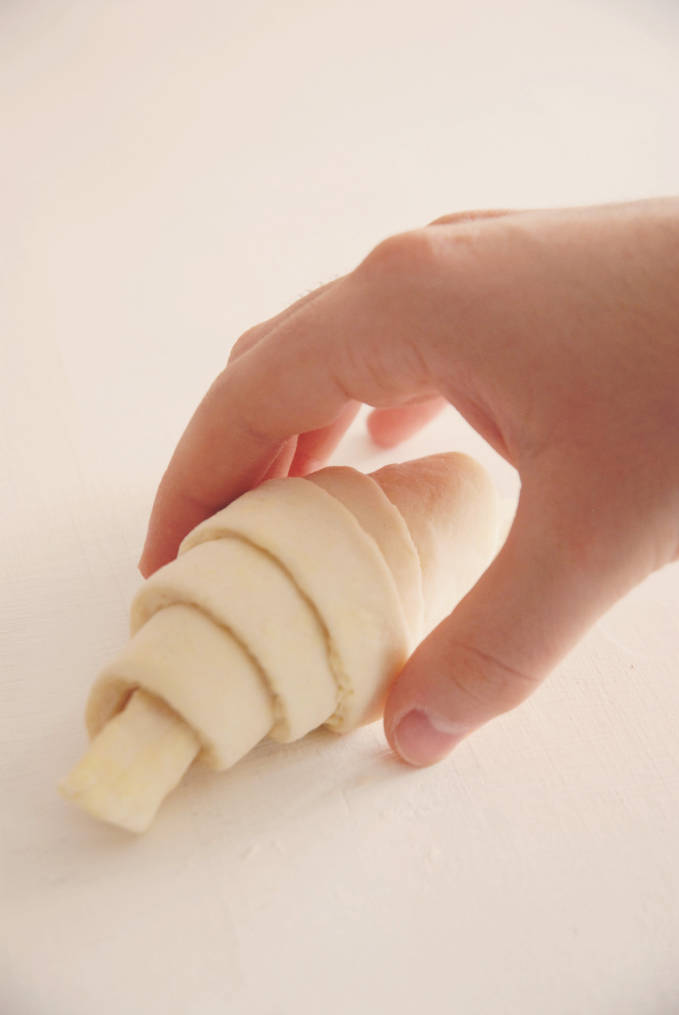 I settled on agar, which has similar liquid-setting properties as gelatin and gellan gum. Agar is much easier to find than gellan gum and it is available at most health food stores. It also is not as thermoreversible as gelatin, and so it can withstand higher temperatures that the croissants would be exposed to while baking.
The agar ended up being unable to keep the gelée together while the croissants baked, but it wasn't really a problem because the croissant dough had formed a nice seal around the gelée during proofing (after I had pressed a couple of gaps closed). This makes me think that gelatin might work as well in these (although I haven't tried it – if you do, I would love to hear about it).
I later glazed the baked croissants with a really simple rose-scented icing to give the croissants a stronger rose profile.
I also crushed some freeze dried raspberries on top to help give the outer layer of the croissant a perfect crunch that complimented the delicate, buttery, and raspberry-y center.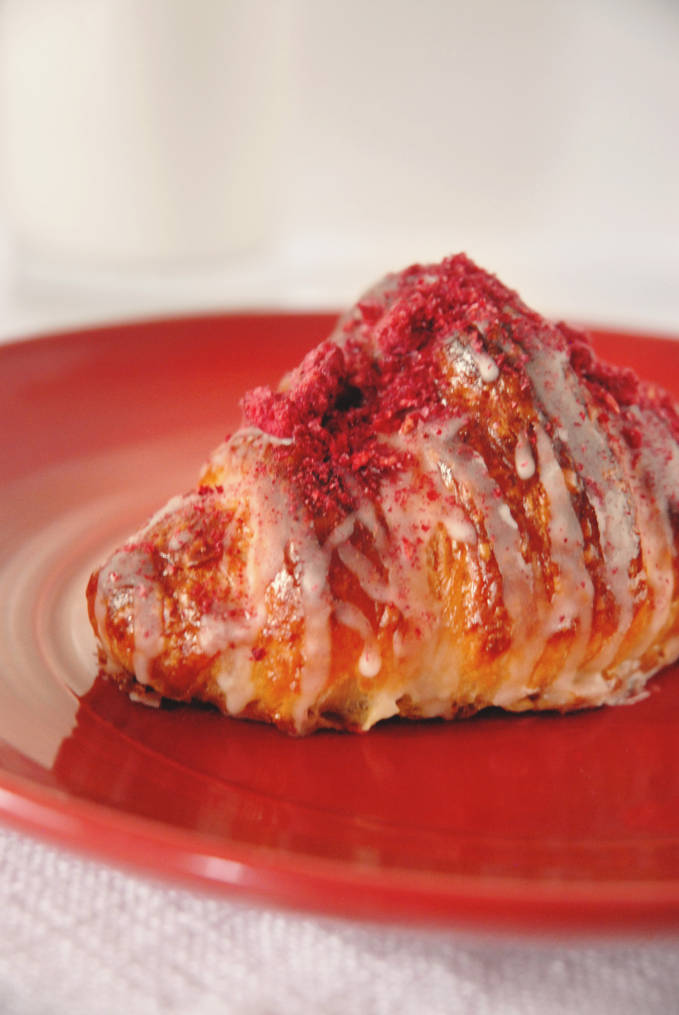 The great thing about making croissants is that even if you don't make them absolutely perfectly, they still taste amazing straight out of the oven.

Ispahan Croissants
Ispahan croissants, inspired by Hermé, contain rose-scented almond paste, raspberry-lychee gelée, and crunchy raspberries. Post includes photo instructions.
Ingredients
For the croissant dough:
2½ teaspoons active dry yeast
¼ cup (62.5ml) + ¾ (187.5ml) cups milk
¼ cup (50g) sugar
3 cups (375g) + 2 tablespoons (16g) all-purpose flour
1 teaspoon fine sea salt
1 cup (210g) cold butter
For the raspberry and lychee gelée:
3 tablespoons (40g) lychees, diced and patted dry
1¾ cups (200g) raspberries, pureed
2 tablespoons (30g) sugar
1 teaspoon agar powder
2¼ tablespoons water
For the rose-scented almond paste:
1 cup (125g) blanched almonds
1 cup (125g) icing sugar
¾ (30g) egg white
¼ teaspoon almond extract
½ teaspoon rose water
For the egg wash:
For the icing:
1 cup (125g) icing sugar
2 tablespoons (25g) water
lightly crushed freeze dried raspberries, optional
Method
Prepare the croissant dough:
You can find my full croissant dough instructions here. Follow the steps up until cutting out the triangles, and then use the rest of these instructions to fill and decorate the croissants (you should work on both recipes together).
Prepare the raspberry and lychee gelée:
Line an 8 x 8 pan with parchment paper.
Combine the raspberry puree, sugar, agar, and water in a small saucepan set over medium heat. Boil for five minutes.
Pour the mixture into the pan and sprinkle the diced lychees on top.
Refrigerate until set (about an hour) and then cut out strips approximately 1.5cm (0.5 inches) wide and 7cm (3 inches) long. Chill gelée until ready to use.
Prepare the rose-scented almond paste:
Process all ingredients in a food processor until lumpy and sticky (note that it should not reach the consistency of almond or peanut butter).
Place the almond paste in the fridge to chill for a couple of hours, and then place it between two sheets of parchment paper.
Roll out the almond paste until is it about 2mm thick (1/16 inches) by pressing the rolling pin on the top sheet of parchment paper.
Cut out triangles about 12cm (4.5 inches) high and 2¾ inches (7cm) at the base. Chill until ready to use.
Assemble the croissants:
Place a triangle of rose-scented almond paste in the triangle of croissant dough. Place a piece of gelée at the bottom of the triangle, cutting some off if necessary so that it will fit.
Line a large baking tray with parchment paper.
Tightly roll up the croissant from the base, streching it as you do, so that there are three full rolls of croissantthat makes seven "steps". Place the croissants on a parchment paper lined baking tray about 5cm (2 inches) apart.
If you see any of the gelée, lightly press together the dough to seal any gaps.
Bake the croissants:
Brush the croissants with egg wash (an egg beaten with a teaspoon of water).
To proof the croissants leave them at room temperature for a few hours until they are doubled in size.
Preheat your oven to 375°F (190°C). Lightly brush the croissants again with egg wash (double egg washing helps them develop a nice crispy exterior). Bake for about 15-25 minutes, or until golden brown.
Prepare the icing:
Stir together the icing sugar and water until the icing is thick and syrupy.
Wait for the croissants to cool slightly (about ten minutes) and then drizzle on the icing and top with the freeze dried raspberries, if using.