Soufflés are fun. They're quick to make and are incredibly pretty when taken out of the oven. But then they deflate and disappoint you. So, if you like disappointment, soufflés are fun!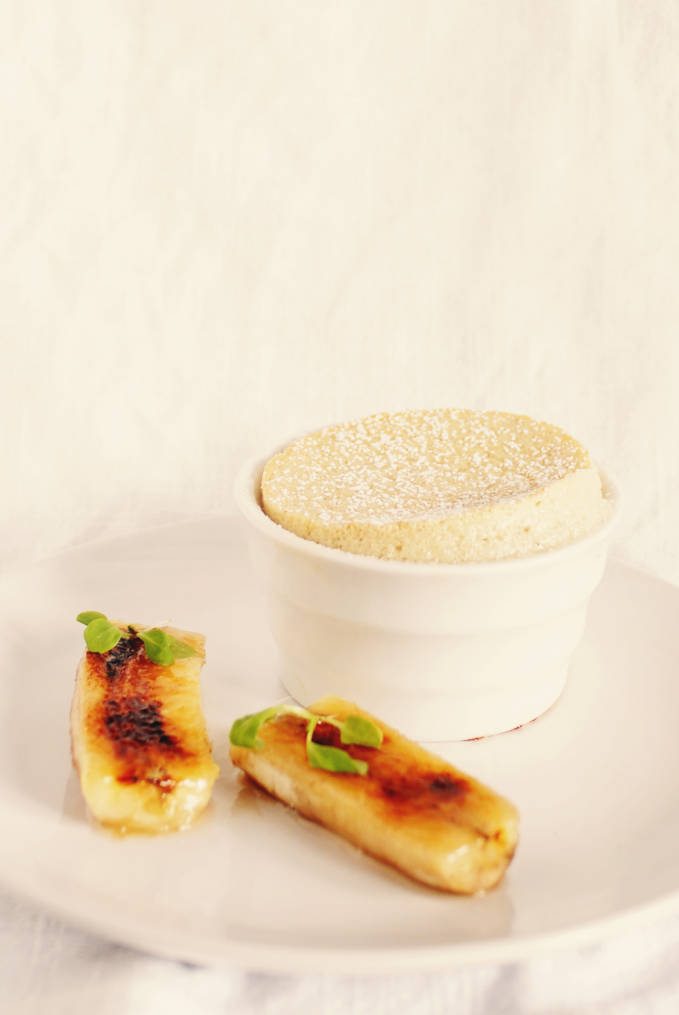 The thing with soufflés is that they are incredibly difficult to photograph. You've got less than two minutes from the time you take them out of the oven until they deflate. That's why the soufflé in the photo isn't very tall. When I first took it out of the oven, it was a couple of inches above the rim of the ramekin.
Ask any food photographer, and they'll tell you that food takes a long time to photograph. Especially if you have to style it too. That's why you don't see many soufflés around on food blogs—bloggers don't like posting photos of deflated soufflés.
Well, folks, I thought I could do it. I thought I could take a photo of a soufflé before it deflated.
I was wrong.
Oh well. I've failed once or twice before, and now I have something else to add to that list!
My dream of photographing a tall soufflé was deflated (har, har).
My dream of eating a tasty soufflé was not! With a delicate banana flavour and a creamy, fluffy texture, it was perfect. It was a noticeable improvement from a lentil soufflé I had tried a few days earlier at a lentil event. Don't put lentils in your soufflés, folks. That's not how you should use lentils. Perhaps macarons would be a better match…
The best part of this dish though, for me, was the caramelized bananas. They're great! I first had caramelized bananas when I went to San Francisco in September with my brother R. We visited lots of different breakfast places for, well, breakfast. They served caramelized bananas with pancakes, waffles, French toast, and so much more. Super yummy! Beneath the thin, crackly caramel shell is an incredibly warm, soft banana. Lovely.
These soufflés were a great way for me to get rid of all the brown bananas I had. I asked around on Facebook and Twitter for ideas of what I could do with brown bananas, and a suggestion for soufflés really jumped out at me. They're far more elegant than banana bread and much easier to make than people say.
To make soufflés all you have to do is make a custard, fold in egg whites, and bake. I don't know why so many people are scared of them. They're not scary. After you take them out of the oven they cower in fear of you and shrink! Hardly scary. Frankly, I'm far more scared of hissing yeast (I think I've complained about its frightening hissing sounds a few times before on here…).
They're great for dinner parties because the custard can be made a few days in advance and egg whites whip up quickly.
They're also great for celebrating big events—like new blog layouts! Do you guys like it? I'm still fixing glitches (like an awfully slow page loading speed), but it was a weekend DIY project that I think looks pretty good!

Caramelized Banana Souffle
Easy recipe for banana souffle dusted with icing sugar and served with crunchy caramelized bananas.
Ingredients
For the ramekins:
~50g butter, softened
~50g cup sugar
For the caramelized bananas:
3 bananas, peeled, split lengthwise, and chopped into pieces a few inches long
~75g sugar
For the souffles:
230g milk
1 vanilla bean, split with vanilla caviar scraped out into milk
3 egg yolks
50g + 25g sugar
10g flour
10g cornstarch
1 banana, peeled
2 tablespoons rum
3 egg whites
To assemble:
Method
Prepare the ramekins:
Brush butter into the ramekins using vertical brush strokes at the walls of the ramekins so that the souffle can follow the butter grooves upward.
Pour sugar into one of the ramekins, turn to coat the sides with sugar, and pour the sugar into the next ramekin. Repeat until all ramekins are coated with sugar.
Place in the fridge to chill while you prepare the remaining elements.
Prepare the caramelized bananas:
Put the sugar on a plate and dip the inner, wet side of the banana in the sugar.
Place the bananas sugar-side up on a baking tray.
Using a kitchen torch, or a torch lighter, heat the sugar until it caramelizes. I tried using a broiler for this step and it doesn't work well because the bananas get too mushy. I highly recommend using a lighter/torch of some sort.
Prepare the souffles:
Whip together the egg yolks and 50g of sugar until light and fluffy.
Heat the milk with the vanilla bean and vanilla caviar until it simmers in a medium sized saucepan. Remove the vanilla bean and very slowly pour the milk into the egg yolks while whisking quickly.
Sift in the flour and the cornstarch and whisk together well. Pour back into the saucepan and cook on low heat, whisking often, until thickened. Remove from heat and let cool to room temperature.
Once cooled, blend together the rum and the banana and mix into the custard. You can do up to this step in advance.
Whisk the egg whites in a clean bowl on medium speed, gradually adding the 25g of sugar. Once the egg whites get to stiff peaks, fold in one third of the banana mixture. Don't be gentle.
Once incorporated, fold in the remaining banana mixture as gently as possible to avoid deflating the egg whites.
Fill the ramekins up halfway and then hit the ramekins against the counter so that the batter fills in all the edges and rises evenly. Then, fill up the ramekins the rest of the way and use an offset spatula to scrape off the excess mixture and get a flat top.
Bake in a 190°C (375°F) oven for approximately fifteen minutes and lightly browned. Don't over-bake or they will collapse in the oven. Do not open the oven door until you're ready to take them out.
To assemble:
Dust souffles with icing sugar and place the ramekins on a plate with a couple of pieces of caramelized bananas.