I've made countless batches of macarons over the last month, experimenting with all sorts of flavours. These, the Mogador macaron by Pierre Hermé, are one of my favourite flavours.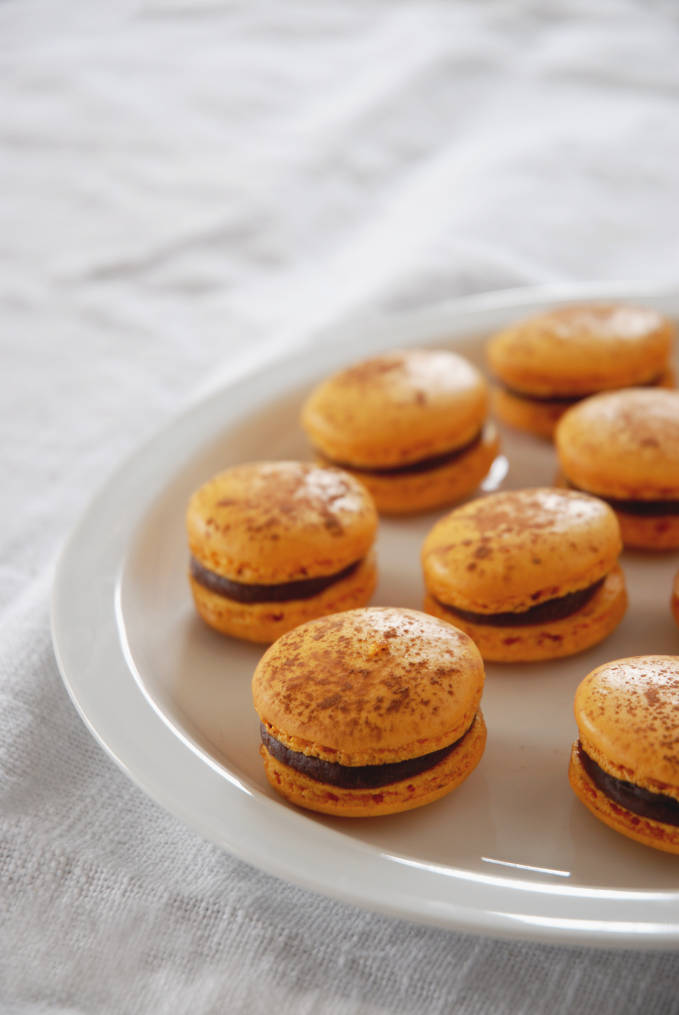 The egg shell thick shell gives way to a pillowy almond meringue and a decadent, floral passion fruit-milk chocolate ganache. The acidity of the passion fruit balanced the sweetness of the milk chocolate nicely. They were totally worth risking my life for.
Powdered food colouring is a pain to find in Toronto but is the best option for making macarons. Sure, you can order it online and pay hefty shipping and handling costs but I was determined not to. I spent about a week looking for the best place to buy powdered food colouring, and I ended up finding a store that was located in a pretty dangerous area.
All the other places I found were baking supply shops, but charged double the price of this little South Asian grocery store. The store is located on an industrial road in a not so nice part of town. I looked it up on Google maps. There were two inch thick metal bars in all the windows and in the door, and the street was empty in the middle of the day. There were also a few shootings there last month.
I tricked my brother into driving me there and told him that he shouldn't bring anything of value with him.
The store itself wasn't that scary. I went in and bought powdered food colouring, and then I left.
Special thanks to Mardi from Eat. Live. Travel. Write. for helping me with some technique issues.
(Note 2017/09/04: This is an old recipe. I suggest following the recipe in my recent macaron tutorial for the shells instead, but using the recipe below for the filling.)

Mogador Macarons
Mogador macarons, by Pierre Hermé, are filled with a velvety smooth and decadent milk chocolate passion fruit ganache.
Ingredients
For the macaron shells:
4 oz (114g) ground almonds/almond flour
8 oz (227g) icing/powdered sugar
5 oz (142g) egg whites
a pinch of salt
2.5 oz (71g) sugar
2 teaspoons vanilla extract
¼ teaspoon yellow powdered food colouring
a pinch of red powdered food colouring
cocoa, for dusting
For the passion fruit milk chocolate ganache:
1¾ oz (50g) butter, softened and cubed
8 oz (225g) milk chocolate, finely chopped
5 passion fruits, juiced (125g juice)
Method
Prepare the macaron shells:
Follow the directions I provided in my macaron tutorial for best results. Ten minutes before baking, dust the shells with cocoa powder.
Prepare the passion fruit milk chocolate ganache:
Partially melt the chocolate over a double boiler and boil the passion fruit juice. Add the passion fruit juice into the chocolate in three additions, stirring slowly to incorporate. Once chocolate reaches 60°C (140°F) add the butter in a few cubes at a time and stir until glossy and combined. Pour into a container, cover the top with plastic wrap, and cool for about an hour and a half. Pipe onto half of the macaron shells, sandwich the cookies, and let rest in the refrigerator for a day and a half. Let come to room temperature before eating.