There is only one thing worse than making candy without a candy thermometer. (Alright, more than one, but bear with me.) It's making candy with a poorly calibrated candy thermometer.  When you make candy without a thermometer, you know that your caramel might not come out right. You know there is a risk.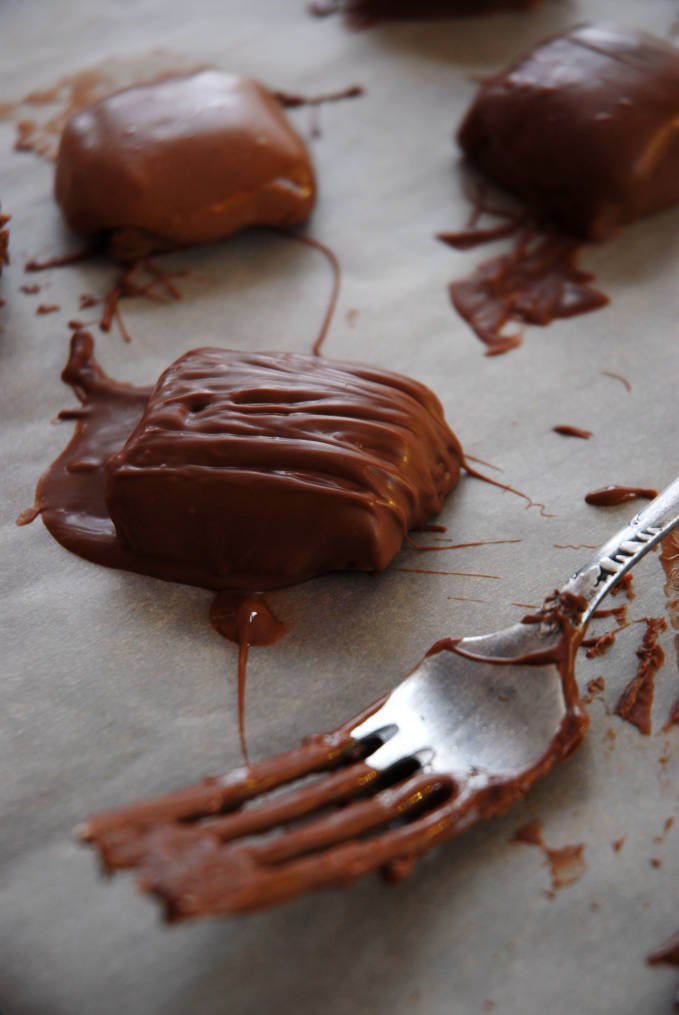 When your thermometer isn't accurate, you're positive that everything is going to be fine and then it isn't. You have hope, and then that hope is crushed. First candy, then your dreams.
Maybe not your dreams. Unless your dream is making homemade Mars bars.
There's a lot of recipes around for homemade chocolate bars, but none really for homemade Mars bars. I'm not sure why. There's nothing threatening about Mars bars. They even removed the sharp almonds (ooo scary) from the Canadian recipe a few years ago. The edges of the chocolate bars are curved now, so even if you get hit with one in the eye it won't hurt that much. Mars bars shouldn't be scary. Mars bars should be delicious.
I made Mars bars in the shape of squares because squares are cool. Yeah, I'm a rebel.
I'm not going to lie to you and tell you that they tasted good. They didn't. They were truly awful (the first time around).
Yup, they sucked.
All because I had a poorly calibrated thermometer. The chocolate nougat came out well, but I overcooked my caramel. I dropped my thermometer after I made the nougat and I think that doing so might have damaged it. Dropping it probably broke it. Probably.
Instead of the soft caramel that's in the Mars bar, mine was hard. Not only was the caramel hard, it was in that specific range of hard that would drive any candy maker mad. The caramel was too hard to chew but not hard enough to suck on.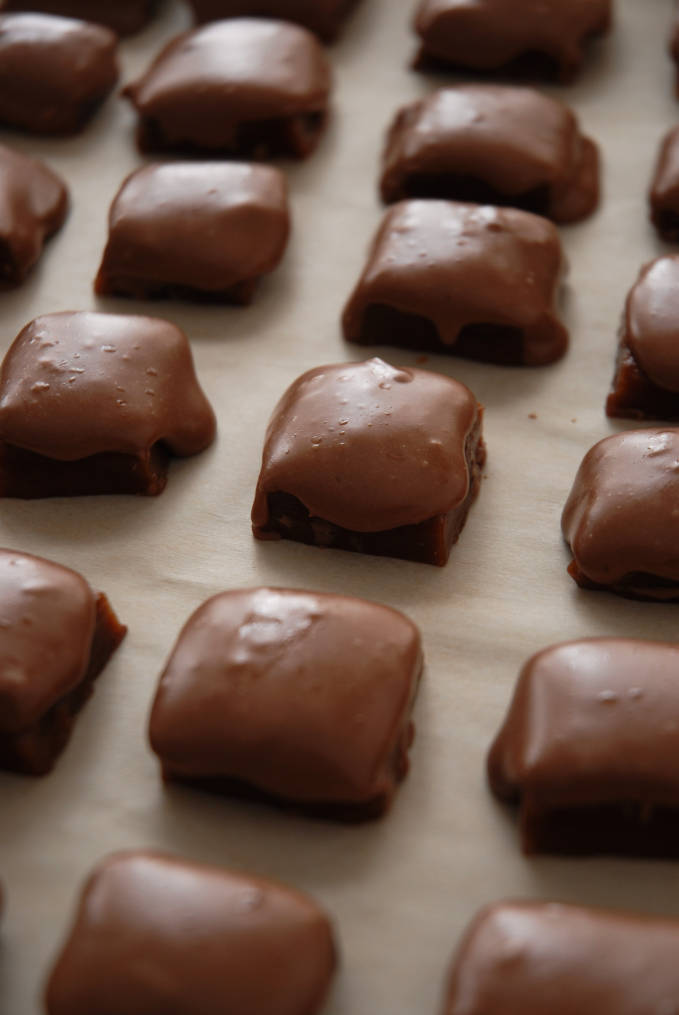 If it was just a bit harder, I could have scraped off the chocolate nougat (which was almost exactly like the Mars bar version, by the way) and had caramels to eat. It wasn't though. I ended up with a soft layer of noguat and a hard layer of caramel. These were impossible to eat.
Oh, and then because the caramel was so hard, these were really difficult to cut into squares. The nougat would stick to the knife while the knife would get stuck in the caramel. My knife was covered in gooey (but delicious) chocolate nougat while the blade was stuck half way in the caramel. I considered using a butcher's knife at one point, and then I realized how crazy I would look taking a butcher's knife to caramel.
So I put away the butcher's knife.
Later batches, with a working thermometer, turned out quite well though.
When you dip these in chocolate you can either go for a smooth finish, like the real Mars bars, or you could make some nice designs on top with a fork and some other types of chocolate. I ran a fork through them to make them a bit "homemade".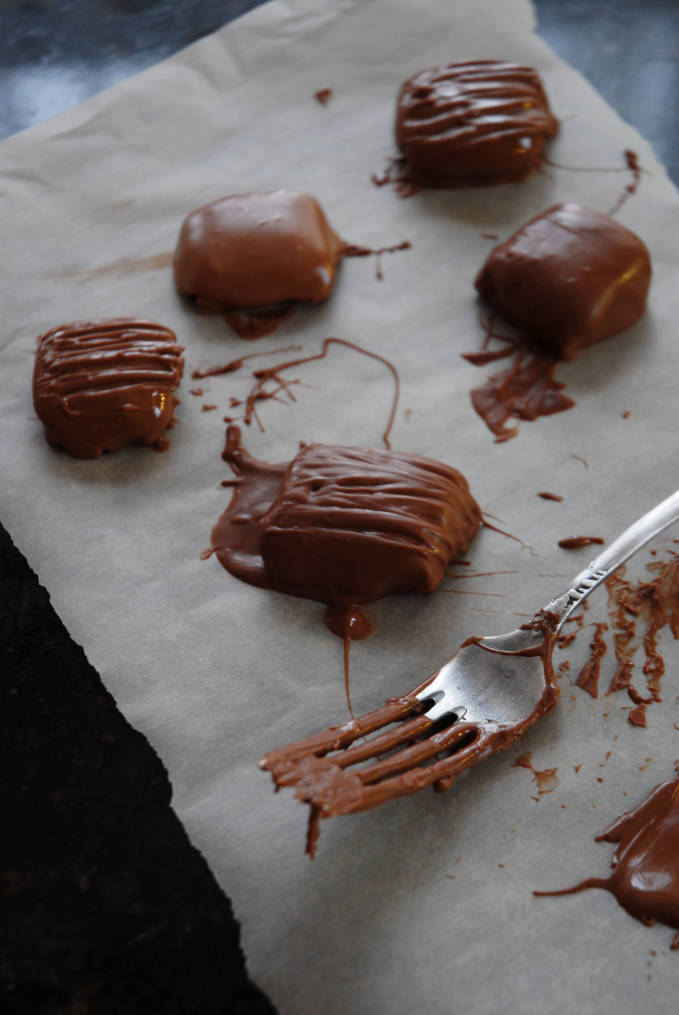 I hope my caramel troubles don't stop you from making these. There's nothing wrong with this recipe – just with my thermometer at first.  I (and others who posted in the comments) have made the recipe with a working thermometer after my first batch and it made excellent Mars bars. You just need to make sure that you actually cook the caramel to the correct temperature. My thermometer was off by about eight degrees Celsius the first time around, which is a lot for candy making.
Happy New Years everyone – hope your next year is sweet, with a touch of sea salt since that's the new baking thing.

Finally a recipe for completely homemade Mars bars! Made with chewy caramel and soft, chocolate nougat all dipped in melted milk chocolate.
Ingredients
For the chocolate nougat:
2 egg whites
¼ teaspoon cream of tartar
1½ cups (300g) sugar
1 cup (340g) light corn syrup
½ cup (125ml) water
4oz (113g) melted milk chocolate
2 tablespoons cocoa powder
For the caramel:
1 cup (200g) sugar
¾ cup (190ml) whipping cream
½ cup (170g) light corn syrup
4 tablespoons unsalted butter
½ teaspoon salt
½ teaspoon vanilla extract
For the chocolate:
400g of your favourite chocolate, tempered
Method
Prepare the nougat:
Grease an 8 by 8 pan and then line it with parchment paper, with excess on the sides so that you can pull it out later. Beat the egg whites with the cream of tartar to soft peaks while the sugar, corn syrup, and water cook on medium-high heat in a medium saucepan. Cook the sugar until it reaches the soft crack stage, 270°F. Pour about a teaspoon of the sugar syrup into the egg whites and beat until incorporated. Add in another teaspoon and beat some more. Continue doing this until all the sugar syrup is incorporated. Add in the chocolate and the cocoa powder, and beat until the bowl is slightly warmer than room temperature, about three minutes. Pour into the pan. Spread the nougat into an even layer. It might be helpful to place a piece of parchment paper on top and press down on it with your hands to do this. Let the nougat sit for ten minutes at room temperature while you prepare the caramel.
Prepare the caramel:
Cook all the ingredients together in a medium saucepan over medium-high heat until the temperature reaches 245°F, about eight minutes. Do not stir. Pour onto the nougat, and let sit for two hours.
Cut the bars:
Take out the layers by pulling on the parchment paper and then place them on a chopping board, caramel side down. Cut the bars into any size you like. Place the layers in the freezer before cutting if you're having trouble. This will be sticky.
Dip the bars:
Dip the bars using a fork in the tempered chocolate, and then let the chocolate harden at room temperature. Store the chocolate bars in the fridge, and let them sit at room temperature for twenty minutes before serving.