What do you look for in a chocolate cake? Do you like cakes that are so rich that you can only eat a thin slice at a time or do you prefer lighter ones where eating half in one sitting is not an issue? I'm in the second boat. I prefer to suck in chocolate cake like a vacuum.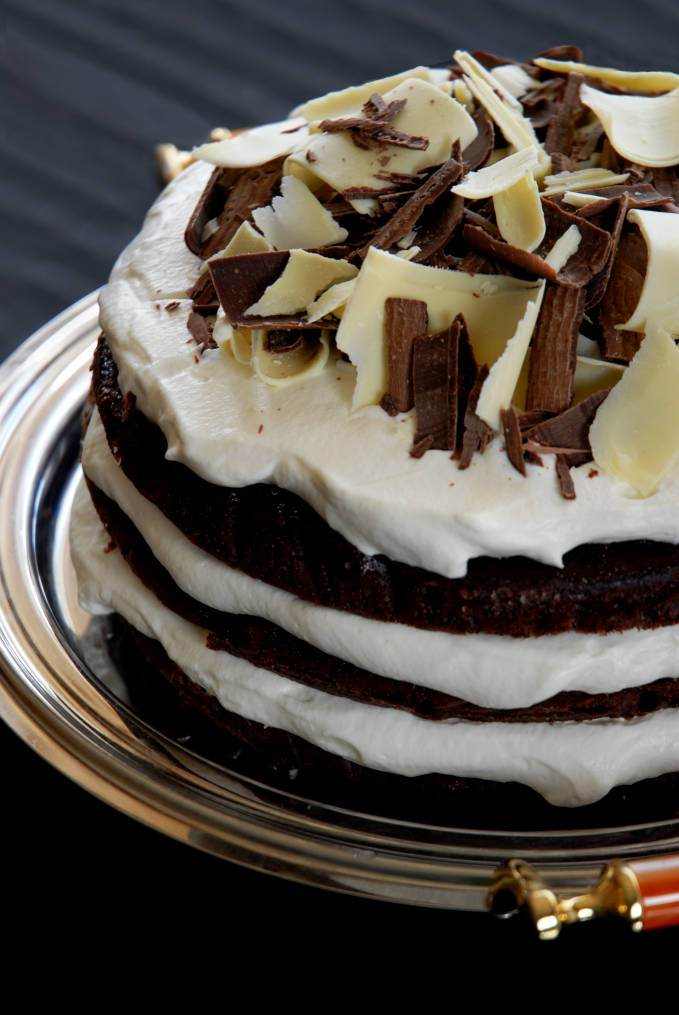 I like chocolate but I don't like cakes that are so rich I have to restrict my consumption of them. Light chocolate cakes bring back memories of grocery store birthday cakes. Rich, dark chocolate cakes just can't do that. The cool thing about this recipe though is that it's really simple to adjust to your tastes.
If you prefer rich, dark chocolate cakes add cocoa and subtract the same amount of flour from the recipe. You can quickly make your cake way more "chocolately" this way. I prefer my chocolate cakes light though, so the listed recipe is for a lighter alternative.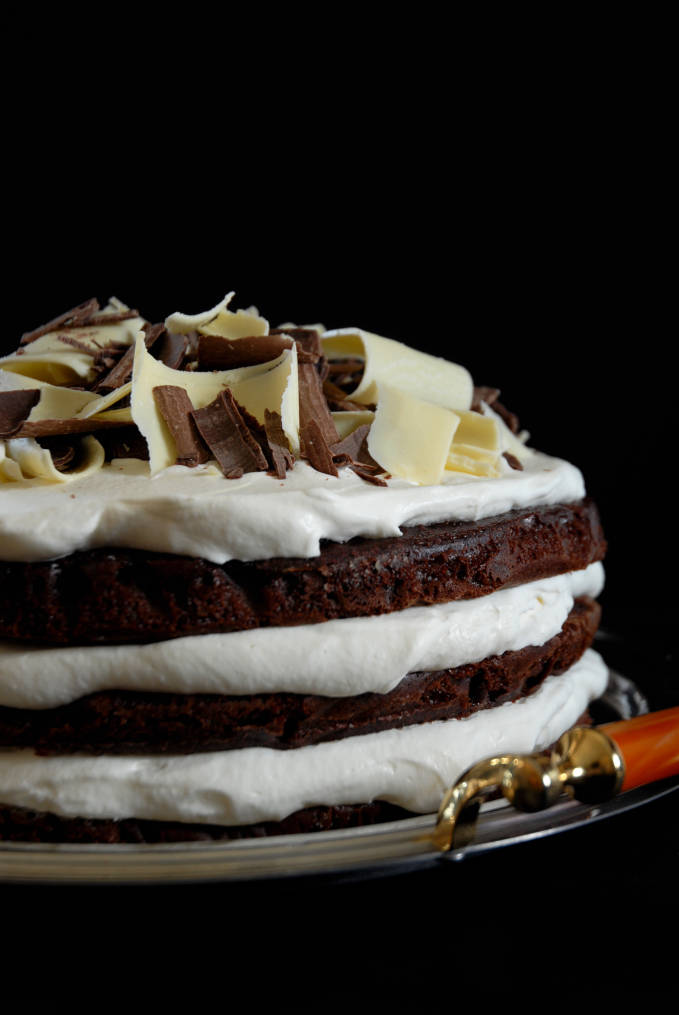 I figure that if you're serving a cake for a party it makes sense to bake a lighter cake so that those who don't like chocolate won't be left out. (We should leave them out, but it's not very politically correct.) Almost every chocolate cake recipe I've seen prides itself on being rich and dark though. Is that what most people prefer? Do you like your chocolate cakes light or rich?
If you're looking for a light chocolate cake, this recipe if for you. If you're a die-hard chocoholic, then just add some more cocoa. Either way, this cake's for you!

A fluffy chocolate cake with spiked whipped cream and chocolate curls.
Ingredients
For the cake:
Butter, for greasing the pans
2 cups (250g) all purpose flour, plus more for pans
2 cups (400g) sugar
⅔ cup (58g) cocoa powder
2 teaspoons baking soda
1 teaspoon baking powder
1 teaspoon salt
1 cup (250ml) milk, at room temperature
½ cup (125ml) vegetable oil
2 eggs, at room temperature
1 teaspoon vanilla extract
1 cup (250ml) hot coffee
1 tablespoon lemon juice
For the spiked whipped cream:
2 cups (500ml) whipping cream
2 tablespoons sugar
1 teaspoon vanilla extract
3 tablespoons whiskey (optional)
For the chocolate curls:
Thick (~2 inches tall) blocks of chocolate (white, dark, and milk)
Method
Prepare the cake:
Preheat the oven to 350°F. Butter and flour three 9-inch round cake pans. Line the bottom of each pan with parchment paper. Sift the flour, sugar, cocoa, baking soda, baking powder, and salt into a bowl and mix on low speed. In another bowl, combine the milk, oil, eggs, and vanilla. Slowly add the wet ingredients to the dry ingredients while mixing. Add the coffee and stir to combine, making sure to scrape the bottom of the bowl. Mix in the lemon juice. Pour the batter into the pans and bake for about 30-35 minutes. Cool in the pans completely.
Prepare the spiked whipped cream:
Whip all the ingredients together until stiff peaks form.
Prepare the chocolate curls:
Warm up the chocolate in the microwave for about 20 seconds or until it gets soft. Slide a vegetable peeler along the side of the block of chocolate to create curls. Let the curls fall onto a piece of parchment paper. Let the chocolate come to room temperature before handling.
Assemble the cake:
Place a layer of the cake on a plate and cover with a third of the whipped cream. Repeat with the other layers. Arrange the chocolate curls on top.