Whether your week has been good or bad so far I think I can make it better. About two weeks ago Quirk Books sent me a copy of Shauna Sever's new cookbook – Pure Vanilla. A book about baking with vanilla, obviously. I was also able to get a copy to give away to one of you guys!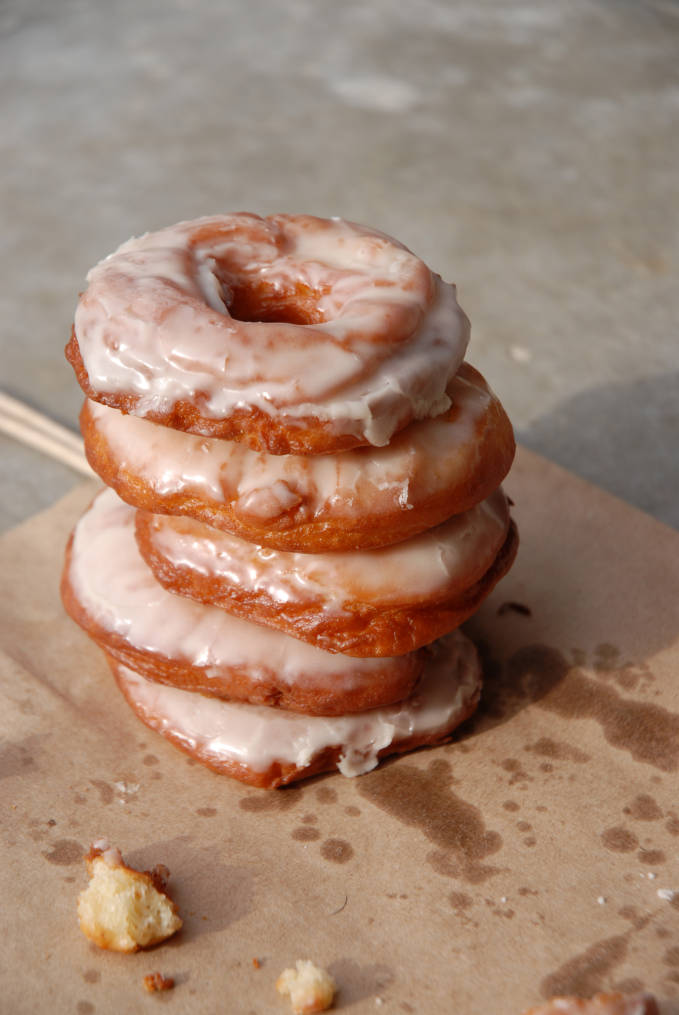 The book is seriously awesome. Not just because it has so many delicious looking photos but also because of Shauna's amusing introductions to each recipe.
Shauna took plain, ol' vanilla and showed it how to do backflips. I'm a big fan of anything that can do backflips.
I was browsing through the book and saw a lot of delicious-sounding recipes but I eventually settled on making these classic vanilla doughnuts. I was considering making the cloud cake, which is pretty much a giant Twinkie, but I saw that it was already all over the internet.
I think a good test of a cookbook is how good its less popular recipes are. I'm sure the cloud cake tastes great, or else everyone wouldn't be making it, but I wanted to try something else. So I made these doughnuts (donuts?). They were so fluffy and yummy.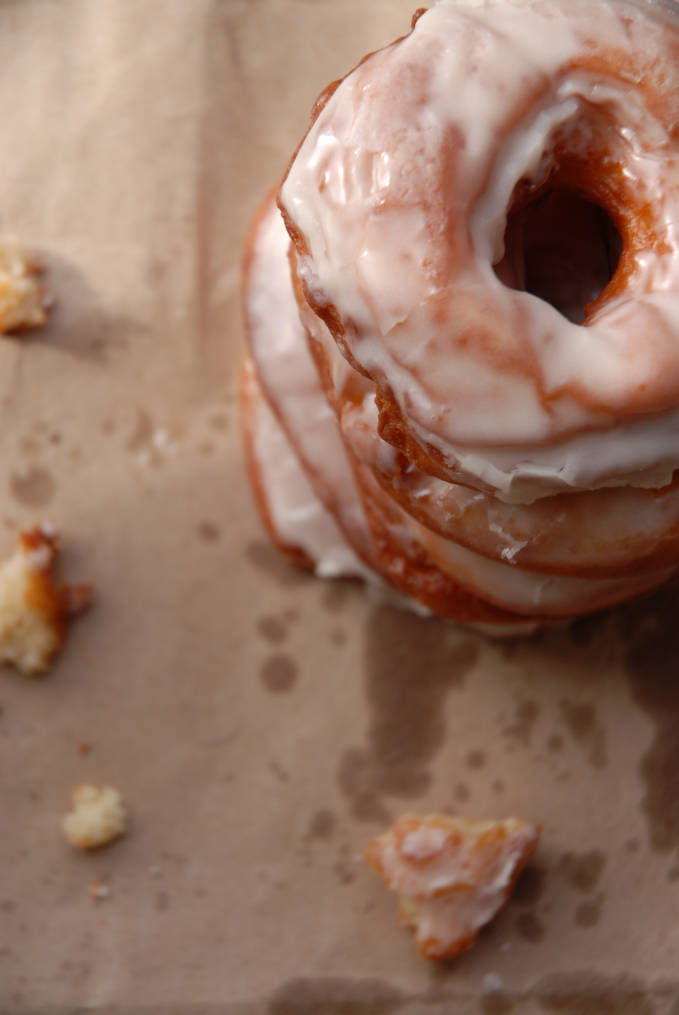 I was quite anxious to try the doughnuts while I made them. I almost tried the raw dough. When I first took the doughnuts out of the fryer I broke off a piece to see how it tasted. It was alright. Nothing special. I was a little bit upset. Then I dunked the doughnut in the glaze.
Talk about a big difference.
The doughnuts were still warm while I was eating them so the glaze was all runny. So delicious! A few hours later when I announced that I made five doughnuts (yeah I definitely only made five) everyone warmed them up and it was like they just came out of the fryer. Super delicious!
The recipe called for a doughnut cutter. I didn't have a doughnut cutter. I don't make enough doughnuts for me to need one. In fact, the only doughnut recipe I have on the site doesn't even have a hole in it.
I also don't have cookie cutters. Yeah, seriously.
I just used two cups. It worked great.
This recipe was super simple for a doughnut recipe and also really good. I'm really looking forward to trying out the other recipes in the book.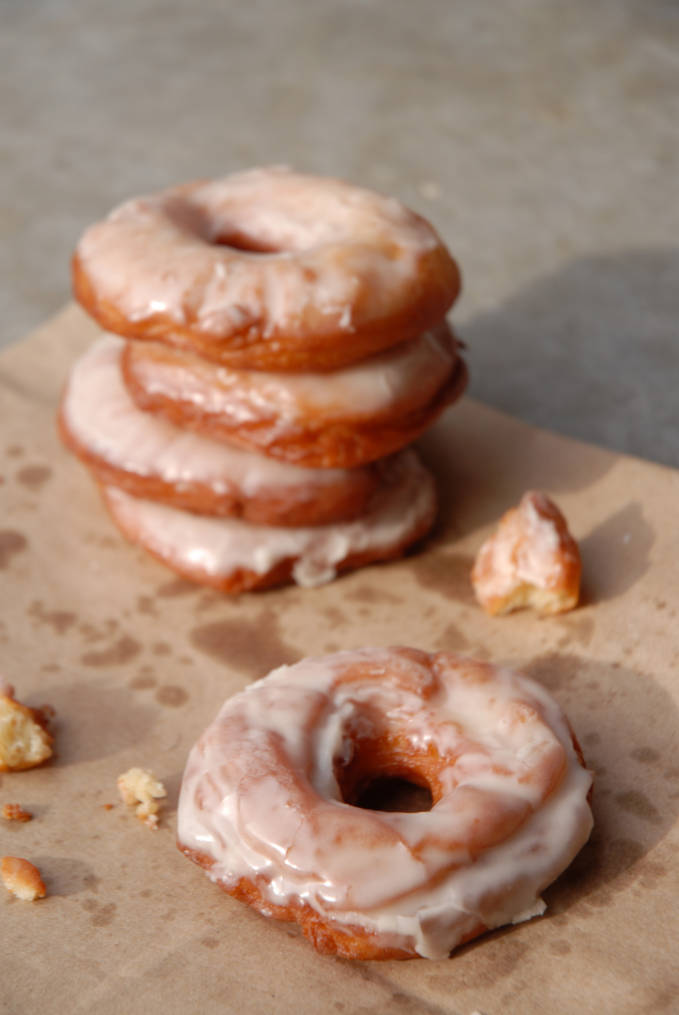 Right then, the giveaway. The book is a hardcover so therefore it's expensive to ship overseas. Seriously dough (yup, that was on purpose), the giveaway is only open to US and Canadian residents. Or those of you with a US or Canadian mailing address. To enter…
Leave a comment on this post telling me what your favourite use for vanilla is for one (1) entry.
Tweet "Love free stuff? Love vanilla? Win a copy of Pure Vanilla by Shauna Sever http://goo.gl/U4L4y @ironwhisk" for another (1) entry. If you want to follow me (@ironwhisk) on Twitter that would be cool too. I say a lot of stupid stuff on there though. You must post an additional comment telling me you tweeted with a link to the tweet below for the entry.
I will choose a winner randomly Sunday night and the winner will be revealed next Monday. I will send an email to the winner for their mailing address. If they don't reply within 48 hours then I'll choose a different winner.
Good luck guys!
Glazed Vanilla Bean Doughnuts
Warm fried dough and sweet vanilla bean glaze. Recipe from Shauna Sever's
Pure Vanilla
.
Ingredients
For the doughnuts:
1 tablespoon dry active yeast
¼ cup (60ml) warm water (100°F)
3 tablespoons granulated sugar, divided
1 cup (250ml) milk, at room temperature
1 tablespoon vanilla extract
Caviar of ½ vanilla bean (I just used another ½ tablespoon of extract)
3 large egg yolks, at room temperature
¼ cup (60g) unsalted butter, melted and cooled to room temperature
3½ cups (440g) all-purpose flour, sifted, plus more for kneading
1¼ teaspoons salt
Vegetable oil, for frying
For the glaze:
1½ cups (180g) icing sugar
2 tablespoons milk
Pinch salt
½ vanilla bean (I used ½ tablespoon vanilla extract)
Method
Prepare the doughnuts:
In the bowl of a stand mixer (I used a regular bowl), whisk together yeast, warm water, and one tablespoon of the sugar. Let stand until mixture is foamy, about five minutes. Whisk in the remaining two tablespoons sugar, milk, vanilla extract, vanilla caviar (I just used extract), egg yolks, and butter. Fit the mixer with the paddle attachment and begin mixing on low speed. Add flour and salt and mix for three minutes, scraping down the sides of the bowl and the paddle often to keep the dough moving. Turn out the dough onto a lightly floured work surface and knead by hand several times, dusting with flour as needed. Place dough in a large oiled bowl and cover with plastic wrap. Let rest in a warm place until doubled in bulk, about 1½ to 2 hours. Alternatively, you can let it rise in the refrigerator overnight, 8 to 12 hours. Turn dough out onto a lightly floured work surface and roll to about ½ inch (1.5cm) thick. (Note: you can use a stand mixer to knead the dough the entire time or you can knead by hand the entire time - your choice). Cut out doughnuts with a 3-inch (8cm) doughnut cutter (I just used a big glass and a small glass), place on a parchment-lined baking sheet, and cover with a clean kitchen towel. Let rise for 30 to 45 minutes, or until doughnuts have doubled in size.
Fry the doughnuts:
Pour 2½ inches (6cm) of vegetable oil into a pot and heat it to 350°F. Fry doughnuts in batches of no more than four until they are golden brown, two minutes per side (I fried mine one minute per side), turning only once (turning too often can result in greasy doughnuts). Transfer to paper towels to drain.
Prepare the glaze:
Whisk together the icing sugar, milk, salt, and vanilla until smooth.
Glaze the doughnuts:
Either spoon the glaze over the doughnuts or dip them in the glaze. Warm up the doughnuts if they're not fresh when serving.