Chicken parmesan is my favourite chicken dish and I think that everyone should have it at least three times a day. Crispy chicken smothered in tomato sauce and cheese is a definite win. In fact, one of my friends decided not to become a vegetarian because of this recipe. When you add grilled polenta it becomes even better! This time I also added a mixed green salad to offset the richness of the chicken.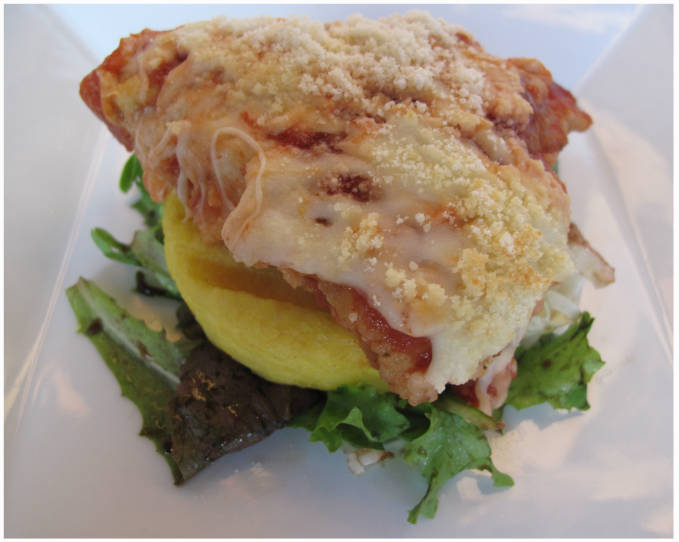 The recipe is relatively simple and involves pounding chicken breasts, dredging them in flour, dipping them in an egg wash, and then in breadcrumbs.
The best type of breadcrumbs to use is Japanese Panko breadcrumbs (in the Asian aisle of almost every major supermarket) because they're much crispier, but they're a bit more expensive. If you don't have any/can't find any you can still use regular breadcrumbs.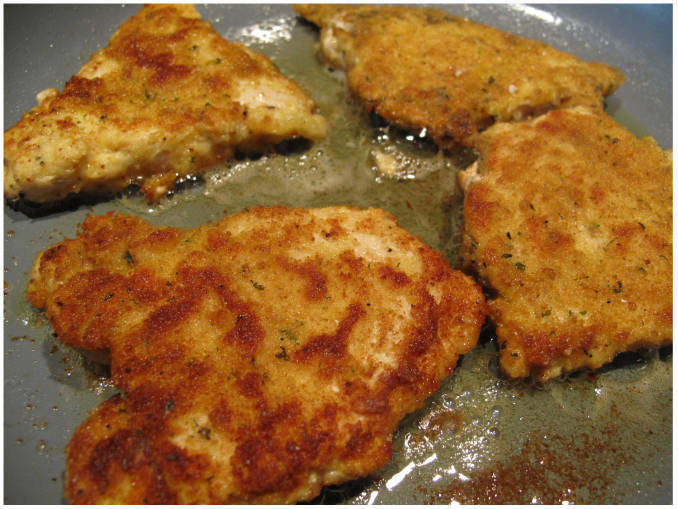 After frying the chicken in olive-oil you cover it with tomato sauce, mozzarella cheese, parmesan cheese, and then bake it.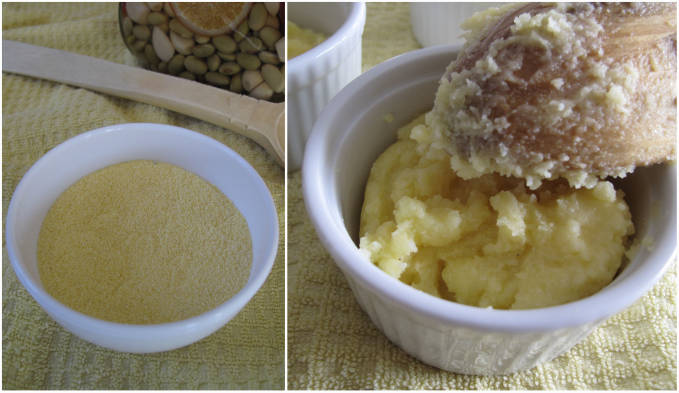 As for the polenta you combine and cook corn flour with water, put the mixture into buttered ramekins, and let it firm up in the fridge. Then you simply grill it until grill marks form.
For the salad I just combined mixed greens, balsamic vinegar, and olive oil.
Trust me. You need to try this chicken dish. If you're not a big fan of polenta you can substitute pasta for it so there's really no excuse not to try it.

Chicken Parmesan with Grilled Polenta
A recipe for this Italian dish served with a mixed green salad and grilled polenta.
Ingredients
For Chicken Parmesan:
2 chicken breasts
1 cup (240g) flour
¼ teaspoon each basil, parsley, thyme, salt, pepper
1 egg
1 heaping cup (130g) breadcrumbs
1 cup (250ml) tomato sauce
½ cup (50g) mozzarella cheese
½ cup (50g) parmesan cheese
For Polenta:
½ cup (125ml) water
½ cup (60g) corn flour
¼ teaspoon salt
1 cup (250ml) water in a pot
¾ tablespoon butter
½ cup (50g) parmesan cheese (optional)
Method
Prepare Chicken Parmesan:
Place chicken breasts between two layers of cling wrap and pound them with a meat mallet or frying pan until even thickness. Place chicken breasts in a plate of flour and spices, then in a bowl with a beaten egg, then in breadcrumbs. Fry in olive-oil in a pan on medium heat until cooked through (about three and a half minutes per side). If you're not sure if the chicken is done, cut it to check if it is pink inside (if it's pink, it's not done). Place the chicken in a baking tray and cover with tomato sauce and cheeses. Bake at 350° F for fifteen minutes or until cheese is melted.
Prepare the Polenta:
Mix the corn flour with the ½ cup of water in a bowl. Bring 1 cup of water and the salt to a boil on medium-low heat. Slowly add the corn flour mixture to the boiling water and stir. Stir frequently for around twenty-five minutes, or until the polenta comes off the sides of the pot. Add butter and cheese and stir until melted. Place into buttered ramekins, cover, and place in fridge for a few hours until firm. Take polenta out of the ramekins once hardened by shaking and tapping the ramekins and grill for a few minutes per side for grill marks (be careful not to move the polenta while grilling and to only flip it once to not ruin the grill marks).