Tirami sù literally translates from Italian to "pick me up", a metaphor for "make me happy". I can definitely understand why. With cocoa, espresso, and a touch of Marsala wine, tiramisu well definitely make you happy. Maybe even a little too happy.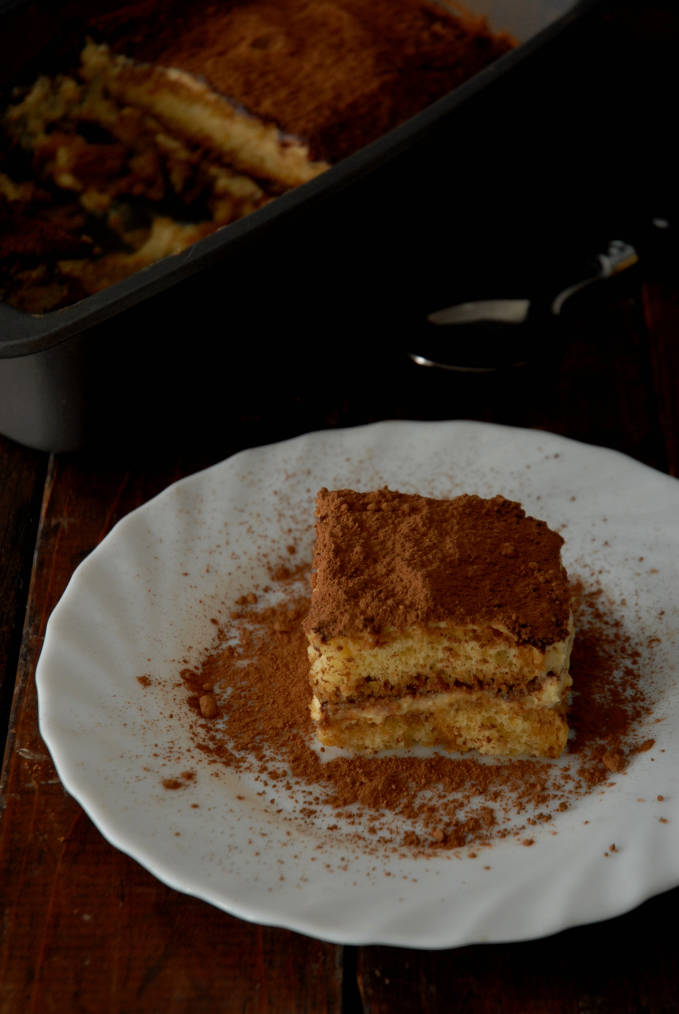 I've only had tiramisu once or twice before, and I wasn't particularly fond of its flavour. With a really strong coffee taste and curdled mascarpone cream, tiramisu just didn't sit right with me. Then I found out it's not supposed to be that way and everything changed.
Well, not everything. In fact, not most things. My love for tiramisu skyrocketed. That's about it.
I hate when people say everything changes and only one thing changed.
One of the reasons why I love tiramisu so much is because it's really simple to make. Pretty much all you have to do is dip cookies in coffee, spread on a custard, and dust with cocoa powder. A lot of recipes, however, don't give clear instructions on how you're supposed to dip the cookies, and that's where most tiramisus fall apart. A lot of them have a really intense and overwhelming coffee flavour that dominates the cake, while others are really soggy. Tiramisu isn't supposed to be either.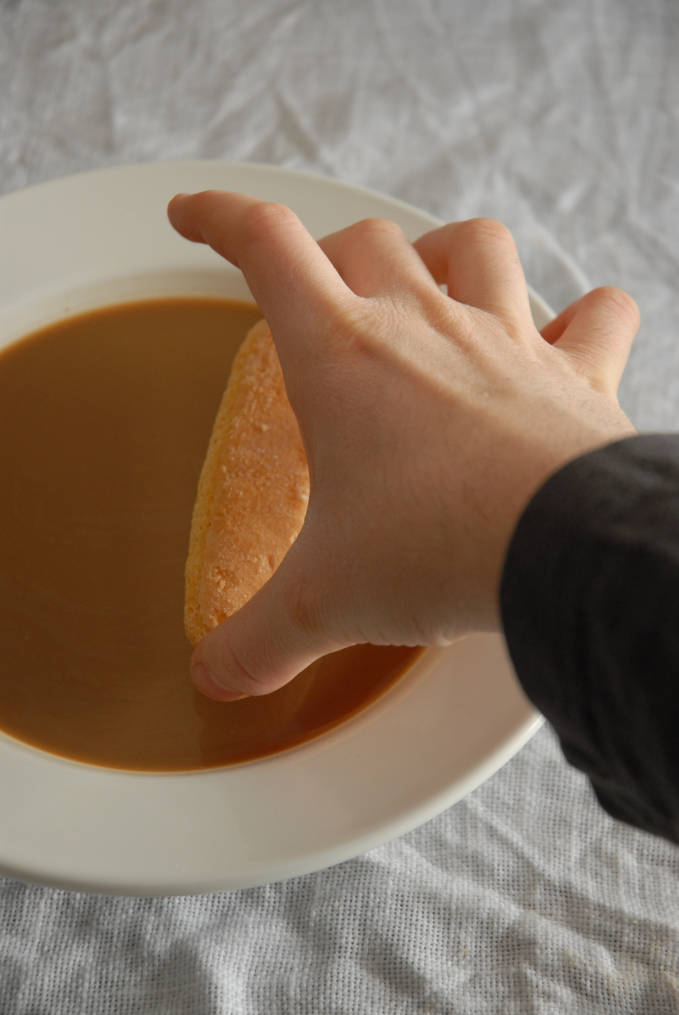 The cookies that make up the "cake" layers of a tiramisu are called Savoiardi, or lady fingers. These cookies are incredibly absorbent because they are made from a sponge cake-like batter. That's why when you dip them in coffee if you dip them for too long they will make your cake very soggy. Sponge cake absorbs. Like a sponge. Ergo, "sponge" cake. After some testing (which was pretty much me soaking them in coffee and eating them over the sink as coffee dripped from them) I found that dipping them for more than three seconds will make them too soggy.  The ones that were in the coffee for more than five seconds were pretty much mush. (You don't want mush.)
Tiramisu also involves an Italian custard called zabaione. This custard doesn't have any cream, but just egg yolks, sugar, vanilla, and a flavourful liqueur. Traditionally, Marsala wine or a dark rum is used. I didn't have any on hand, so I used Bailey's chocolate liqueur. It worked out perfectly. You just whisk it all together on the stove. You can use a double boiler if you're afraid it will curdle. If it ends up curdling, just pass the custard through a strainer.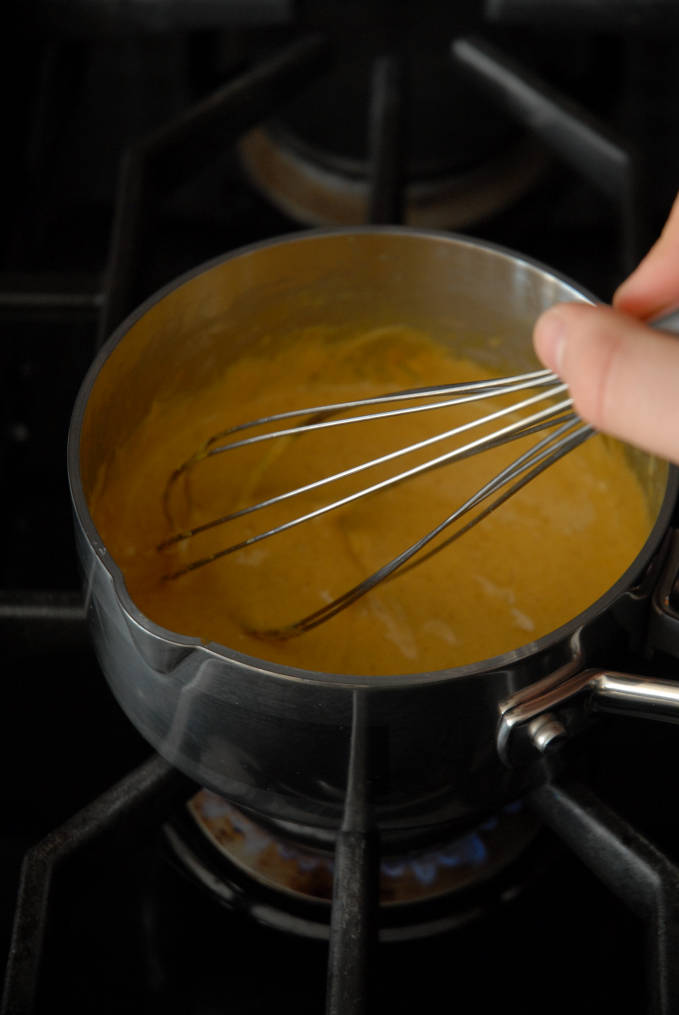 After the custard's done just fold in some whipped egg whites and mascarpone cheese.
Assembling the cake is pretty simple. You take your soaked lady fingers, cover them with some of the custard mixture, dust with cocoa, and then repeat the process once more. The cake comes together pretty quickly, but is really amazing.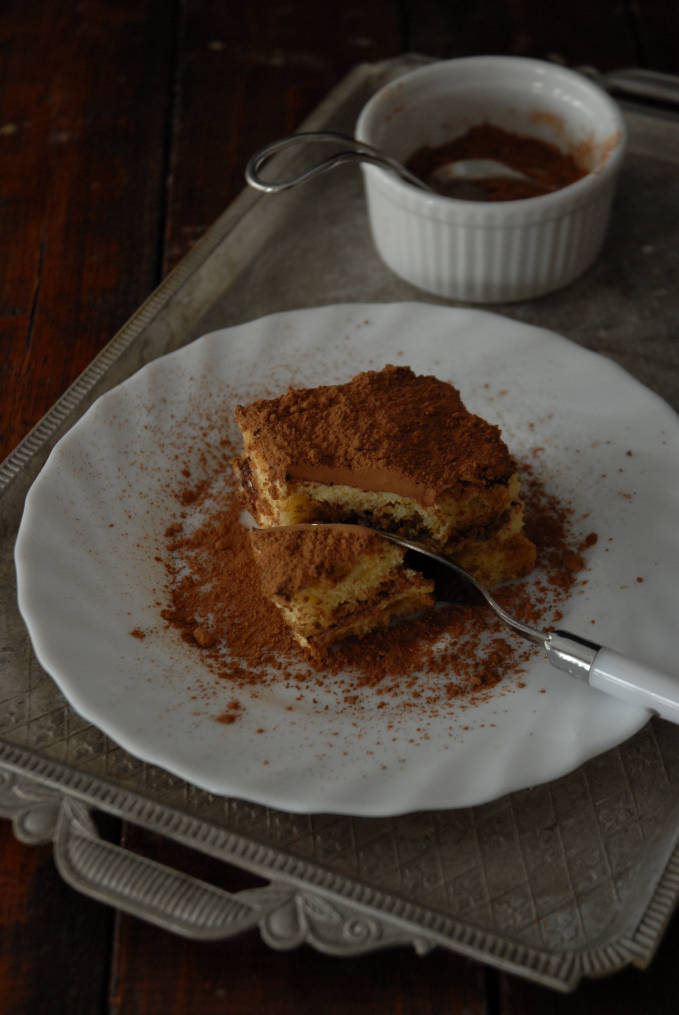 I highly recommend you try this recipe. It's perfect for Valentine's day.

Tiramisu is an Italian cake made from lady finger cookies, mascarpone cheese, and coffee. Lots of coffee. Oh, and liqueur.
Ingredients
For the custard layer:
4 (85g) egg yolks
3 tablespoons sugar, divided
1 teaspoon vanilla extract
1 tablespoon Marsala wine, dark rum, or coffee/chocolate liqueur
3 (120g) egg whites
¼ teaspoon cream of tartar
1 container (226g) mascarpone cheese (do not substitute!), softened at room temperature
For the lady finger layer:
200g (about 16) lady fingers, divided
~1 cup cooled espresso or strong coffee
3 tablespoons sugar
1 teaspoon Marsala wine, dark rum, or coffee/chocolate liqueur
For the cocoa:
Method
Prepare the custard:
Combine the egg yolks, one tablespoon of the sugar, vanilla extract, and the Marsala wine in a small saucepan and whisk together over low heat until the mixture thickens. Cool to room temperature. Whip the egg whites with the cream of tartar and the remaining sugar until stiff peaks form. Fold in the mascarpone cheese and the custard.
Prepare the lady fingers:
Combine the coffee with the sugar and wine. Dip a lady finger in the coffee for maximum 2-3 seconds and then transfer it to a 9'' by 5'' loaf pan (this size gives the best proportion of lady finger to custard). Fill the bottom of the pan with dipped lady fingers (about 8 - this is half of them).
Layer the cake:
Spread half the custard over the lady fingers, making sure they're all covered. Dust with half the cocoa powder so the custard is completely covered. Dip more lady fingers in coffee and arrange them perpendicularly to the first layer. Cover with the remaining custard, dust with cocoa, and let sit in the fridge for at least two hours before eating (this will allow the coffee to soak through and the layers to settle).