For a while, whenever anyone asked me what I blogged about, I would explain that I was a Canadian food blogger who cooked everything with a lot of maple syrup. It was supposed to be a joke (a bad one, but still).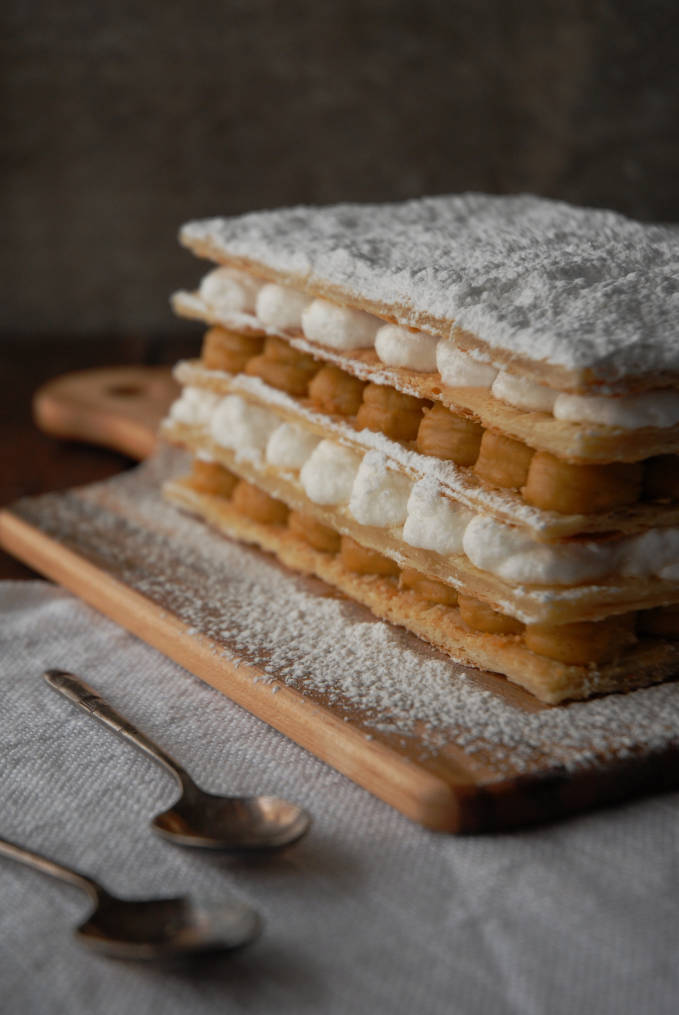 Some people thought I was serious though and became confused when they saw that not all of my recipes had maple syrup in them. I ended up taking down any maple syrup references a few weeks ago.
Pretty much right after, I felt the need to cook with maple syrup. Funny how that happens.
Browsing through recipes, I found Martin Picard. Picard is a famous Montreal chef who wrote an entire book on maple syrup. Sugar Shack Au Pied de Cochon has recipes for much more than just the standard maple taffy and maple candy, however. If you've never made maple taffy before, the process involves pouring molten sugar (in the form of maple syrup) onto densely packed snow and then spinning it around a wooden stick. I wasn't really in the mood to go outside and gather snow. I was totally in the mood for this cake though.
His maple mille feuille is dazzling. A million layers of maple pastry cream and whipped cream are sandwiched between layers of delicate, and ever so flaky, puff pastry. I wanted a slice of that cake.
Since I had a lot of time to kill, I decided to whip up my own puff pastry instead of purchasing some from the store, like he recommended.
I'm not sure doing so was a wise idea. The puff pastry came out great, but store bought puff pastry isn't half bad. I don't think the effort of folding detrempe (the butter-less part of puff pastry) and beurrage (a block of butter) until you get hundreds of layers of dough is worth it. Why spend so much effort if the results aren't going to be much better?
That's what a logical person would say at least. They wouldn't spend hours folding dough. They would just go to the store and buy some. However, if you have a lot of time to kill like I did, you can make your own puff pastry. Don't though.
This cake was super yummy. I loved the contrast between the flaky layers and the smooth cream. Give it a shot.
Also, sorry I wasn't around much last week. I was super busy with school work.

Maple Mille Feuille
Maple mille feuille with puff pastry, maple pastry cream, and whipped cream. Very slightly adapted from Chef Martin Picard's recipe from his cookbook and on
Bon Appetit
.
Ingredients
For the puff pastry layers:
Store-bought, frozen, puff pastry (don't make it homemade like I did)
For the maple pastry cream:
2 cups (500ml) milk
½ cup (125ml) maple syrup
8 egg yolks
½ cup (65g) cornstarch
2 tablespoons flour
For the whipped cream:
2 cups (500ml) whipping cream
¼ cup icing sugar
1 teaspoon vanilla extract
Method
Bake the puff pastry:
Preheat the oven to 350°F. Cut the puff pastry into three 10 inch by 10 inch squares.To prevent the pastry from rising too much while baking, it should be perforated with a pastry docker and rolled out about 1/10-inch thick.
Bake each puff pastry sheet on a baking sheet lined with parchment paper, and with another baking sheet placed on top, about 25 minutes, turning them over halfway through. The pastry is done when golden brown.
Cut the squares in half so that you have six rectangles for a small, high cake or leave them as is for a large, short cake. Eat one of the rectangles and keep the rest as layers.
Prepare the maple pastry cream:
In a saucepan over medium-high heat, whisk together the milk and maple syrup. Bring to a simmer.
While the milk is heating, sift the cornstarch and flour and add to the egg yolks. Whisk until smooth, making sure no lumps remain. This step is important because any lumps will end up in the cooked pastry cream.
Pour the hot milk into the egg mixture, stirring well. Transfer the mixture back to the saucepan and return to medium heat.
Bring to a boil, whisking constantly. Since the mixture contains a large quantity of maple syrup, it needs to be stirred constantly to avoid sticking to the bottom and burning. The pastry cream will thicken quickly as it finishes cooking. Let it simmer for a few seconds, then remove it from the heat.
Pour the pastry cream into a bowl. Lay a sheet of plastic wrap directly on the surface of the pastry cream to keep a skin from forming. Refrigerate for a few hours before using.
Pour the maple pastry cream into a bowl and whisk until smooth. Transfer the cream to a pastry bag fitted with a No. 9 round tip. Refrigerate.
Prepare the whipped cream:
Whip all ingredients together until stiff peaks form. Transfer the cream to a pastry bag fitted with a No. 9 round tip.
Assemble the cake:
Line a baking sheet with parchment paper and lay a rectangle of puff pastry on it. Pipe circles of pastry cream about onto the pastry, then top with a second rectangle of pastry without pressing down.
Pipe circles of whipped cream about onto the second rectangle of pastry and top with the third rectangle of pastry without pressing down.
Repeat with the remaining layers.
Using a serrated knife, trim the sides of the mille feuille to create straight edges. You will have an attractive, evenly cut mille feuille. Dust with icing sugar.
Ideally, the mille feuille should be placed in the freezer 15 to 20 minutes before cutting it into portions.