July 1st is Canada Day.
It's kind of like Independence Day, but for Canada.
On a side note, did you know Canada came from the First Nations word "kananta" which means land?
We're a creative bunch.
Well you know how lots of people have Independence Day parties? Where everything is red, white, and has blue sprinkles?
Well, Canadians can be patriotic too.
We use red sprinkles.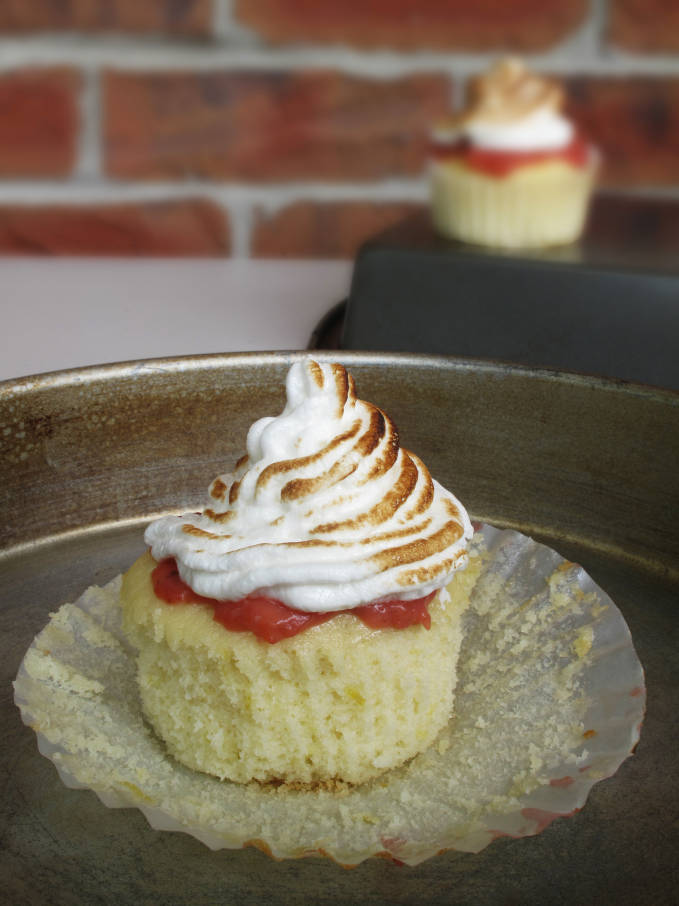 Or fire. Fire is so much cooler than red sprinkles anyway. Yeah.
These cupcakes are perfect for Canada Day parties. A delicate, moist lemon cake with a balsamic strawberry curd and toasted meringue. Toasted with fire.
That's right. Strawberry curd. Made with fresh-picked Canadian strawberries.
If you live on the other side of Nik Wallenda's tightrope, then you could always add some blue for Independence Day. Perhaps sprinkles? Blueberries? Or a blue candy coating. Or you could totally add some blue food colouring to the moist lemon cake (which is, by the way, the best lemon cake ever).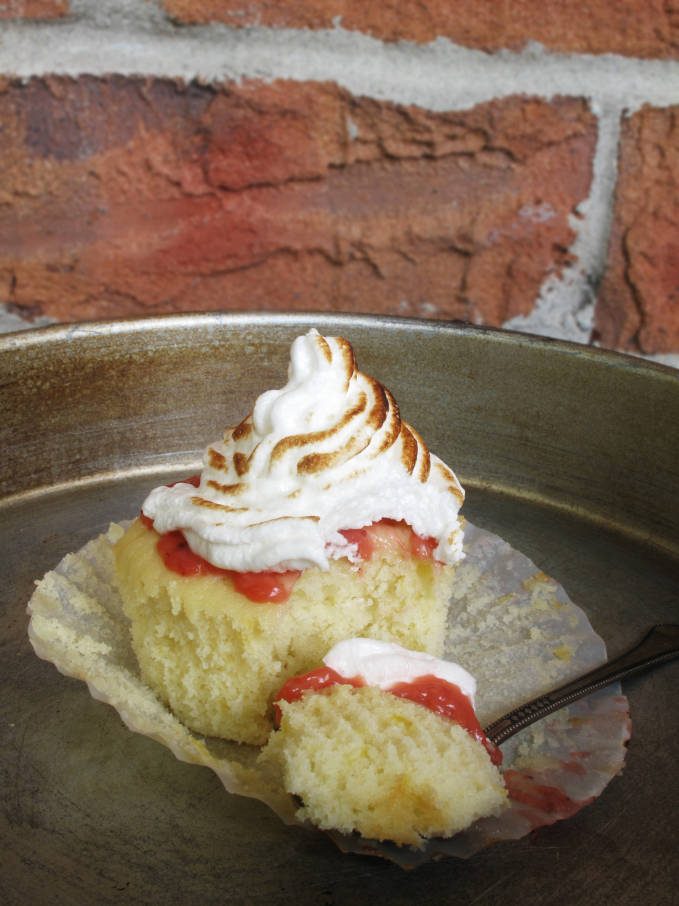 You've got to try this. Not only are they delicious, but they also look pretty impressive.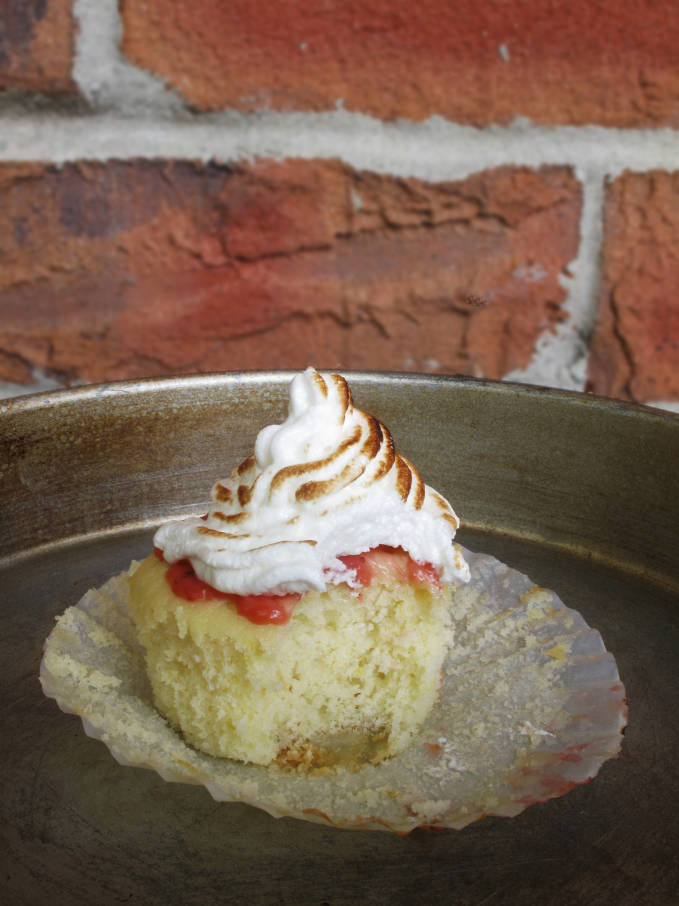 You know the old saying: "If life gives you lemons, make a delicate, moist lemon cupcake with balsamic strawberry curd and toasted meringue."
Canadians have been passing that advice to their children for generations.
Maybe like one generation.
Or maybe not at all.
Yeah, probably the latter.

Strawberry Curd Lemon Meringue Cupcakes
Delicate, moist lemon cupcake with balsamic strawberry curd and toasted meringue. Red and white - perfect for Canada Day! Or perhaps Valentines Day? Cupcake and meringue recipe adapted from Martha Stewart.
Ingredients
For the cupcake:
3 cups (375g) all-purpose flour
1 tablespoon baking powder
½ teaspoon salt
1 cup (227g) unsalted butter, room temperature
2 cups (400g) sugar
4 large eggs, room temperature
Finely grated zest of 3 lemons (about 3 tablespoons), plus 2 tablespoons lemon juice
1 teaspoon pure vanilla extract
1 cup (250ml) buttermilk (or almost 1 cup milk + 1 tablespoon lemon juice, stirred)
For the balsamic strawberry curd:
20 strawberries, chopped
¼ cup (62.5ml) water
2 tablespoons sugar
2 tablespoons corn starch, dissolved in 1 tablespoon of cold water
1 splash of balsamic vinegar
1 egg yolk, beaten
1 tablespoon butter
For the meringue frosting:
1½ cups plus 2 tablespoons (225g) sugar
⅔ cup (167.5ml) water
2 tablespoons light corn syrup
6 large egg whites, room temperature
Method
Prepare the cupcake:
Preheat oven to 325 degrees. Line standard muffin tins with paper liners. Whisk together flour, baking powder, and salt. With an electric mixer on medium-high speed, cream butter and sugar until pale and fluffy. Add eggs, one at a time, beating until each is until incorporated, scraping down sides of bowl as needed. Beat in zest and vanilla. Add flour mixture in three batches, alternating with two additions of buttermilk and lemon juice, and beating until just combined after each. Divide batter evenly among lined cups, filling each three-quarters full. Bake, rotating tins halfway through, until golden brown and a cake tester inserted in centers comes out clean, about 25 minutes. Transfer tins to wire racks to cool completely before removing cupcakes. Cupcakes can be stored overnight at room temperature, or frozen up to 2 months, in airtight containers.
Prepare the strawberry curd:
Place the strawberries, water, sugar, cornstarch, and the balsamic vinegar in a saucepan. Cook on medium high heat, stirring often. Once the strawberries simmer, add some of the liquid to the egg yolk and whisk. Slowly add more strawberry liquid (if some strawberry pieces get in it's not a problem). Then, add the egg yolk to the saucepan and stir until thick. Take off the heat, add the butter, and cool until ready to use.
Prepare the meringue frosting:
Combine 1½ cups sugar with the water and corn syrup in a small saucepan; clip a candy thermometer to side of pan. Bring to a boil over medium heat, stirring occasionally, until sugar dissolves. Continue boiling, without stirring, until syrup reaches 230 degrees. Meanwhile, in the bowl of a standing electric mixer fitted with the whisk attachment, whisk egg whites on medium-high speed until soft peaks form. With mixer running, add remaining 2 tablespoons sugar, beating to combine. As soon as sugar syrup reaches 230 degrees, remove from heat. With mixer on medium-low speed, pour syrup down side of bowl in a slow, steady stream. Raise speed to medium-high; whisk until mixture is completely cool (test by touching the bottom of the bowl) and stiff (but not dry) peaks form, about 7 minutes. Use immediately.
Assemble the cupcakes:
To finish, spread 1 tablespoon lemon curd onto middle of each cupcake. Fill a pastry bag fitted with a large open-star tip (Ateco #828 or Wilton #8B) with frosting. Pipe frosting onto each cupcake, swirling tip slightly and releasing as you pull up to form a peak. Hold a small kitchen torch 3 to 4 inches from surface of frosting, and wave it back and forth until frosting is lightly browned all over. Serve immediately.